The Union Ministry of Social Justice and Empowerment in collaboration with the State Government of Maharashtra, has organised a two-day regional workshop in Pune on the 28th of February 2023 and the 1st of March 2023, on the various acts, rules and schemes under the Ministry of Social Justice and Empowerment, Government of India. Twelve States and Union Territories from across India are participating in the workshop.
The workshop was inaugurated today by Dr. Virendra Kumar, Union Minister for Social Justice & Empowerment (through VC) in the presence of Ramdas Athawale, Union Minister of State for Social Justice and Empowerment and Ministers from various participating State governments.
Speaking on the occasion Dr. Virendra Kumar, Minister of Social Justice & Empowerment, Govt. of India, said , "Various schemes are being run by the Department of Social Justice and Empowerment for the marginalized sections such as scheduled castes, backward classes, senior citizens and others. Cooperation with State governments and various NGOs is needed in equal measure for the successful implementation of all these schemes." He appealed to everyone to work together for a healthy and clean India. He expressed his resolve to move forward for social, economic and educational development of the people of the country.
Addressing the gathering on the occasion, Minister of State for Social Justice and Empowerment, Ramdas Athawale said, "The main intension behind organizing this workshop is to promote the educational and economic interests of the Scheduled Castes and Other Backward Classes and to improve the lives of senior citizens and persons who are victims of substance abuse through discussions and deliberation on various schemes and programs being run by the Department of Social Justice and Empowerment."
Quoting the example of Dr. Babasehb Ambedkar who took the aid of scholarships to receive overseas education, the Minister of State for Social Justice and Empowerment said, "At the age of 21, Babasaheb Ambedkar was able to go to Columbia University in America as a result of the scholarship given to him by Chhatrapatai Shahu Maharaj and Sayaji Gaikwad Maharaj. He used to study for 18 hours in the Lehman Library there. Today, Baba Saheb Ambedkar's statue is in the same Lehman Library. Baba Saheb Ambedkar studied hard in order to achieve greatness. In a similar manner all of us must also focus on education in order for families to prosper and for the nation to develop."
The Minister concluded by saying that he hopes representatives from various states and Union territories will discuss issues on this platform that will lead to better implementation of schemes. "We welcome suggestions by representatives on further steps that can be taken by our Ministry", he added.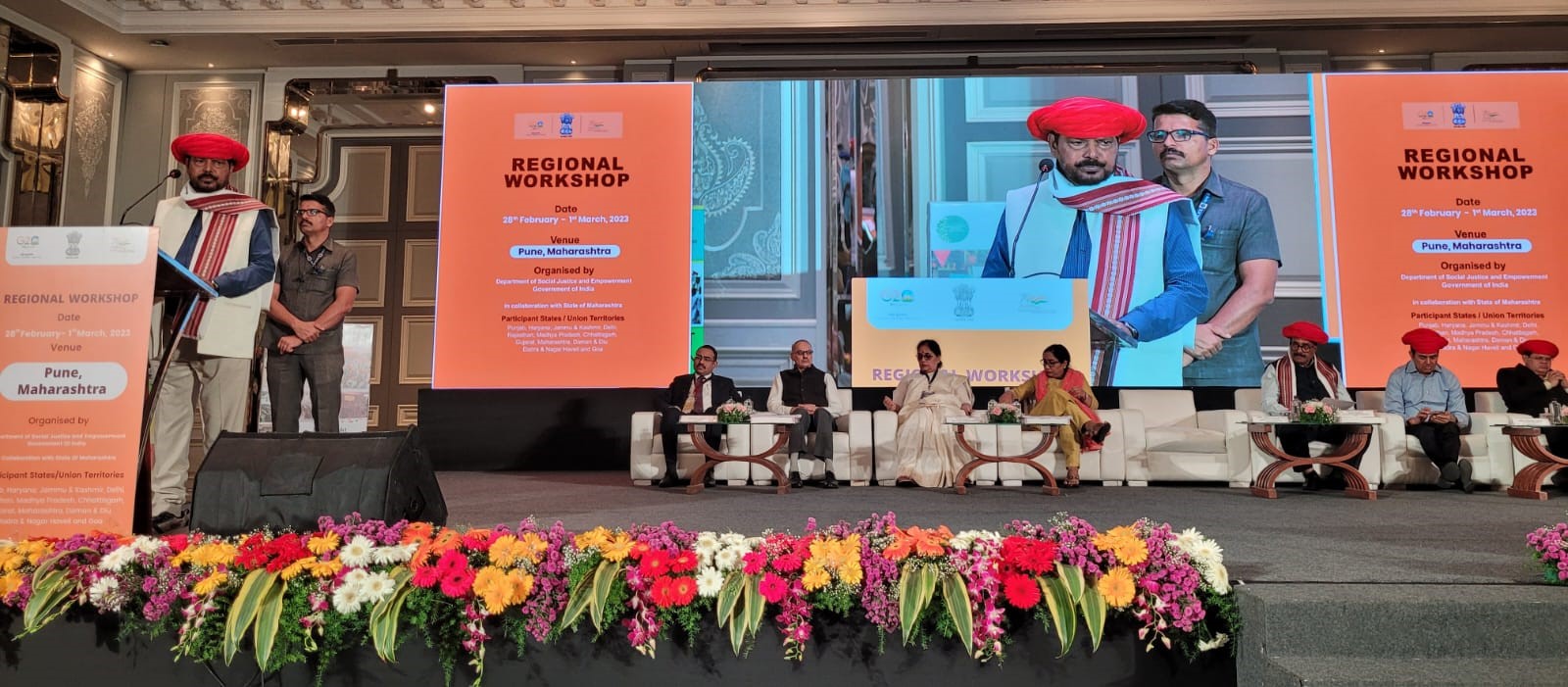 The two day workshop will include presentations on various schemes of the Government of India such as Pradhan Mantri Anusuchit Jaati Abhyuday Yojana (PM-AJAY), Atal Vayo Abhyuday Yojana, NAMASTE scheme, Pre-Matric & Post-Matric Scholarships Scheme for Scheduled Castes, National Action Plan for Drug Demand Reduction & Nasha Mukt Bharat Abhiyan and others, by senior officials of the Ministry. Various sessions have been dedicated to discussions on legislations passed by the government for the welfare of vulnerable sections such as senior citizens, manual scavengers, transgenders and scheduled castes and schedules tribes. The workshop will provide an opportunity for the states to present best practices which may then be emulated by others. The workshop also includes a cultural dinner and a valedictory session at the end of two days.
It is hoped that the workshop will provide a platform for various state governments and affiliated agencies to better understand and implement different schemes and programs of the Ministry of Social Justice and Empowerment.