What is it that Ching Jang Ye Sangma from Meghalaya, Nishu Pandit from Jammu and Kashmir and Sarita Shetriya from Odisha have in common ? They are all folk artists who have come from different parts of India to celebrate the Rashtriya Sanksriti Mahotsav 2023 here at the Azad Maidan in Mumbai.
The Rashtriya Sanskriti Mahotsav 2023 was inaugurated by Governor of Maharashtra, Bhagat Singh Koshyari on 11th of February 2023. The festival is being held at Azad Maidan, Churchgate, Mumbai, from 11th to 19th February 2023. The colourful inauguration ceremony was presided over by Union Minister of Culture & Tourism, Govt. of India G. Kishan Reddy. Chief Minister of Maharashtra Eknath Shinde, Minister of Cultural affairs, Forest and Fisheries, Govt. of Maharashtra Sudhir Mungantiwar and Minister of Tourism, Skill Development, Employment, Entrepreneurship, Women & Child development, Govt. of Maharashtra Mangal Prabhat Lodha were the guests of honour present for the inaugural function. Apart from this, Union Minister of State for Panchayati Raj, Kapil Moreshwar Patil and Union Minister of State for Culture and External Affairs Meenakashi Lekhi have been guests of honour at the festival during its first few days.
The Inauguration Ceremony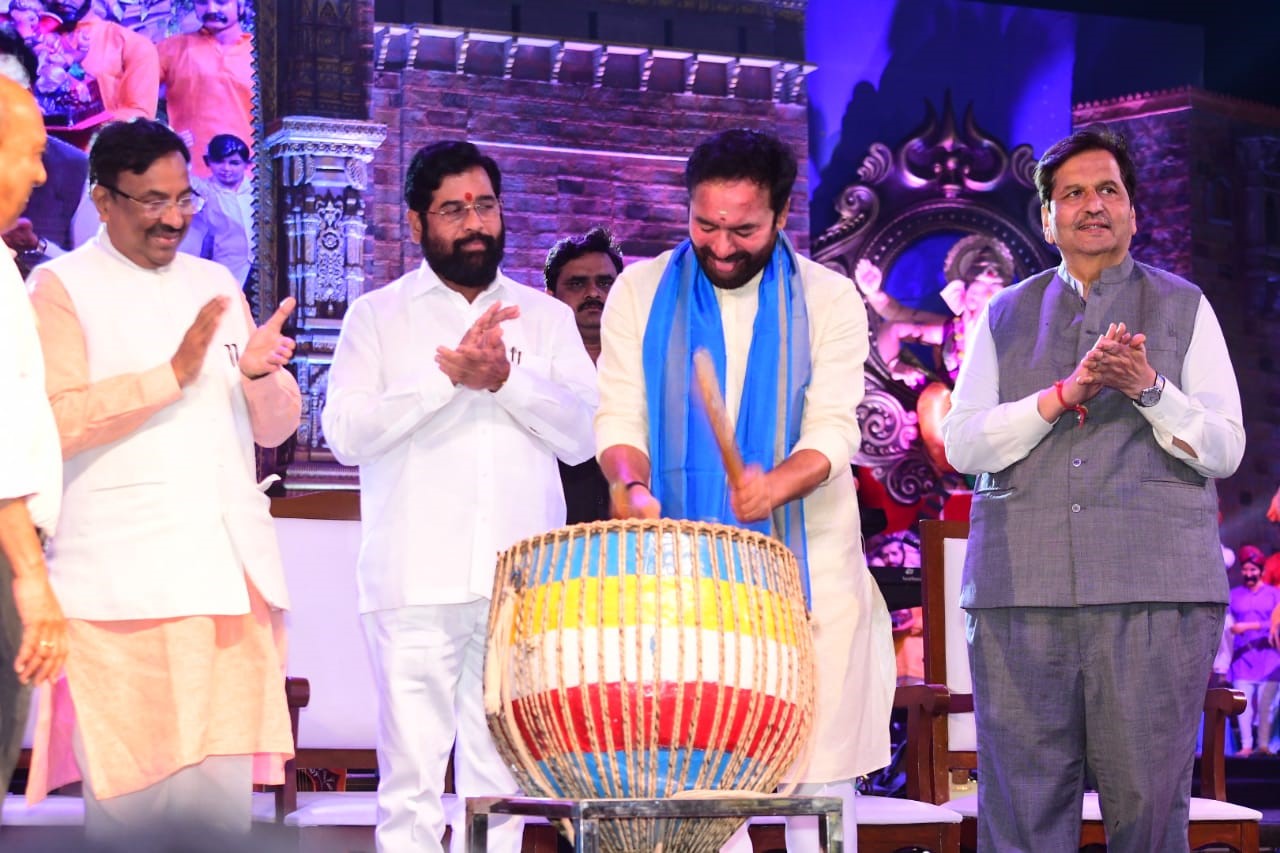 Union MoS for Panchayati Raj, Kapil Moreshwar Patil at the Exhibition Angans
Union MoS for Culture and External Affairs, Meeenakashi Lekhi on stage with folk artists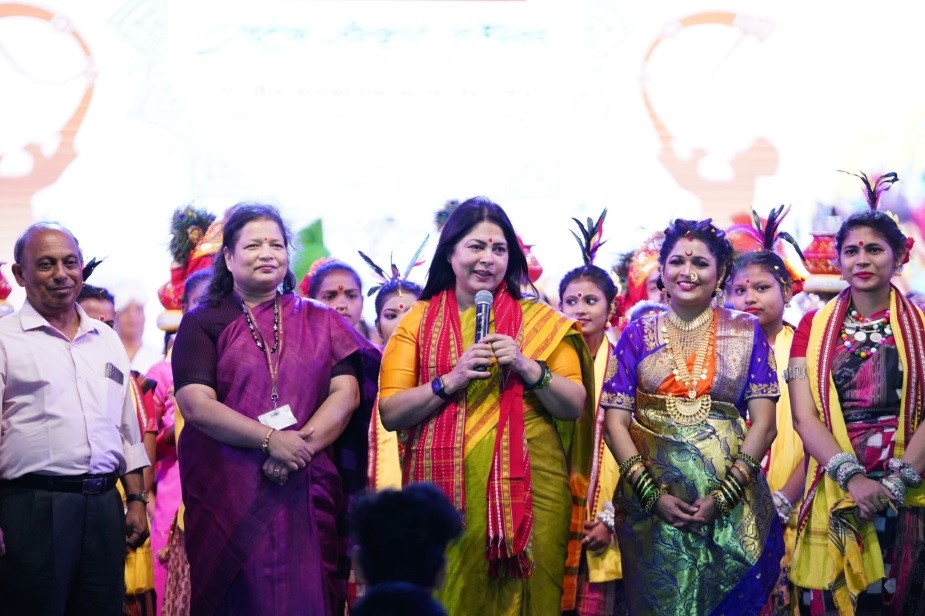 About 350 folk and tribal artists from all over India along with about 300 local folk artists, some transgender and differently abled artists, renowned classical artists as well as famous star artists are all set to entertain and inspire the audience with their enthralling performances.
Folk artists representing the seven zonal cultural centres of the Culture Ministry
A pantomime presentation – 'Udaan' – by divyang artists of Natya Shala, Mumbai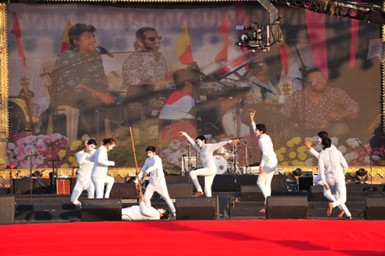 Sarita Shetriya, Vrujalini Bisoi and their troupe have come all the way from Odisha to perform the Sambalpuri dance at the Mahotsav. "We feel really proud that our art form finds representation on this prestigious stage", they say.
Ching Jang Ye Sangma from Meghalaya will be performing the Wangala dance on the Rashtriya Sanskruti Mahotsav stage. "I feel happy to be here and celebrate Ek Bharat Shreshtha Bharat  with others from different parts of India !", he expresses.
Nishu Pandita's troupe from Jammu is performing Dogri folk dance. Speaking about their performance she says, "The dance will portray traditional wedding scenes from our region. I truly hope the Mumbai audience will support us." Nishu is thrilled to have this opportunity to mingle with other folk artists from across India and learn from them.
In addition to the artists, about 150 craftsmen from all the states of India and from all the seven zonal cultural centers of the Union Ministry of Culture are invited for their art and craft sale-cum-exhibition under Angans, for which about 70 stalls are made available. Also, 25 stalls are being set up for the Maharashtra State Handloom department and Start-Ups.
Handloom and Handicraft Stalls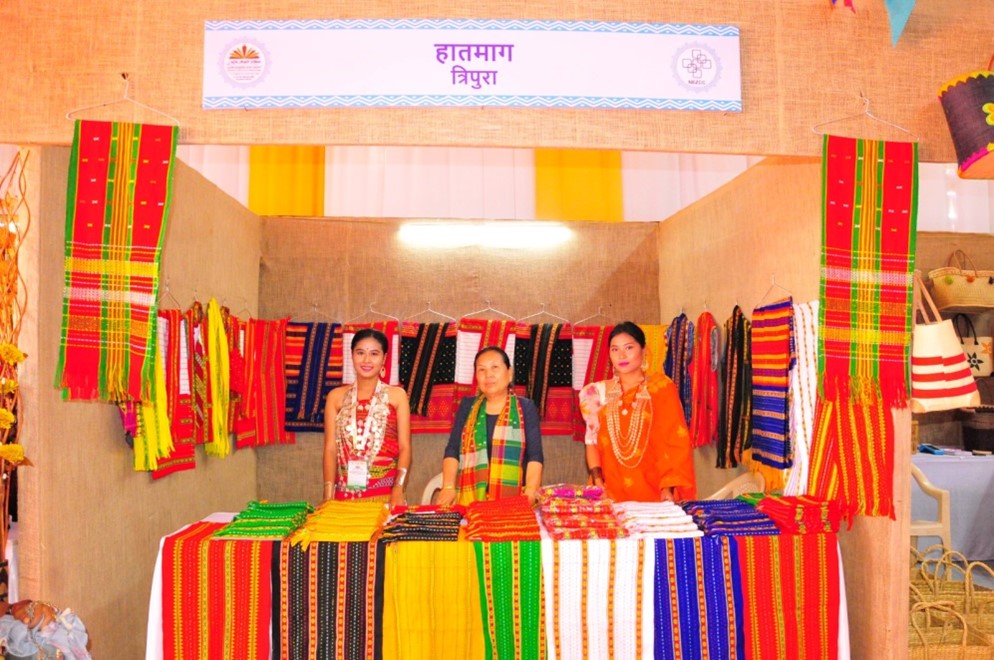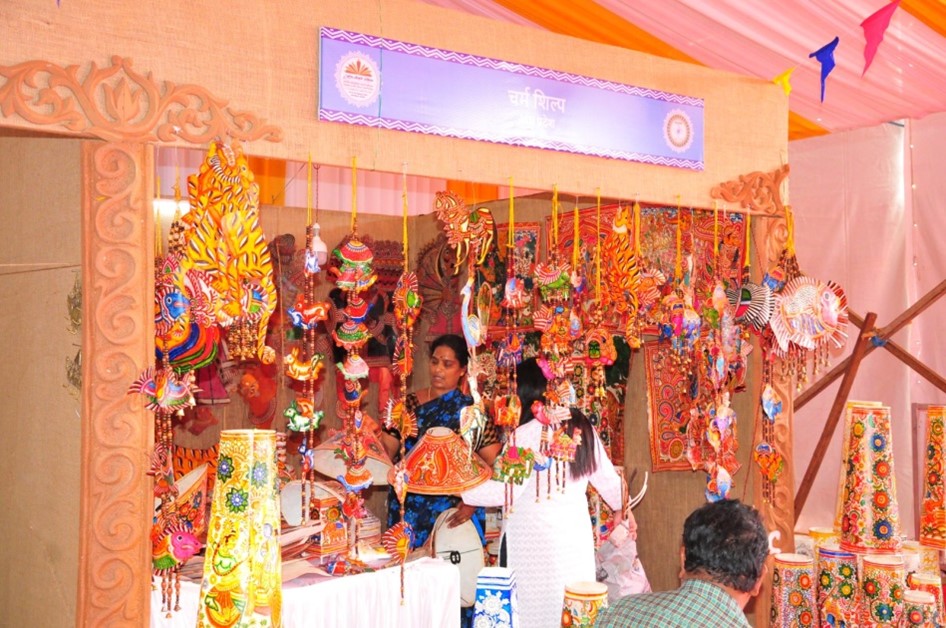 A painting exhibition is also being organized by the artists from J. J. School of Arts. The IGNCA, New Delhi is organizing exhibition on 'Pandharpur Wari'.
Painting Exhibition by the JJ School of Arts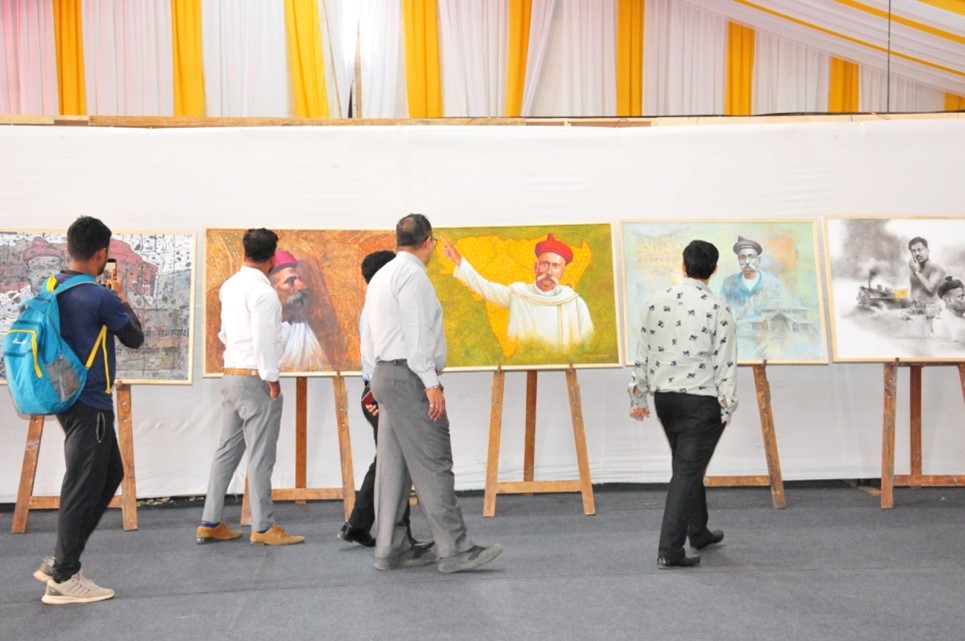 The Central Bureau of Communication (CBC) is also organizing an exhibition on Azadi Ka Amrit Mahotsav at the venue.
Azadi ka Amrit Mahotsav Exhibition by CBC
A food court is being established at the venue ground in which, about 37 stalls offering food varieties from all over India, local food stalls as well as millet food will be available for the common public.
Food Court at the Mahotsav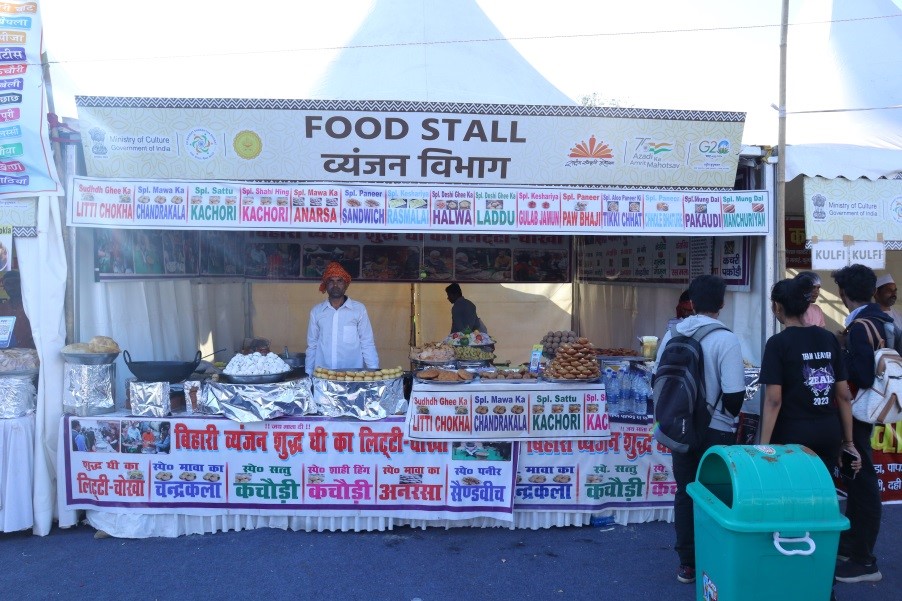 Every evening at the Mahotsav is a treat for visitors as it is lined up with performances by renowned artists from across India who showcase classical, folk, contemporary art forms and beyond.
The daily choreographic presentation of the folk artists titled 'Colours of India' is being choreographed by renowned choreographer Prashanna Gogoi.
The classical performances include Rhythms of Manipur and performances by Tejaswini Sathe, Lipokmar Zudir from Nagaland, Kalakshetra Foundation's  Sheejith Krishna, Ganesh Chandan Shive, Anand Bhate, Nritya Guru Shama Bhate and Maitreyee Pahari.
Star artists performing at the Mahotsav include Mohit Chauhan, Shamit Tyagi, Siddharth Entertainers – Raj & Kishor Sodha, Annu Kapoor, Dr. Saleel Kulkarni, Avinash Chandrachud, Ustad Mame Khan, Rahul Deshpande and Nitin Mukesh.
"Colours of India" Performance
The Nagaland Conservatory of Music Choir, conducted by Lipokmar Tzudir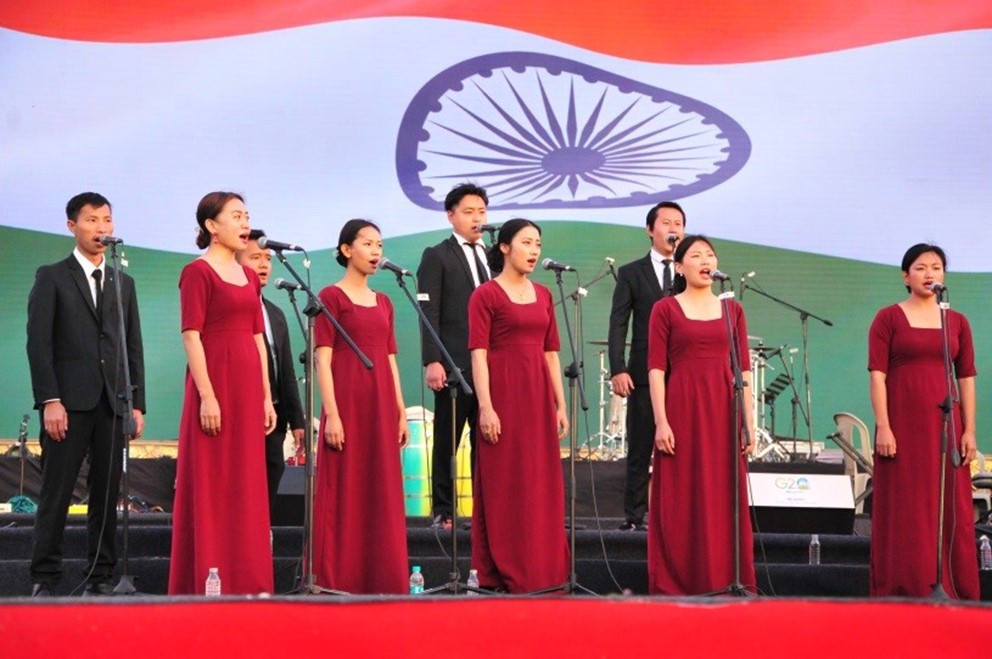 Kathak performance by Tejaswini Sathe and Troupe
Bharatanatyam performance by Kalakshetra Foundation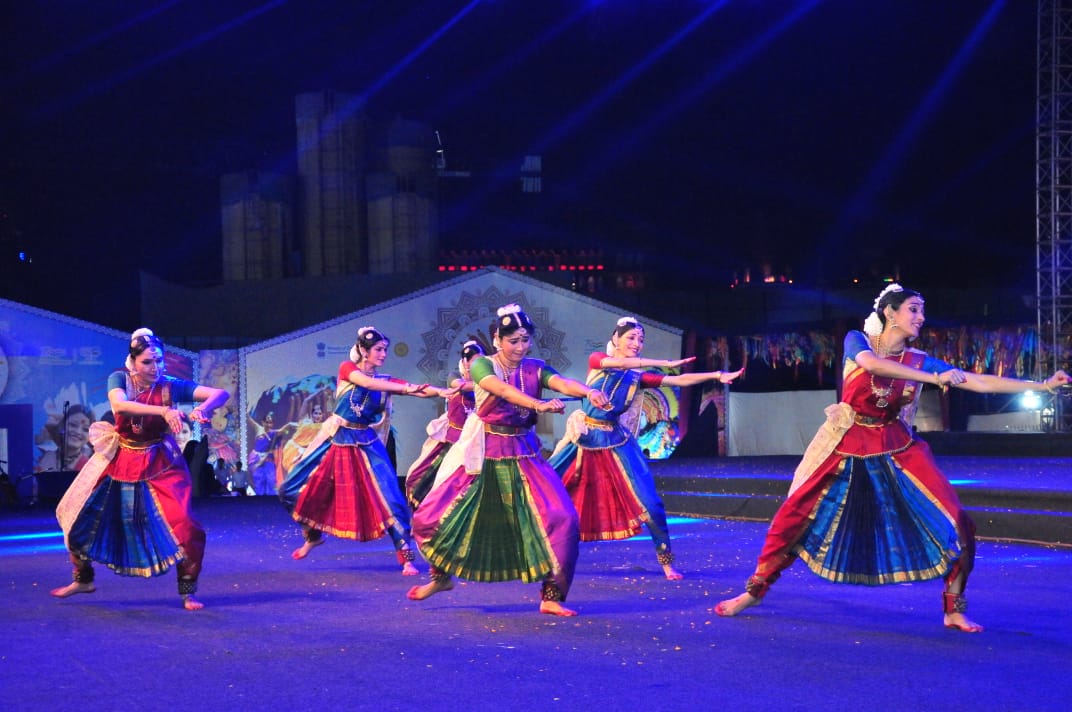 Mohit Chauhan's  performance titled 'Tumse Hi, 25 Saal Ka Surila Safar'
Anand Bhate's presentation of Marathi Abhangas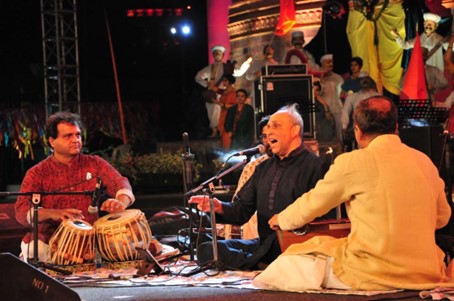 Dr Saleel Kulkarni's performance titled "माझे जगणे होते गाणे"
The daily programme schedule will be as follows:
11:00 AM to 10:00 PM Handicrafts and art exhibition.
02:30 PM to 03:30 PM Presentation of martial art by local artists
04:00 PM to 05:30 PM Presentation by local artists
06:00 PM to 06:45 PM     Traditional, Tribal & Folk dances
07:00 PM to 08:15 PM Programmes by renowned classical artists.
08:30 PM to 10:00 PM Programmes by famous Star artists.
Find details of the daily events below –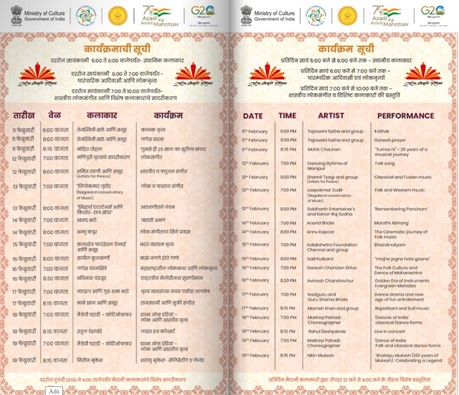 The Rashtriya Sanskriti Mahotsav is organized by the Ministry of Culture every year in different states of India to promote National Unity and integrity through cultural exchange. It was held in Madhya Pradesh in 2019, in Andhra Pradesh and Telangana in 2022, and now this year Maharashtra is the host.
All the seven zonal Cultural Centres and academies under Ministry of Culture, Govt. of India, are participating in this event. The event is being conducted in co-operation with Ministry of Culture, Govt. of Maharashtra.
Entry to the entire event is free for all citizens and art lovers.
So what are you waiting for? The Rashtriya Sanskriti Mahotsav promises to be a celebration of India's cultural diversity and a tribute to the country's artistic heritage. It is a one of a kind opportunity for people to come together and experience the best of India's cultural traditions. We are all set to make the most of it. Are you?