The Minister of State for Electronics & Information Technology and Skill Development & Entrepreneurship, Shri Rajeev Chandrasekhar will be launching the 3rd SemiconIndia futureDESIGN Roadshow at IIT Delhi tomorrow, May 12, 2023.
A series of roadshows are being organised by MeitY across the country aiming to – Stimulate the next-gen Semiconductor Designers, Promote the culture of Co-development and joint ownership of IPs with active industry participation and Indigenously Develop Semiconductor Chips for Automobile, Mobility, Communication & Computing. Earlier, 01st Roadshow was organised at Karnavati University, Gandhinagar on 18th October 2022 and 02nd Roadshow at IISc Bangalore on 24th February 2023.
Shri Rajeev Chandrasekhar has said NextGen devices & electronics products will be architected, designed and co-designed in India, through these schemes like Semicon India Future Design Program. In December 2021, the Centre had initiated the India Semiconductor Mission with an incentive outlay of Rs 76,000 crore to attract investments in the sector.
"We intend to take the Semicon India program to every student, every college and make as many young Indians excited by and participate in the Semicon India journey," the Minister said and urged industry leaders, both Global and Indian, to join in making pitch to young students, Startups and entrepreneurs to grab the SemiconIndia futureDESIGN opportunity.
During the 3rd Roadshow, global semiconductor leaders will be exchanging vision to catalyse semiconductor ecosystem in India. Following announcement are to be made during the 3rd roadshow:
With a believe that the next unicorn will be from fabless chip design area, 2 futureDESIGN start-ups; which have been approved for support under the DLI Scheme and will be provided with the financial support as well as design infrastructure support for designing state of the art system on chips will be announced. These Start-ups will be working on implementing innovative silicon designs; which will find space in key growth areas- automotive, mobility and computing areas. In coming weeks, more futureDESIGN start-ups are lining up to be approved under the DLI Scheme.
Sequoia Capital India, the largest VC firm in the region, has become the first institutional investor to make a foray into the semiconductor space as they believe there's a massive opportunity for deep tech startups to turn the country into a global centre for custom silicon IP and hardware innovation. Sequoia will make an announcement on their investment in 2 Digital India RISC-V (DIR-V) Start-ups.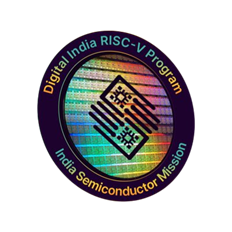 MeitY has set up ChipIN Centre at C-DAC Bangalore to dedicate its services to semiconductor design community of the country. The facility acts as one-stop centre to provide semiconductor design tools, fab access, virtual prototyping hardware lab access to fabless chip designers from Startups and Academia. It is a common dedicated centralised cloud-supported design facility, not only hosting the most advanced EDA tools for the entire chip design cycle, but also provide aggregate services for fabrication of design at Indian foundries, for example, SCL foundry & overseas foundries and packaging. Ansys endeavours to support ChipIN Centre for engineering talent to learn EDA technologies that are of immense importance for design projects in the semiconductor industry. In this regard, a Memorandum of Understanding (MoU) is being signed between C-DAC Bangalore and Ansys with an aim to provide a framework to collaborate towards nurturing chip design using Ansys EDA tools hosted at ChipIN Centre.
(iv) Renesas Electronics Corporation, a premier supplier of advanced semiconductor solutions, today introduced an NB-IoT (Narrowband Internet of Things) chipset specifically for the Indian market. The new RH1NS200 is an LTE NB-IoT modem chipset that is designed to operate seamlessly on the networks of all major Indian telecommunications carriers. It is an ideal solution to serve the Indian smart metering market, which some estimates put at roughly 250 million units over the next five years. Customers can use it to build complete NB-IoT modules to satisfy "Make in India" requirements. The new chipset also can be used in asset tracking, lighting, security and numerous other applications. This chipset offers extremely low power consumption of only 1uA in deep sleep mode, significantly extending battery life.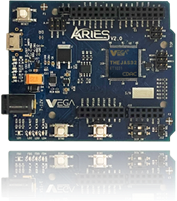 As part of the Digital India RISC-V (DIR-V) program by Hon'ble MoS- Shri Rajeev Chandrasekhar, C-DAC has successfully completed the design and development of the VEGA series of microprocessors comprising of 32/64-bit Single/Dual/Quad Core superscalar Out-of-Order high performance processors based on RISC-V Instruction Set Architecture. The first VEGA processor based SoC chip THEJAS32, a 32-bit Single core SoC has been successfully fabricated.  A development platform based on THEAJS32 ASIC, named ARIES has been developed comprising of four different developer's kits viz. ARIES V2, ARIES Micro, ARIES IoT and ARIES V3. These development kits are fully indigenous and "Made in India" products which are targeted for learning, embedded system design and IoT applications. These boards which are built upon the RISC-V ISA compliant VEGA Processor are provided with easy-to-use hardware and software. The complete ecosystem for embedded system design comprising of Board Support Packages, SDK with integrated tool chain, IDE plug-ins, Debugger for the development, testing, debugging along with support documentation are also available.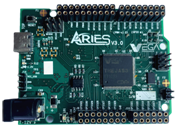 ​​​​​​​

Taking advantage of these initiatives, several start-ups will mushroom across the country, cross the initial entry barriers and pave the way for entrepreneurship/ startup-led design & innovations ecosystem in the country making indigenous IP Cores, Chips, System on Chip (SoCs), Systems for different application areas like 5G/ IoT, AI/ ML, Automotive & Mobility sector etc. in India, for the World.