Dr. Virendra Kumar, The Minister of Social Justice and Empowerment today felicitated International Para Swimmer Shri Satendra Singh Lohia who scripted History by crossing the English Channel to and fro.
Speaking on the occasion, the Social Justice and Empowerment Minister congratulated Shri Satendra Singh Lohia for his outstanding effort in bringing glory to the nation. The Minister interacted with Shri Satendra Singh Lohia about his successful and inspiring journey, achievements and challenges.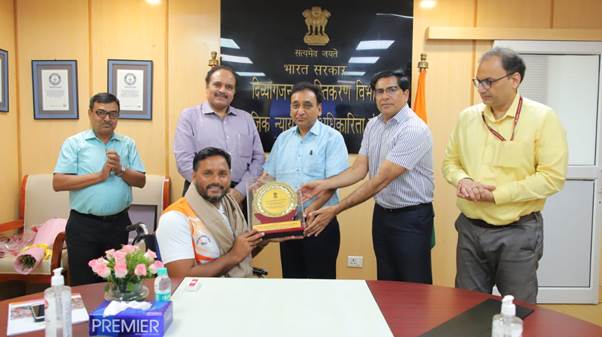 Shri Satendra Singh Lohia also met Shri Rajesh Aggarwal, Secretary, DEPwD along with the senior officers of the Department. Sh. Rajesh Aggarwal took suggestions from Sh. Satendra Singh Lohia for the Sports Centre which is going to be established at Gwalior.
Satendra Singh expressed his gratitude to HMSJE Dr.Virendra Kumar and Sh. Rajesh Aggarwal for this felicitation programme.