Union Minister of State (Independent Charge) Science & Technology; Minister of State (Independent Charge) Earth Sciences; MoS PMO, Personnel, Public Grievances, Pensions, Atomic Energy and Space, Dr Jitendra Singh today said, the world is celebrating India's business today and is acknowledging that this is the golden era of India under Prime Minister Narendra Modi with global benchmarks hailing and celebrating India's growth story.
Dr. Jitendra Singh said this while attending as chief guest of 'Big impact Awards- 2023' at Hari Niwas, Jammu.
During the event, Dr. Jitendra Singh said, under PM Modi, India has had a huge quantum jump in the global benchmarks with India being the fastest growing economy in the world having overtaken United Kingdom, jumping forty steps up in the global innovation index, ranking third in the Startup ecosystem having more than 90,000 Start-Ups from 250 in 2014 with 100 unicorns.
The per capita income has also doubled under the present government from last eight years with manifold increase in exports in almost every sector be that the mobile chip technology, defence, toy industry etc. with IMF rating saying that the world is looking at India as the bright spot giving self-esteem to all of us, Dr. Jitendra Singh added.
Dr. Jitendra Singh also said, the pro-business reforms unleashed by Prime Minister Narendra Modi led government in the last nine years is laying a strong foundation of New India, opening up new vistas for the business community, improving India's rank in ease of doing business from 142 in 2014 to 63 in 2022, as per World Bank report.
Under PM Modi, the khadi has become the designer item with a turnover of over one lakh crore this year never imagined by anyone. India is now world's third largest in aviation sector with 147 airports from just 74 in 2014, Dr. Singh added.
Dr. Singh said, the business community present here along with the budding entrepreneurs and media can become the messengers for J&K youth enthusing them towards Start-Up culture 'Standup India, Start-Up India' the slogan given by PM Narendra Modi from the ramparts of Red Fort so that J&K is not left behind in the journey of Start-Up India.
During the award ceremony, Dr. Jitendra Singh gave prizes to  Davinder Kumar Batra, CEO, Batra Group, Ritesh Grover and Vinod Grover, MD V-Brand, Ajay Chaudhary & Rahul Jandiyal of KC Group, Kunwarnai Ritu Sinhji Social Entrepreneur, Anchit Wazir of Groovy Juices, Pooja Gupta, Founding Director, Nimbark Organic Foods, Janet Arora and Manit Arrora of Deendayal Omprakash Brand, Vimal Kumar, MD Royal Nest Estates,  Soham Amla of Tatsa Motors and Bikes, Sahil Agarwal of Shivaya Healthcare, Dr. R D Sood of Sood Eye Care, Maloop Singh of Darpan Productions and others.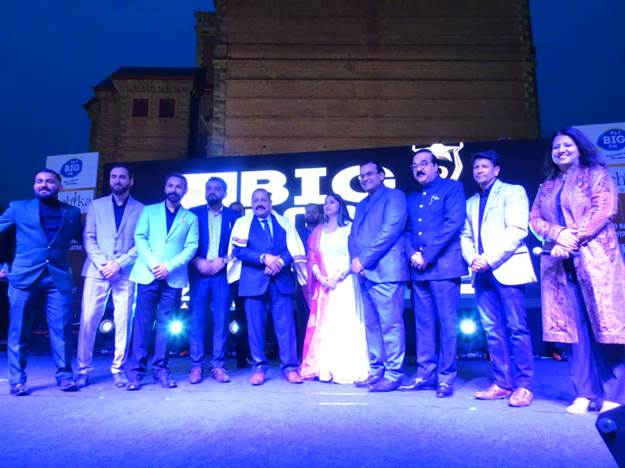 Besides the leading businessmen, entrepreneurs from Jammu, the awards ceremony was attended by Ajat Shatru Singh, former Member of Parliament, Padma Shree, Balwant Thakur and others.