The one-week 21st capacity building programme (CBP) for the civil servants of Maldives and 2-weeks 5th programme for officers of Jammu & Kashmir concluded here in New Delhi. The programme was attended by 25 civil servants from Maldives and 38 Civil Servants from Jammu & Kashmir, was held at Mussoorie and New Delhi. These CBPs are flagship programmes of the National Centre for Good Governance (NCGG), an autonomous institution of the Government of India.
In the Valedictory Session, Shri Harsh Vardhan Shingla, Chief Coordinator, G-20 Presidency was the Chief Guest. In his address, Shri Shringla emphasized the need for accelerated and inclusive development for resilient growth and stressed on the importance of technology in transforming the lives of citizens. He called for creating a conceptual framework to meet the needs and expectations of people and work for the holistic development in the region and countries. He also highlighted the importance of building relationships and creating an enabling environment among countries by forging partnerships. Shri Shringla, former Foreign Secretary also highlighted the achievements of the government under the leadership of the Prime Minister Shri Narendra Modi and urged all participants to strive towards to work wholeheartedly to bring change and make people's lives better. He also emphasized that the capacity building programme by NCGG provided a platform for collective learning and sharing, ultimately working towards improving the quality of life.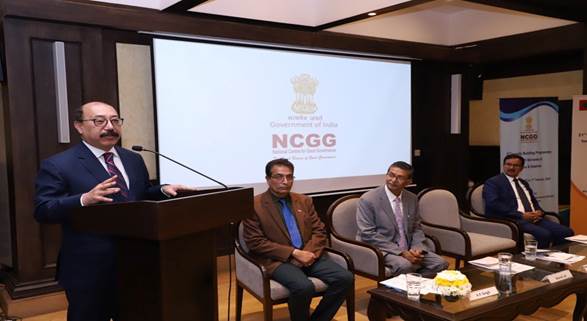 Prime Minister Shri Narendra Modi always emphasizes the importance of building a capable and efficient civil service that is committed to serving the people and delivering various public services efficiently. In line with this vision, NCGG is working to enhance the capacity of civil servants by providing them with the necessary knowledge, impart skills and by bringing attitudinal changes to perform their duties effectively. In line with the concept of Vasudaiva Kutumbakam, which translates to 'the world is one family,' NCGG's efforts towards capacity building aligned with the philosophy of cooperation and collaboration among individuals and nations, regardless of their differences, to achieve common goals. NCGG's initiatives are aimed at creating a cohort of civil servants who embody the spirit of cooperation and work for the betterment of society.
In his key note address, Shri Bharat Lal, Director General, NCGG highlighted the meaningful collaboration between the Ministry of External Affairs & NCGG to build the capacities of civil servants of various developing countries. He stressed on the role of civil servants in providing people-centric governance to improve the quality of life of people. He also highlighted how Minister of State, Dr. Jitendra Singh ensured that civil servants of Jammu & Kashmir and North-Eastern States are provided opportunities to attend high quality training programmes.
DG, NCGG also emphasized how India is working closely with Maldives as a partner, which is helping people of both the countries. He stressed on the roles of civil services especially on providing people-centric governance and creating an enabling environment to have a transformational impact on people. The idea is that governance is inclusive, free from any kind of discrimination, where no individual is left out. He also said that the present government has sought to give a new outlook to governance in the last 8–9 years, where focus is on people and on their needs.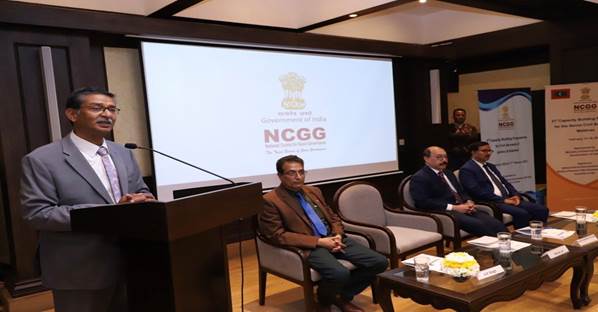 In the context of Jammu & Kashmir, he also discussed the importance of working to build the nation and urged participants to translate the vision of the Hon'ble Prime Minister Shri Narendra Modi on good governance into tangible actions. The aim of these programmes is to reorient officers to work with single-mindedness to improve the quality of life and create opportunities for the people. He explained how the focus is on sharing the practical aspects of governance, to work with speed and scale, and be accountable to citizens and address their grievances proactively.
During these programmes, civil servants of the Maldives and Jammu & Kashmir interacted with domain experts on diverse topics, viz. innovation & entrepreneurship, communication strategies, poverty elimination, inclusive development, Jal Jeevan Mission, decentralized municipal solid waste management, digital India, approach to SDGs by 2030, Ayushman Bharat, anti-corruption practices, LiFE, circular economy, etc. among other important areas. The participants were also taken for exposure visits to Indian Parliament, Rashtrapati Bhawan, and Amrit Udyan.
During the interaction, the officers said that they were delighted about the training programmes conducted by NCGG. The senior officers of Jammu & Kashmir stated that this was for the first time in 20 years of their career that they are being exposed to training outside Jammu & Kashmir and thanked the government for this initiative.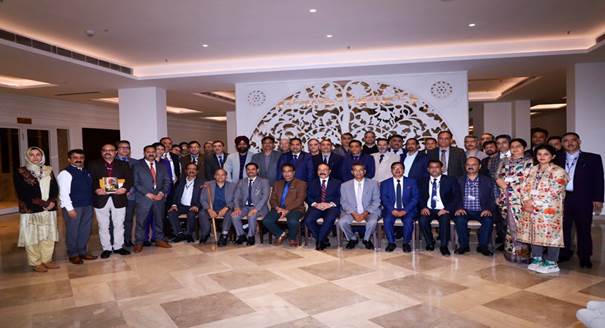 Dr. A. P. Singh & Dr. B.S. Bisht, the respective course coordinators for Jammu & Kashmir and Maldives, successfully organized the CBP with the assistance of Shri Sanjay Dutt Pant & Shri Brijesh Bisht. The participants learned a lot about best practices & great ideas on good governance.
Recognizing that effective governance and people-centric policies are the bedrock of a society, the NCGG equips officers to meet the expectations of citizens, improve their standard of living, and enhance their overall quality of life. In recent pasts, the centre has also trained a large number of officers from Bangladesh, Kenya, Tanzania, Tunisia, Gambia, Maldives, Sri Lanka, Afghanistan, Laos, Vietnam, Bhutan, and Myanmar.