Department of Posts after a period of more than a decade organized, AMRITPEX 2023 National Philatelic Exhibition from 11th to 15th February 2023 under the aegis of Azadi Ka Amrit Mahotsav Celebrations. AMRITPEX 2023 was organized in consultation with the Ministry of Culture and Philatelic Congress of India and designed and crafted as a visual and interactive treat for children and youth. The exhibition brought to the front the rich culture, heritage, history, nature, wildlife and achievements of India through stamps, letter writing and virtual displays. The exhibition was also an opportunity for the winners to participate in various International Philatelic Exhibitions and showcase their collections.
The exhibition was held in Hall no.5, Pragati Maidan, New Delhi which was curated on a floor area of 1 lakh square feet, with more than 20,000 Exhibits from 500 Philatelists in both competitive and invitee class. A special section was dedicated to five themes of Azadi Ka Amrit Mahotsav in which more than 200 philatelic frames were displayed.
An exhibition highlighting the transformative journey of India Post was also showcased during the event. Live counters of new Digital Services of India Post, interactive human stories of postal services impacting the lives of common man, celebrating the vocal of local and unsung heroes and a G20 Pavilion highlighting Philately as a tool for soft diplomacy, were the major attractions of the exhibition.
During the five-day exhibition, a number of workshops, seminars, panel discussions and cultural events and activities for children, release of commemorative postage stamps, release of special covers and picture postcards were organized.
The five-day exhibition saw participation of more than 25,000 children, Stamp lovers, and tourists. Children from more than 125 schools of Delhi NCR visited the exhibition and participated in activities like Letter Writing, Art & Painting, Calligraphy, Mandala art, stamp design etc. The virtual reality gallery narrating the idea of New India through various stamps was a big hit among the children and other visitors.
The opening ceremony of the event was graced by the Minister for Communications, Electronics & IT and Railways, Shri Ashwini Vaishnaw and the Minister of State for Communications, Shri Devusinh Chauhan. During the opening ceremony the Minister released a commemorative postage stamp on "Azadi Ka Amrit Mahotsav". The minister also dedicated to the nation the record of "Securing the future of more than 10 lakh girl child through opening of Sukanya Samriddhi accounts in various post offices in a short span of two days". The Prime Minister through his Twitter handle appreciated this initiative of the Department.
During the exhibition the department released a series of special covers on Nari Shakti, Yuva Shakti, International Year of Millets 2023, Nature & Wildlife of India and Unsung Heroes. A set of picture postcards "Flavours of Delhi" were also released during the event.
On the 2nd day of the exhibition, a set of 8 sets were issued on "Bridal Costumes of India" in the august presence of Shovana Narayan, renowned kathak dancer.
Enhancing its role in popularizing GI products in the country, during the event, a set of 12 commemorative stamps in souvenir sheet "Geographical Indications: Agricultural Goods" were also released. Speaking on the occasion Shri Anurag Jain, Secretary DPIIT, applauded the transformation of India Post in the last 7-8 years and its increasing importance in G2C services and last mile implementation of various programs of Government of India.
AMRITPEX 2023 was Divyang enabled exhibition with a sensorial zone for visually impaired visitors. A special letter writing competition was organized in braille. A sign language expert was placed on stage to make all stage happening accessible for the hearing impaired.
A number of cultural programs including Dak Ghar Play by National School of Drama, Dance performance by Bal Bhawan, Kavi Sammelan by Jashan e Adab, Sitar performance by Utsad Shujaat Khan, and Ballimaran project by Piyush Mishra were the main crowd pullers. A puppet show and youth parliament were other major attractions of AMRITPEX 2023.
On the last day of the 5-day event, an international round table and panel discussion on "Postal Services: A tool for global socio-economic development and connect" was conducted. Mr. Jean-Paul Forceville, Director European and International Relations, La Poste, France, Dr. Vinaya Prakash Singh, Secretary General, Asia Pacific Postal Union, Mr. Vineet Pandey, Secretary, Department of Posts and Shri Muktesh K. Pardeshi, OSD (G20 Operations), Ministry of External Affairs, participated in this round table at Delhi. Representatives of Canada Post, Post Fiji, USPS, UPU attend the round table discussion digitally. It came out during the discussion that the postal network has an important role in financial inclusion and logistics and supply chain management. Postal services across the countries should partner with each other in areas of capacity building, digitization of postal networks, and philately to effectively play their role in national development. The recommendations of this workshop will be shared with G20 group and UPU for further deliberations and implementation.
More than 250 participants of AMRITPEX received awards under various categories. Champions Trophy was awarded to Mr. Piyush Khaitan. The gold medal was awarded to Ms. Damyanti Pittie, Mr. Santhosh M S, Mr. Rajesh Jhunjhunwala, Mr. Narendra Saboo, Ms. Ananya Kasaravalli , Mr. K S Mohan. Mr. E.P. James was awarded the Secretary's trophy and Ms. Poorva Bansal was awarded DG's trophy.
All the activities of AMRITPEX 2023 were made digitally available to netizens through various social media platforms. More than 6.5 Million netizens were informed and engaged digitally with AMRITPEX 2023 and more than 1 lakh netizens were actively engaged.
Secretary (Posts) Shri Vineet Pandey thanked the ministry of culture for active support in the design and conduct of AMRITPEX 2023. He also congratulated the thousands of the children who visited the exhibition and learnt something new about India and philately. He requested the children to continue philately as a hobby as it helps them to be more creative, aware and informed.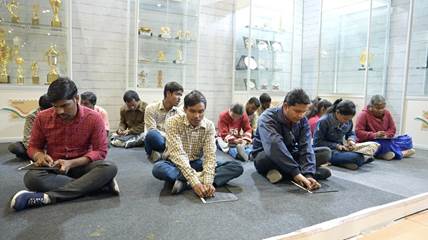 In the closing ceremony of the event, Director General Postal Services, Shri Alok Sharma highlighted the emerging role of post offices in nation building through digitization of its services and increasing the bouquet of G2C services especially for the last mile users. He said that in the last couple of years the department is actively working with various ministries of the government to effectively use the large network of India Post for delivery of programs and schemes. He also thanked the Philatelic Congress of India for the conduct of AMRITPEX 2023.
Shri Alok Sharma, Director General Postal Services congratulated the entire postal team for the grand success of this event. He highlighted the special efforts of Ms. Manju Kumar, CPMG Delhi & Chairperson of the Organizing Committee and Shri Sunil Sharma, DDG Philately who spearheaded the whole event and coordinated with various ministries and other key stakeholders.
Hon'ble Prime Minister Shri Narendra Modi through his twitter handle appreciated the participation of a huge number of children in AMRITPEX 2023. He encouraged the youngsters to further their interest in philately and letter writing.