Chairman, Khadi and Village Industries Commission (KVIC) Shri Manoj Kumar released margin money grant of Rs. 26.45 crore in favour of 803 beneficiaries under Prime Minister's Employment Generation Programme(PMEGP) Scheme in Kaithal,Haryana. These beneficiaries have been sanctioned Rs. 86.57 crore by banks for setting up enterprises under PMEGP. About 6424 people will get additional employment through these units set up by these beneficiaries. During his visit, he also distributed 400 bee boxes to 40 trained beekeepers under the Honey Mission.
Speaking on the occasion Shri Kumar emphasized the crucial role played by the PMEGP in realizing the vision of a self-reliant India as envisaged by Prime Minister Shri Narendra Modi. He stated that the "Sweet Kranti" call given by the Prime Minister is beginning to show its effects as more farmers and entrepreneurs join the honey production industry. The Chairman also mentioned that beekeeping has increased the income of farmers and boosted crop yields by 25 to 30 percent.
Under the Honey Mission, the Khadi and Village Industries Commission has been providing training to farmers and unemployed individuals in honey production, as well as distributing bee boxes. The Commission has distributed over 1 lakh 80 thousand bee boxes and bee colonies across the country, training more than 18 thousand beneficiaries. In Haryana alone, 4400 bee boxes have been distributed to 440 beneficiaries.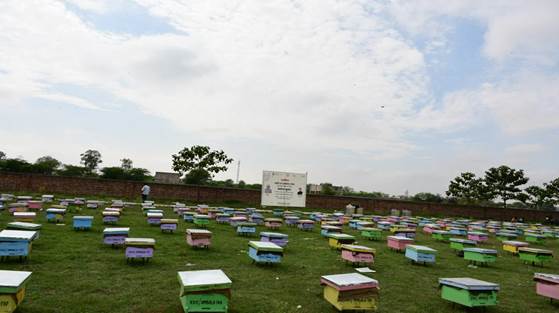 During the Honey Mission dialogue program held in Dayora village the Chairman  interacted with the beneficiaries and took suggestions from them. He also visited Khadi and Village Industries institutions and met representatives of the institutions.
The event was attended by officials of the Haryana Government, KVIC employees, and local dignitaries.