Union Minister for Rural Development and Panchayati Raj, Shri Giriraj Singh today asserted that the target of Prime Minister Narendra Modi to have 10 Crore SHG members by 2024 will be achieved as the Ministry is working on a pro-active mode to enroll new women Sakhis (members).
The Minister was addressing the media after the signing of an MoU by the Ministry with "Meesho" – an e-commerce platform owned by Bengaluru-based Fashnear Technologies Private Limited, for marketing of products made by the Self Help Groups under the Deendayal Antyodaya Yojana – National Rural Livelihood Mission.
Shri Giriraj Singh said, in May, 2014 when Modi took charge, there were 2.35 Crore SHG members, but with a focused approach to empower rural poor women in the last 9 years, the number of SHG members has swelled to more than 9 Crore and will touch 10 crore members by 2024.
In the August presence of Shri Giriraj Singh and Secretary, Rural Development, Shri Shailesh Kumar Singh, Additional Secretary-RL Shri Charanjit Singh and Shri Sanjeev Barnwal, Co-Founder and CTO from Meesho signed and exchanged the MoU.
Shri Giriraj Singh informed that the cumulative loan to SHGs was about Rs 80.000 crore before 2014 and now the bank linkage has crossed over 6.25 lakh crore in the last 9 years, with an NPA of just 2.08%. He said, efforts are on bring the NPA to less than one percent.
Shri Giriraj Singh said, each women beneficiary must save at least one lakh rupees per annum through sale of local products, which is the vision of Prime Minister. He also expressed confidence that within few years he will be able to achieve the target of 10 lakh Lakhpati Didis and added that the day is not far away when some of the lakhpati Didis will become Crorepati Didis.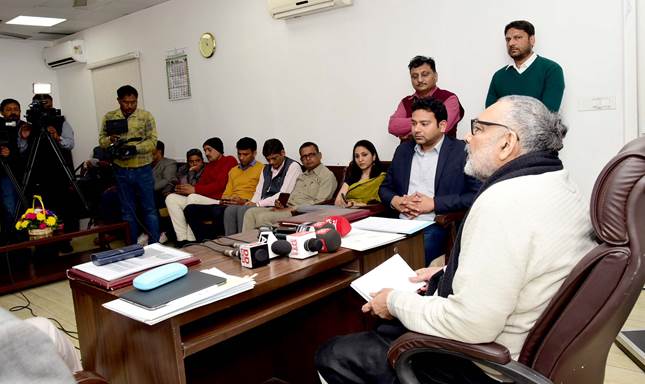 Referring to Atmanirbhar pitch of Prime Minister Narendra Modi, Shri Singh said, today the best products of SHGs are also being exported to different countries and there is a need for more and more awareness campaign both locally and globally about their niche products through e-commerce platforms and other avenues.
The Rural Development Minister informed that NRLM has been undertaking several efforts in supporting businesses run by rural SHG women that are engaged in producing food products, handicrafts and hand-loom etc. As part of the efforts to connect producers to markets, NRLM and SRLMs have taken steps to promote curated products from SHGs and SHG member entrepreneurs through multiple channels such as Saras Gallery, State specific retail outlets, e-Commerce platforms like GeM, Flipkart, Amazon.
Shri Giriraj Singh asked the Ministry officials that the MoU with Meesho should not remain on paper and that he will review the same every quarter. He asked the Ministry officials to sit with the Meesho Team and identify the areas and products which could be taken on a win-win proposition.
Shri Shailesh Singh, Secretary, Ministry of Rural Development said that SHGs have presence in 97% of Blocks, while 85 % of them are directly connected with the network of the Ministry. He also advised the SHGs and craftsmen to understand consumer's demand to improve the products. He said, the exploration of marketing platforms is nothing but an effort to handhold the SHG Didis to gain access to markets, both national and international.
Shri Sanjeev Barnwal, Co-Founder and CTO from Meesho said that this partnership with Meesho will enable SHGs across the country to get dedicated handholding and cataloguing support to start their businesses and receive training on how to ship their first order, how to maintain their accounts and list products etc. including dedicated on-boarding support and creation of Meesho Selling Accounts of recommended sellers for SHG products.
He added that additionally, Meesho will be providing training on cataloguing, order management, pricing and business growth, and will provide free support to individual sellers for 100 products and to aggregators for 300 products.  The platform currently offers zero commission fee on all products for Rural Livelihood Mission affiliate sellers.