New Delhi, 18th November: The Ministry of Culture is organizing India Art, Architecture and Design Biennale 2023 at Red Fort, to be inaugurated on 8th December 2023. Following the Inaugural & VIP preview, the exhibitions along with panel discussions, workshops and the art bazaar will be held from 9th to 15th December and will be open to public. The keynote addresses by international artists, architects, and designers, public art installations, art bazaar and cultural programs are the major attractions of the Biennale. The pavilions set up as part of the Biennale will be on display till the 31st of March 2024.
Building on the success of past events like the International Museum Expo & Festival of Libraries, the Biennale seeks to create a prominent global cultural event, comparable to those in Venice, Sao Paulo, and Dubai. Inspired by the Prime Minister's directive to establish five cultural spaces in India, including one at the Red Fort, IAADB'23 is an innovative initiative to highlights India's diverse art, architecture and design.
Addressing a curtain raiser press conference at National Museum, here today, Minister of State for Culture and External Affairs Smt. Meenakashi Lekhi said that the biennale showcases a diverse range, including traditional artisans, contemporary designers, curators, and thought leaders. The Biennale is an innovative initiative to celebrate the rich tapestry of our country's artistic heritage, spanning ancient, modern, contemporary and tech-driven art, architecture and design, said the Minister.
The week-long event is organised around daily themes, each aimed at showcasing different aspects of India's rich cultural heritage. Seven esteemed curators are involved in IAADB'23, ensuring a captivating experience that combines physical and digital exhibitions, interactive installations, sessions and panel discussions. Expertly curated catalogues will accompany each exhibition along with a comprehensive coffee table book for the entire event.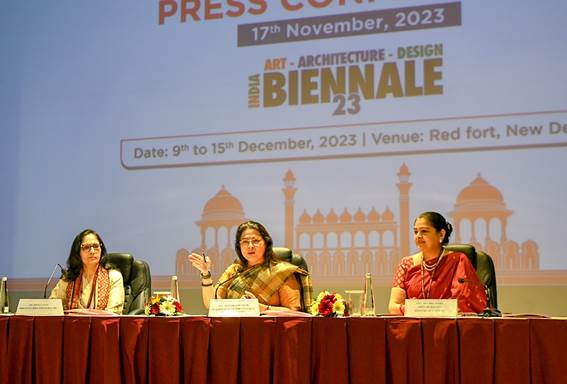 The curated pavilions at the event offer a fascinating journey through diverse aspects of India's cultural heritage. Mr. Aditya Arya guides visitors through "Pravesh" exploring the symbolism of doors and gateways. Ms. Anjchita B Nair curates "Bagh-e-Bahar," a pavilion delving into the concept of gardens as universes. Mr. Amit Pasricha takes on "Sthaypatya" exploring the timeless design and architectural resilience of temples. "Sampravah" is curated by Mr. Ratish Nanda and Mr. Vikramjit Rooprai, focusing on Baolis in India. Ms. Shikha Jain and Ms. Adriana A. Garreta present "Vismaya" a pavilion celebrating India's post-independence architectural splendour. Mr. Anubhav Nath brings forth "Deshaj": exploring folk art and design traditions. Finally, Ms. Swati Janu curates "Samatva" an exploration of women's contribution to architecture.
In addition to the above, the Ministry also invited artists and curators to submit their work for IAADB'23 through an open call on social media. The Ministry received 560 queries and 260 submissions of which 150 entries were selected and will be on display at the venue. In conjunction with the IAADB's mandate for inclusivity, a Student Biennale is also being organised from the 9th of December at the Lalit Kala Akademi and will serve as a platform for emerging talent to showcase creativity and imagination.
The India Art, Architecture & Design Biennale is set to be a unique event that aims to mobilise the community of artists and designers by providing a platform for both established and emerging artists. Its goal is to energize cultural and creative industries by fostering dialogue among practitioners in art, architecture, and design.