Ahead of the top G20 Ministerial meet and the final meeting of G20 Anti-Corruption Working Group (ACWG) at Kolkata tomorrow, India is seeking consensus among G20 nations against fugitive economic offenders to ensure faster extradition of fugitive economic offenders and recovery of assets, both domestically as well as abroad.
This was stated here today by India's Minister for Personnel, Public Grievances and Pensions, Dr Jitendra Singh in an exclusive interview to Doordarshan News before leaving for Kolkata. This is a G20 meeting making good headway for a consensual approach.
Dr Jitendra Singh recalled that it was Prime Minister Narendra Modi, who had presented a nine-point programme to take action against fugitive economic offenders during his address at the G20 Summit in Buenos, Argentina. He added that PM Modi highlighted the importance of cooperation in legal processes such as effective freezing of the proceeds of crime, early return of the offenders and efficient repatriation of the proceeds of crime.
The Minister from India said, "Economic offences have been a problem faced by many, especially when the offenders flee from the jurisdiction of the country and all countries are on the same page as far extradition of fugitive economic offenders and recovery of assets are concerned, but different laws of the member states pose a problem in this regard. He said, a consensus is already in the offing for collective and joint action to deal with this menace and deployment of sophisticated technologies are also being explored to tackle the problem.
In response to a question, Dr Jitendra Singh pointed out that India had organized a unique event on exploring "G20's perspective on synergizing gender sensitivity with anti-corruption strategies" on the sidelines of the second G20 ACWG meeting in Rishikesh, Uttarakhand in May this year. The event saw participation of high-level keynote speakers and governmental experts of G20 countries and international organizations.
Referring to a series of G20 meetings in various parts of the country including Jammu and Kashmir, North-East, UTs and tourist hotspots, Dr Jitendra Singh said, it gave India opportunity to showcase not only its prowess in various sectors, but also demonstrated the varied culture and diversity of India, which Prime Minister Modi is trying to convert into a permanent asset.
The Minister said, it's a proud moment for every Indian that India is hosting the G20 Summit and the credit for this goes to Prime Minister Modi. He said, after 26th May, 2014, when Shri Narendra Modi took charge at the Centre, India's global stature is continuously on the ascending path. He also added that on Geo-Strategic matters, India's views now matter and the whole world listens to our solemn advice on issues of global concerns.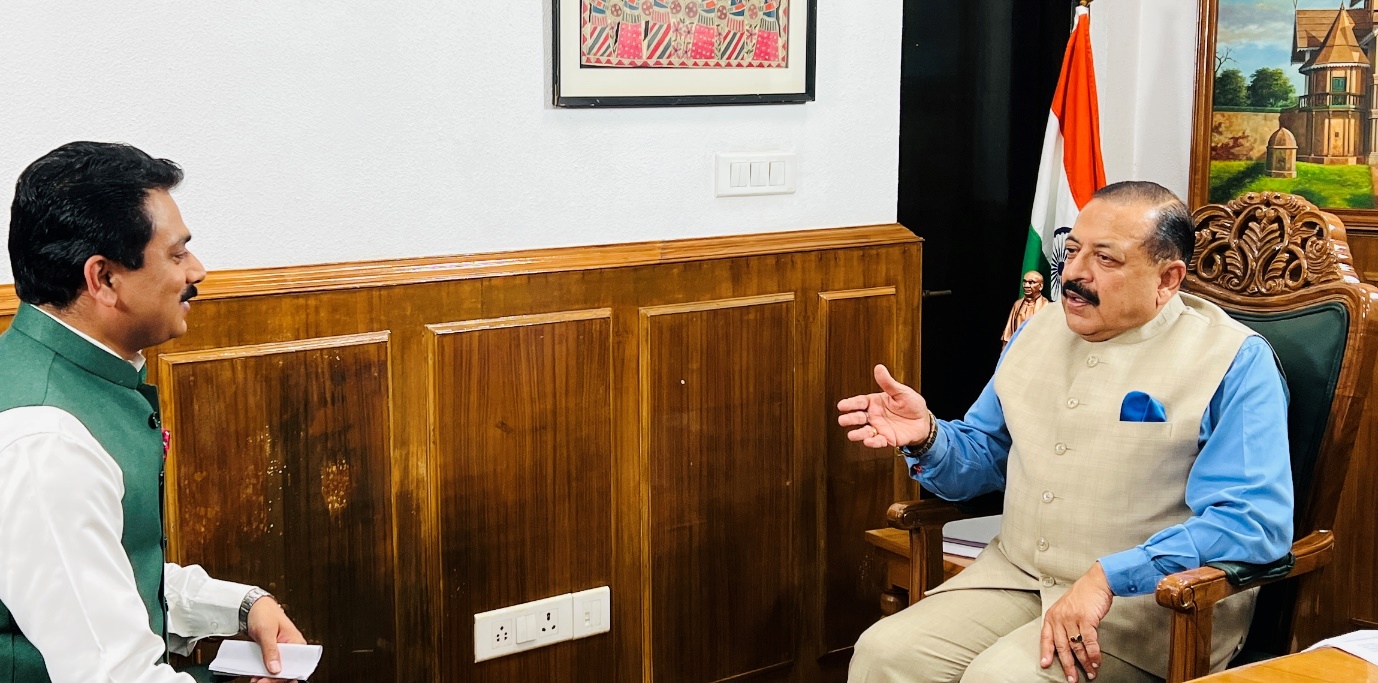 The third and final meeting of G20 Anti-Corruption Working Group (ACWG) under India's Presidency is being held from 9 to 11 August 2023 in Kolkata. Over 154 delegates from G20 Members, 10 invitee countries, and various international organizations are attending the meeting. It will be followed by the G20 Anti-Corruption Ministerial Meeting on 12th August 2023, which will be chaired by Dr Jitendra Singh, Minister of State (Independent charge) for the Ministry of Science and Technology, Minister of State for the Prime Minister's Office, the Ministry of Personnel, Public Grievances and Pensions, the Department of Atomic Energy and the Department of Space of Government of India. This will be the second ever Ministerial meeting of G20 ACWG and the first in-person ACWG Ministerial meeting. The deliberations at the level of Ministers will impart a further political impetus to combating corruption as ACWG plays a crucial role in leading international efforts to combat corruption.
Under India's G20 presidency, ACWG has been able to achieve significant progress on anti-corruption cooperation regarding action against fugitive economic offenders and return of assets, guided by the Nine Point Agenda for Action Against Fugitive Economic Offences and Asset Recovery, presented by the Prime Minister Shri Narendra Modi to G20 nations in 2018.
During the 1st and 2nd ACWG meetings held in Gurugram and Rishikesh respectively, India was able to forge a consensus in G20 to advance the international anti-corruption agenda by finalizing three outcome documents (High Level Principles) on important and sensitive issues.
These pragmatic and action-oriented highest-level commitments will contribute towards prevention, detection, investigation, and prosecution of corruption offences, strengthening domestic anti-corruption institutional frameworks, extradition of fugitive economic offenders and recovery of assets of such offenders from foreign jurisdictions.
The High-Level Principles on Promoting Integrity and Effectiveness of Public Bodies and Authorities Responsible for Preventing and Combatting Corruption will provide a guiding framework for strengthening the independence, transparency, and accountability of anti-corruption institutions. It will help in addressing root cause of corruption including institutional weakness and lack of accountability.
The High-Level Principles on Strengthening Asset Recovery Mechanisms for combating corruption are a set of guiding principles to support establishment of a robust and effective framework for the expeditious recovery of proceeds of crime. These principles will deter economic offenders who seek refuge in foreign jurisdictions.
The High-Level Principles on Strengthening Law Enforcement related International Cooperation and Information Sharing for Combating Corruption is a 6-point plan to enhance inter-agency cooperation and international cooperation through information sharing amongst law enforcement agencies and countries. It will ensure timely and effective action against corruption offences, prosecution of offenders and recovery of proceeds of crimes.
ACWG is also focusing on the role of audit institutions in tackling corruption. Earlier, in the year, side events were also organized to highlight the use of Information and Communication Technologies (ICT) in reducing corruption in public administration and delivery of public services and gender related issues of corruption. The discussion on impact of corruption on women initiated under India's presidency will generate further concrete action towards collective initiatives for adopting gender-sensitive and gender-responsive approaches in anti-corruption strategies.
The 3rd ACWG meeting in Kolkata will give direction to the future work of ACWG and further the commitments made on law enforcement cooperation, strengthening asset recovery mechanisms, and enhancing integrity and effectiveness of anti-corruption authorities during India's G20 presidency.
The meeting will also enable exchange of valuable insights and best practices related to combating corruption across different sectors by G20 members, invitee countries and international organizations (IOs). G20 Engagement Groups (EGs) including Civil Society (C20), Women groups (W20), Think tanks (T20), Supreme Audit Institutions (SAI20) and Business Groups (B20) will also update the G20 ACWG on work pertaining to anti-corruption issues in their areas.
These discussions will feed into the Anti-Corruption Ministerial Meeting. The second G20 Anti-Corruption Ministerial Meeting is a significant milestone in the journey of the group since its inception in 2010, reflecting the growing recognition of corruption as a multifaceted challenge that demands increased international cooperation and strong political impetus to address corruption on a global scale.