India and the Republic of Lithuania today agreed to work in the areas of deep tech Start-Ups and also forge lasting ties in manufacturing of semiconductor chips.
A High-level Lithuanian Delegation led by its Vice-Minister of the Economy and Innovation, Karolis Žemaitis today called on Union Minister of State (Independent Charge) Science & Technology; Minister of State (Independent Charge) Earth Sciences; MoS PMO, Personnel, Public Grievances, Pensions, Atomic Energy and Space, Dr Jitendra Singh in North Block here and discussed ways and means to revive the 2010 Agreement in the area of Science and Technology.
Responding to the keen interest of Dr Jitendra Singh to give a further fillip to Start-Up culture to create more job opportunities and wealth creation, Karolis Žemaitis assured the Indian Minister that Lithuania has robust know-how and capacities in life sciences, biotechnology and other STEM areas and keen to have cooperation between the two countries in high tech Start-Ups.
Dr Jitendra Singh said, India has made rapid advances in the last 9 years under Prime Minister Narendra Modi in areas of Science, Technology and Innovation and conveyed to the Lithuanian side that India is ready to extend all help to its age-old partner. He said, apart from rapid and globally recognized achievements in Space, the Biotech laurels in terms of 4 Indigenous Vaccines of COVID is before the world. The Minister said, India has supplied over 723 lakh doses of COVID-19 vaccine to 94 countries and also shared the COWIN app for efficient vaccine delivery.
The Lithuanian Minister mentioned that a global MNC from his country, "Teltonika" is working with Taiwan for manufacturing of sophisticated chips and the company has a presence in India also and can take collaboration of chip making to a new height in years to come.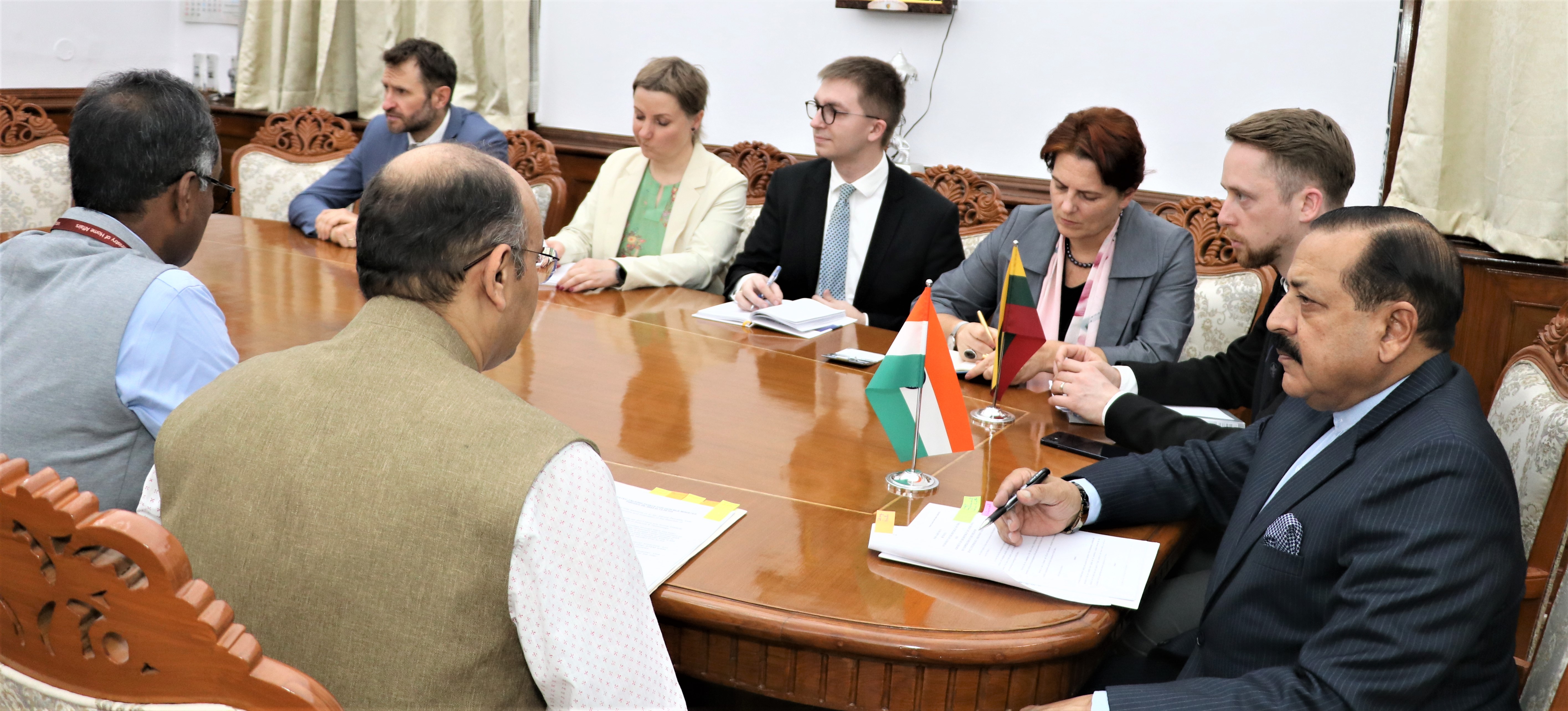 The Department of Science & Technology through MEA has been negotiating a Science & Technology Agreement with the Government of Lithuania since 2010.  In April 2010, a revised Indian counter draft incorporating few minor modifications was formally submitted to the Lithuanian side. Formal response of the Lithuanian side is still awaited. Copy of the last version may be handed over to the Lithuanian Vice Minister.