The first Digital Economy Working Group (DEWG) meeting continued with great momentum on its second day, with active participation from G20 members, knowledge partners, and 8 guest countries. The focus of the discussions was on two key priority areas of the DEWG group: Digital Public Infrastructure (DPI) and Cyber Security in the Digital Economy.
The day began with welcome remarks from Shri Sushil Pal, Joint Secretary, MeitY and the Co-Chair. Thereafter, Shri Alkesh Kumar Sharma, Secretary, MeitY and the Chair of the DEWG made the opening remarks and set the context for the day's discussions. He emphasized that the goal is to ensure that the benefits of technology be available to everyone. Digital Public Infrastructure is crucial for Digital Transformation. He also stated that resilience and cyber security of Digital Economy are paramount and Digital Skilling is important for bridging asymmetry gap and for creating future ready workforce.
Troika members Indonesia and Brazil also addressed the gathering and expressed their support for India's G20 Agenda.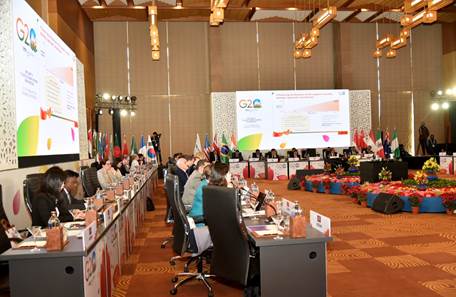 The keynote address was given by India's G20 Sherpa, Shri Amitabh Kant, who spoke at length about the successes of DPI in terms of inclusion, delivery of social services, preventing monopolization in digital space, and security, privacy & governance. and shared the full suite of Indian DPIs namely AADHAAR, MOSIP, CoWIN, DigiLocker, UMANG, DEPA, ONDC, ULIP etc. With effective implementation of DPI, India leapfrogged 40 years of development and progress, in what was expected to be achieved in 47 years. Any country can use the already developed DPIs and innovate on the top of same.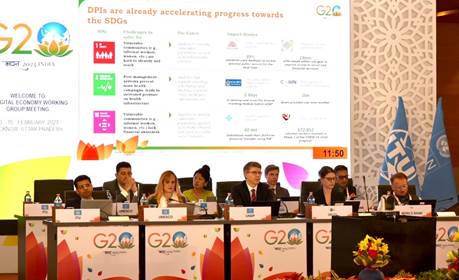 Throughout the day, there were insightful presentations and interventions from G20 members, key knowledge partners, and guest countries. The delegates also took a moment to express their condolences for the earthquake victims in Turkiye.
The concluding remarks of the day were made by the Co-Chair, Shri Sushil Pal.