The two-day Women-20 (W-20) Inception Meet at Chhatrapati Sambhajinagar came to an end today. In this meet, around 150 women dignitaries from member countries, guest countries and special invitees participated.
Addressing the delegates at the Inaugural Ceremony on Monday (February 27, 2023), Union Minister for Women and Child Development (WCD), Smt. Smriti Zubin Irani spoke about  the five priority areas of W20 under India's Presidency, namely, Women's Leadership at the Grassroots, Female Enterprise and Female Prowess in the Agriculture Sector, Bridging the Digital divide, Education and Skill Development and Women and Girls as Changemakers in Climate Resilience Action. Welcoming the W-20 member delegates from various parts of the world, the Union WCD Minister stated that the leadership and contribution of W20 is valued as the arrival of W20 member delegates marks the arrival of the solution that the women of the world seek.She expressed hope that the amalgamation of the best minds of W 20 across the world can also provide guidance on leveraging best practices from each country to build more on women- led businesses, women in agrarian societies, needs of women in the health sector and women in education and particularly skilling. She also called for leveraging technology to bring about equity. She urged W-20 members to brainstorm on how to spread the framework of engagement of women across the world and with governments and stakeholder organizations. The Union Minister also stated that out of the 3 million women across the world who are appointed to political offices at the grassroots level, 1.4 million women are from India. She further stated that 230 million PM MUDRA loan beneficiaries were women. Close to 100 million women in India are also part of the workforce in the agricultural sector.  The Union WCD Minister also stated that India's National Education Policy has provisioned for a Gender Inclusion Fund.
G-20 Sherpa Shri Amitabh Kant, MoS for Finance, Government of India, Dr. Bhagwat Karad, MoS for Ministry of Railways, Government of India, Sh Raosaheb Danve Patil, MLAs Sh Atul Save, Sh Sandipanrao Bhumre, Founding Chair of W20, Dr Gulden Turktan, W-20 Chair Dr. Sandhya Purecha and W-20 Chief Coordinator, Smt Dharitri Patnaik were also present at the inaugural ceremony.
Setting the tone for the deliberations, Shri Amitabh Kant had stated on Monday, "Not only having women merely as beneficiaries, but having women emerging as leaders of development is a key agenda as women and children are the major sufferers of poverty". He further stated that W20 is being perceived as important for developing potential of women as leaders which is a critical long term investment for global prosperity".
Union Minister of State for Finance, Dr. Bhagwad Kishanrao Karad had welcomed the W-20 members, guest and special invitees to the historical city of Chhatrapati SambhajiNagar (formerly Aurangabad). Union Minister of State for Railways, Coal and Mines Raosaheb Danve Patil spoke about Union Government schemes like PMJDY, Mudra Yojana which are benefitting women immensely.
The various sessions on Day-1 of the W-20 Inception Meet focussed on a wide range of issues like 'Empowering Women in Nano, Micro, and Startup enterprises', 'Role of Women as Changemakers in Climate Resilience Action', 'Creating an Enabling Ecosystem for Women Leaders at the Grassroots', 'Improving Access Through Infrastructure & Skill to bridge the Gender Digital Divide' and 'Creating Pathways for Women through Education & Skilling'. There was also a special session on "Women-led Development in India".
Taking forward the delibarations, Day-2 of the inception meeting today started with a special session on the theme "Breaking the Barriers: The Stories of Unconventional Women". The introductory remarks were made by Rajya Sabha MP Dr. Sonal Mansingh who welcomed the international delegates by bowing her head in "Namaskara" symbolic of the Indian idea of identifying the God within each one of us. She along with Dr. Sandhya Purecha launched a coffee table book called ' Avvaya" highlighting the contribution of women to the heritage city of Chhatrapati Sambhaji Nagar.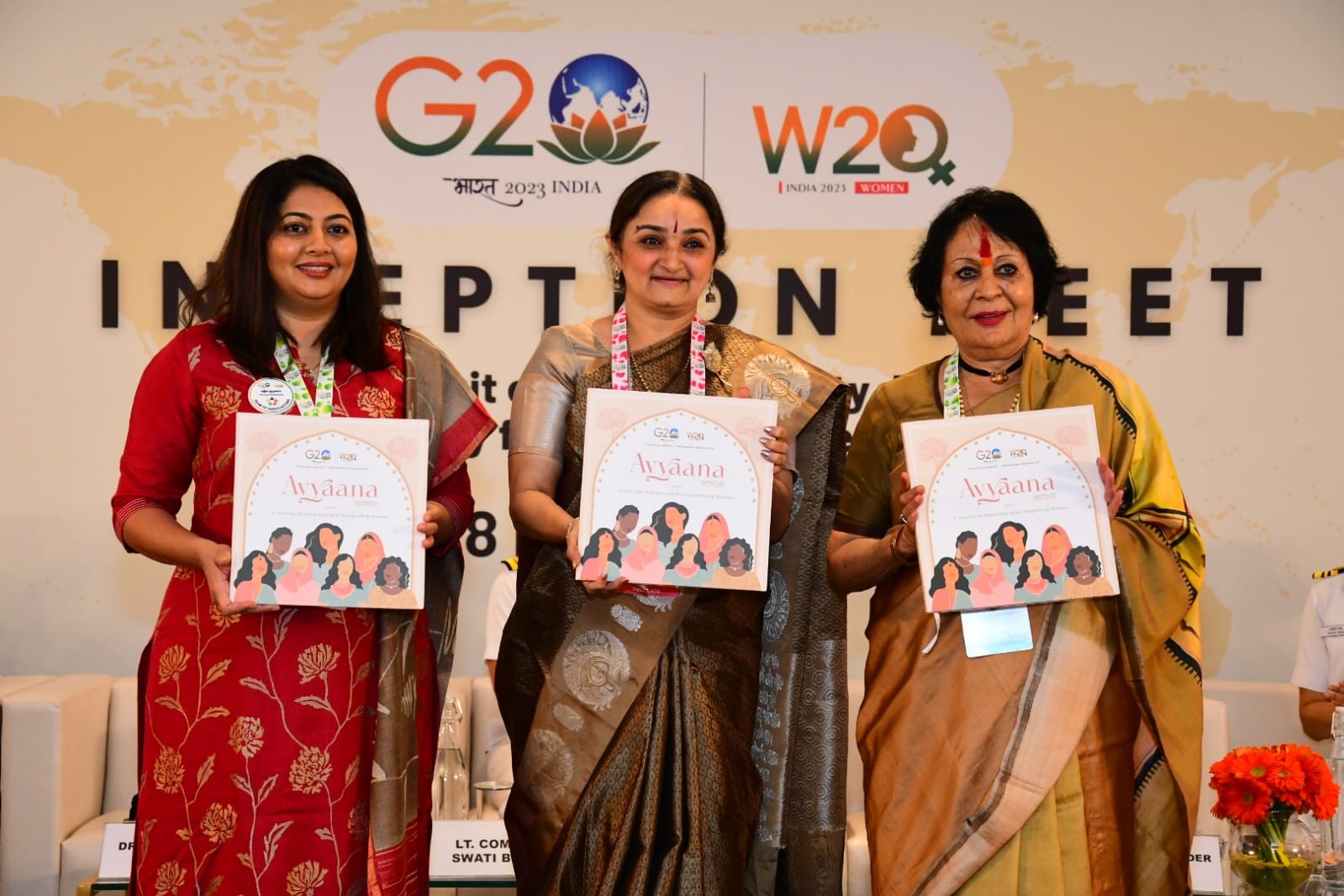 Release of a coffee table book called ' Avvaya" highlighting the contribution of women to the heritage city of Chhatrapati Sambhaji Nagar
The session also saw the participation of bravehearts from Indian Navy – Shazia Khan, Disha Amrith, Tavishi Singh, and Swati Bhandari who rose above the social fabric to quash the patriarchal ideas that restrict women from entering certain sectors. Deepa Bhat Nair, representative of Navy Welfare and Wellness Association elaborated on the role played by Navy wives for the growth of the Indian society and in empowering women through their initiatives.
Indian Navy women officers delioberating at a session on Day-2 OF W-20 Inception Meet
Zubedia Bibi, a member of the Jammu & Kashmiri Rural Livelihood Mission expressed how the Administration's initiative under the Union Government has helped women in rural areas to economically empower themselves and provide for their families.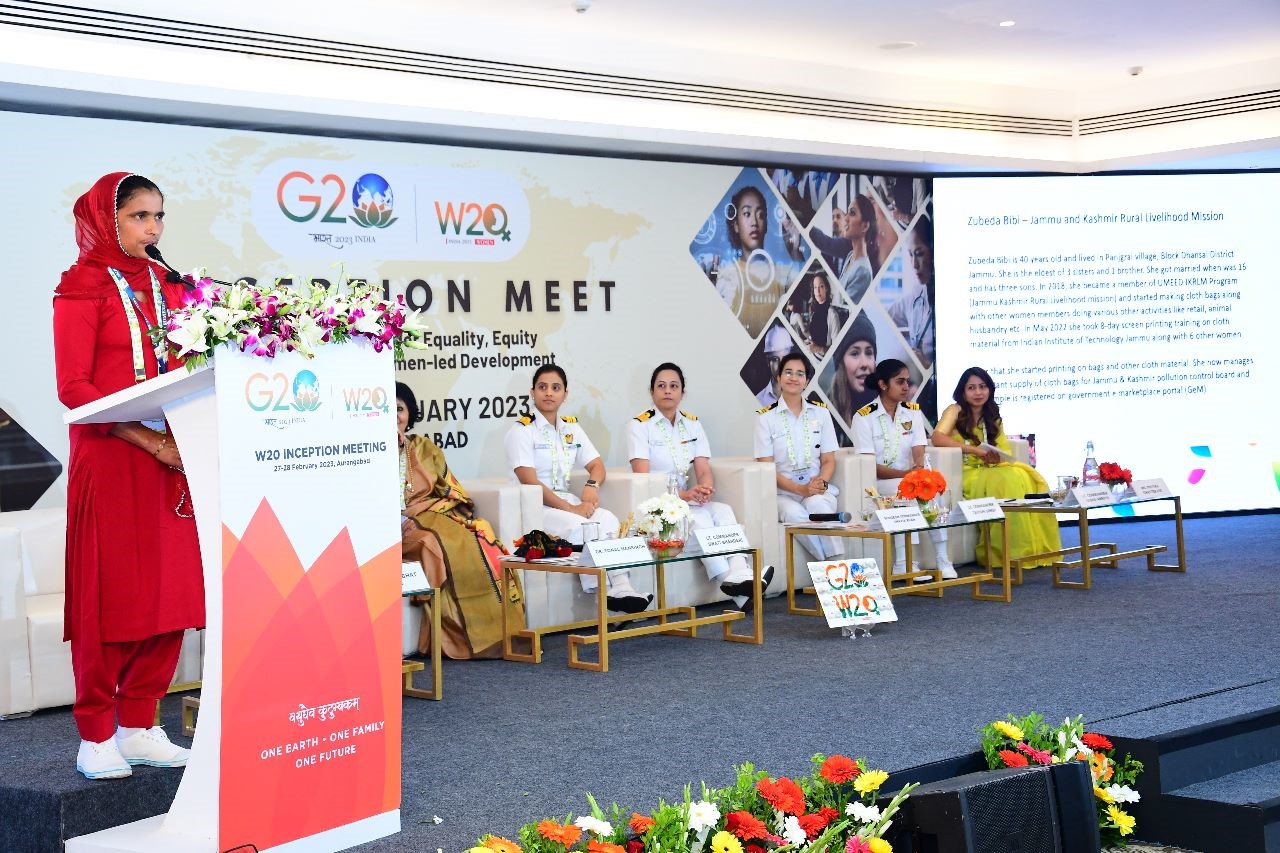 Zubeida Bibi from J & K Rural Livelihood Mission speaking at a session of W-20 Inception Meet
The sixth session of the W-20 Inception Meet, titled 'Enablers of Women-led Development: Policy and Legal Framework' focused on the role of policy and legal framework as enablers of women-led development and economic empowerment. Ms. Michelle Silverthon, Founder and CEO of Inclusion Nation, USA, moderator of the session encouraged panelists to share their experiences in their respective fields. Ms. Silverthon narrated her personal story showcasing the strength of unity and said, "We all have to work together and leave no one behind."  Panelists of this session included Ms. Susan Jane Ferguson, Country Representative, UN Women India, Ms. Professor Narnia Bohler, Advocate and Academician from South Africa and Ms. Katherina Miller, Founder of MLK Law Firm from Spain. They stressed on the importance of laws and policy measures to inculcate a change in the mindset and behaviour that has hindered the progress of women in the world. Ms. Bansuri Swaraj, Advocate at the Supreme Court of India, also a panellist in this session, emphasized the importance of political will and encouraged all women to make their vote count because the political will is the best way to bring about gender equity.
Panelists of the session on 'Enablers of Women-led Development: Policy and Legal Framework'
The W-20 delegates also went for a heritage walk today morning, to the historic sites of Bibi Ka Maqbara and Aurangabad Caves and the world-renowned gates of the city. Cultural programmes were also organized to give the international delegates a taste of Indian culture and tradition.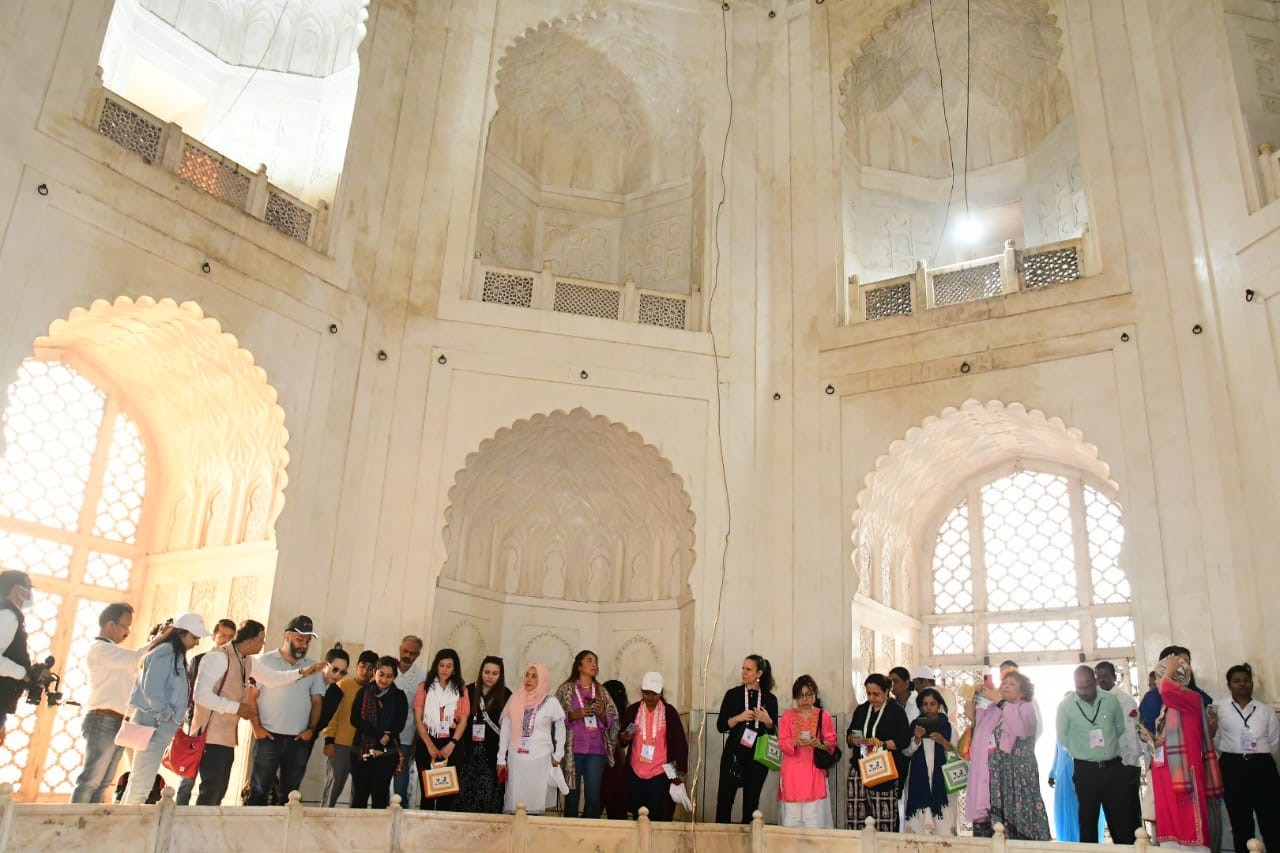 W-20 will bring out various knowledge products- white papers, policy briefs, video documentaries, opinion pieces, handbook and communique with the purpose of influencing G20 nations and leaders to make women's agenda at the core of G-20 deliberations. The emphasis of W20 will be to influence the G20 Leaders' Declaration and G20 Communiqué and take steps to build consensus for active engagement with women entrepreneurs, and commitments to policies that will advance gender equality. W-20 India has adopted the 4C strategy of Collaboration, Cooperation, Communication to build consensus and Call to Action to achieve its mission and goals.
****