New Delhi: The Union Minister of Jal Shakti, Shri Gajendra Singh Shekhawat will be chairing a Regional Conference of Ministers from 6 States and 2 Union Territories to review the progress made under Jal Jeevan Mission and Swachh Bharat Mission-Grameen. The conference will be held at Vidhana Soudha, Bengaluru on 5th March, 2022. The meeting will be attended in person by the State Ministers along with senior officers from rural water supply and sanitation department. The meeting can be viewed following the link: https://youtu.be/xDySoG1lnic .
Union Minister will be discussing the State/ UT specific issues and challenges in implementation of both the programmes and way forward. During the conference, the States/ UTs will be given an opportunity to put forward their expectations from the Ministry, so that timely support may be provided in expediting programme implementation.
Union Minister Jal Shakti, Shri Gajendra Singh Shekhawat while talking about the conference said, "Prime Minister accords highest priority to women empowerment and healthcare as he has launched two flagship programmes which focus on water & sanitation thereby ensuring 'ease of living' especially for women and young girls. In the last 7 years, Government of India is 'working with speed and scale', to ensure provision of 100% tap water connectivity and safe sanitation facilities in every rural household making sure 'no one is left out' no matter which socio-economic strata they belong to.
'Har Ghar Jal' is a flagship programme of Government of India, being implemented by Jal Jeevan Mission (JJM) under Ministry of Jal Shakti. JJM aims to provide tap water connection to every rural household in the country by 2024. Telangana and Puducherry achieved 100% coverage in 2021. Madhya Pradesh plans to provide tap water connection to all rural households by 2023 followed by Andhra Pradesh, Karnataka, Kerala and Tamil Nadu in 2024.
Swachh Bharat Mission-Grameen (SBM(G)) is another flagship programme being implemented by Ministry of Jal Shakti. All the Gram Panchayats declared themselves Open Defecation Free on 2nd October, 2019. Under SBM(G) Phase II, the focus is on maintaining ODF status and work towards solid and liquid waste management so that the villages move from ODF to ODF Plus.
Smt. Vini Mahajan, Secretary, Department of Drinking Water & Sanitation, GoI will set the agenda for the conference which will focus on important issues pertaining to implementation of both the programmes. There are many regions in Madhya Pradesh, Andhra Pradesh, Tamil Nadu and Karnataka where ground water level is fast depleting due to excess extraction not just for drinking and household needs but also for irrigation, construction and industrial purposes. Similarly, in coastal areas of Kerala, Andhra Pradesh and Karnataka there is a challenge of providing clean tap water to every rural household.
Shri Arun Baroka, AS & MD (JJM & SBM(G)) will be making a detailed presentation on achievements made, challenges encountered and way forward. He will share the concerns of the Ministry and propose possible solutions.
The regional conference will see discussions on ODF Sustainability, biodegradable and plastic waste management, greywater management, faecal sludge management apart from strengthening modalities for convergence and stepping up the implementation of ODF plus elements of SBM(G) Phase II. Subject matter experts and senior government officials will be making presentations on various practices that have effectively helped manage SLWM in rural areas. Participating States have done noticeable work in delivering sanitation services in villages. The States plan to make their villages ODF plus by 2024.
Reaffirming its commitment towards public health and well-being of the people living in rural areas, in the Union Budget 2022, fund allocation for JJM has been increased from Rs 45,000 Crore in 2021-22 to Rs 60,000 Crore in 2022-23.  For SBM(G), Rs.7,192 Crore have been allocated in the budget for the year 2022-23.
During the current financial year, under JJM, Rs 20,487.58 Crore has been allocated by the Centre for these 6 States and UT of Puducherry. (Andhra Pradesh – Rs 3,182.88 Crore, Karnataka – Rs 5,008.80 Crore, Kerala – Rs 1,804.59 Crore, Madhya Pradesh – Rs 5,116.79 Crore, Tamil Nadu – Rs 3,691.21 Crore, Telangana – Rs 1,653.09 Crore and Puducherry – Rs 30.22 Crore).   Under SBM(G), Rs 1,355.13 Crore has been allocated for the said States and UT. (Andhra Pradesh – Rs 437.64 Crore; Karnataka – NIL; Kerala – Rs 34.68 Crore; Madhya Pradesh – Rs 668.96 Crore; Tamil Nadu – Rs 26.29 Crore; Telangana – Rs 180.67 Crore and Puducherry – Rs 6.89 Crore)
SBM(G) Phase-II was approved in February, 2020 with a total outlay of Rs 1,40,881 Crore to focus on sustainability of ODF status and Solid and Liquid Waste Management (SLWM). SBM(G) Phase II is a novel model of convergence between different verticals of financing under various Central and State governments. Apart from budgetary allocations by Department of Drinking Water and Sanitation and corresponding State share, remaining funds are being dovetailed from 15th Finance Commission tied-grant to Rural Local Bodies, MGNREGS, CSR funds and revenue generation models, etc., particularly for SLWM. SBM(G) Phase-II is being implemented in mission mode from 2020-21 and shall go upto 2024-25.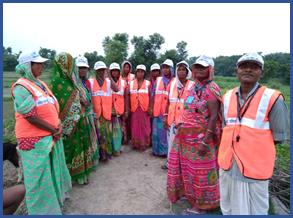 Phase II of SBM(G) has seen a solid start with nearly 65 lakh household benefitting from an Individual Household toilet. Over 1.18 lakh Community toilets were built and more than 43,000 villages declared themselves ODF Plus in the country. Approximately 5.5 lakh toilets and around 12,000 community sanitary complexes have been built in participating States/ UTs alone.  Over 50,000 villages have already been covered with solid waste management arrangements and over 25,000 villages have achieved liquid waste management arrangements.
Since the announcement of Jal Jeevan Mission on 15thAugust 2019, significant progress has been made across the country. In the last 2½ years, more than 5.88 Crore households have been provided with tap water connection despite disruptions and lockdown. Today, more than 9.12 Crore rural households have a provision of tap water connection.
So far under the programme, 4.71 lakh Village Water and Sanitation Committees have been constituted and 3.87 Village Action Plans have been developed. 13,787 Implementing Support Agencies have been engaged by the States/ UTs for awareness creation, community mobilization and to extend support in programme implementation to the Gram Panchayats and/ or its sub-committees. 9.26 lakh women in these States/ UTs have received training on how to use the Field Test Kits (FTKs) to enable checking the quality of water provided. These women are part of the 5-member surveillance committee set up in every village.
There are a total of 1.24 lakh villages spread across 6 States and Puducherry, which are participating in the conference, of these 21,959 villages have become 'Har Ghar Jal' (100% tap water coverage).
A 100-day campaign was launched by Union Minister Jal Shakti, Shri Gajendra Singh Shekhwat on 2nd October 2020 with an aim to provide tap water connection in every school, anganwadi centres and ashramshala (SC/ ST hostels set up in villages). The States/ UTs have been working relentlessly ensuring clean drinking water in all the learning centres. As on date 2.25 lakh schools and 2.31 lakh anganwadi centres have been provided with tap water connection for drinking, cooking mid-day meal, handwashing and usage in toilets. Andhra Pradesh, Karnataka, Kerala, Tamil Nadu, Puducherry and Telangana have ensured clean tap water in all its schools and anganwadi centres. Madhya Pradesh has provided tap water connection in 74% schools and 60% anganwadi centres.
Following the vision of Prime Minister "Sabka Saath, Sabka Vikas, Sabka Vishwas aur Sabka Prayas", 101 districts, 1,159 blocks, 67,473 Gram Panchayats and 1,39,366 villages have become 'Har Ghar Jal' in the country. Three States – Goa, Telangana and Haryana and three UTs – A&N Islands, D&N Haveli & Daman & Diu and Puducherry have provided 100% tap water coverage.