Government's philosophy of Sabka Saath Sabka Vikas has facilitated inclusive development said the Union Minister for Finance and Corporate Affairs, Smt Nirmala Sitharaman while presenting the Union Budget 2023-24 in Parliament today,
The Union Budget adopts seven priorities which complement each other and act as the 'Saptarishi' guiding us through the Amrit Kaal. Inclusive development is one of the priorities of the Government, which includes Health, Education and Skilling.
While giving stress on Teachers' Training, the Finance Minister said that teachers' training will be re-envisioned through innovative pedagogy, curriculum transaction, continuous professional development, dipstick surveys, and ICT implementation. The District Institutes of Education and Training will be developed as vibrant institutes of excellence for this purpose, she added.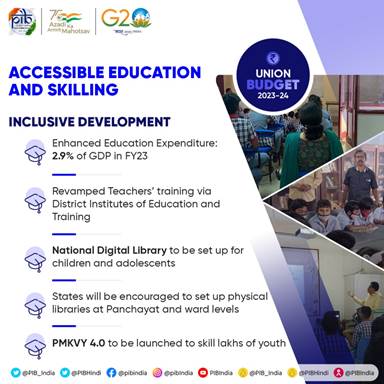 The Minister announced the setting up of a National Digital Library for Children and Adolescents for facilitating availability of quality books across geographies, languages, genres and levels, and device agnostic accessibility. She informed that states will be encouraged to set up physical libraries for them at panchayat and ward levels and provide infrastructure for accessing the National Digital Library resources.
The Minister also informed that to build a culture of reading and to make up for pandemic-time learning loss, the National Book Trust, Children's Book Trust and other sources will be encouraged to provide and replenish non curricular titles in regional languages and English to these physical libraries. Collaboration with NGOs that work in literacy will also be a part of this initiative, she added.
To inculcate financial literacy, Smt Nirmala Sitharaman said that financial sector regulators and organizations will be encouraged to provide age-appropriate reading material to these libraries.