New Delhi : The Ministry of Health and Family Welfare (MoHFW) in collaboration with States and Union Territories is celebrating the 4th Anniversary of Ayushman Bharat Health and Wellness Centres (AB-HWCs) under Azadi ka Amrit Mahotsav from 16th April to 22nd April 2022. The Block Health Melas commenced on 18th April 2022 in 33 States/UTs across India. These health melas are serving as platforms to attract thousands of people to avail quality healthcare services along with essential medicines and diagnostic services. They are a medium of providing health education, information on wellness lifestyle along with other healthcare services for early detection and treatment of diseases. The melas will continue till the end of the April.
The celebrations are being carried out with great enthusiasm and fervor across the country. Union Health minister, Health Minister of States/UTs, MPs, MLAs, senior officials of the Union Health Ministry, Principal Health secretaries/ Health secretaries of States/UTs, senior officials of the State Health department, representatives and local dignitaries are also visiting the AB-HWCs and creating awareness among the public reading the importance of AB-HWCs in providing affordable and accessible Health care.
According to the cumulative report of seven days of implementation of these health meals (since 18th April 2022).  Block health melas have been conducted in 3204 blocks. Some major activities during these melas held throughout the country in these seven days are given below. (18th – 24th April 2022): –
More than 27.31 lakh footfalls in 3204 block health melas across 33 States/UTs
More than 3.66 lakh ABHA IDs created across India, with maximum created in Maharashtra (56,321)
More than 1.17 lakh PMJAY golden cards created across India, with maximum created in Karnataka (22,091)
More than 1.76 lakh teleconsultations conducted across India
A cumulative of 6.75 lakh hypertension screenings, 6.11 lakh diabetes screenings, 2.05 lakh cataract screening done
About 1,009 block health melas had blood donation camps & 519 had registration organ donation
According to the information shared by states/UTs, block health melas were inaugurated by elected representatives such as Members of Parliament (MP), Members of Legislative Assembly (MLA) and Sarpanches as well as Deputy Commissioners, Chief Medical Officers and Civil Surgeons.
Lakshadweep:  innovatively accommodating block health mela during the Ramadan month by conducting the melas at night
Unique initiatives of states to enhance participation in block health mela:
Goa: Drawing completions for children on vector borne diseases
Ladakh: Army medical corps engaged in diabetes & hypertension screening
UP: Food safety on wheels by FSSAI
Chandigarh: tattoo making activity under Azadi Ka Amrit Mahotsava
Punjab: Street play (Nukkad Natak) on health awareness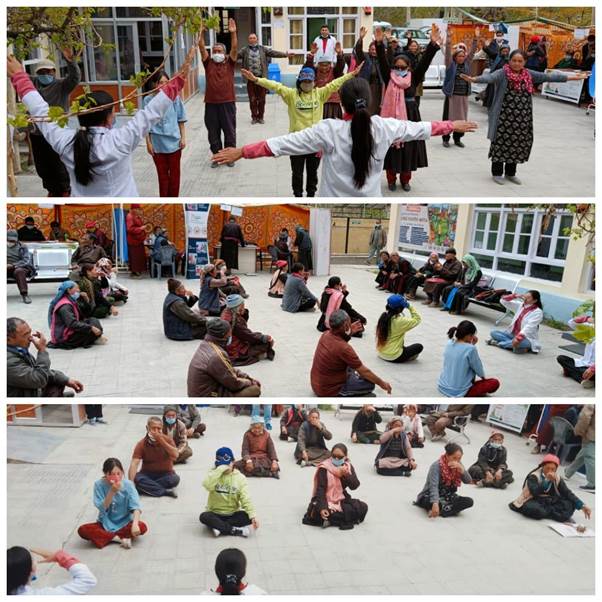 The state-wise Block Health Mela report as on 26.04.2022 is as under: