In a step towards financial literacy, Investor Education and Protection Fund Authority (IEPFA) CEO Ms. Anita Shah Akella launched two Investor Awareness Vans titled "Niveshak Sarathi", from IEPFA's headquarters as part of the Azadi ka Amrit Mahotsav celebrations, aligning with the theme "From Unawareness to Financial Independence."
This strategic initiative aims to disseminate crucial financial education and raise awareness against fraudulent schemes across the Delhi NCR region.
These specially equipped vans are equipped with a TV screen running "Hisab Ki Kitab," a series of investor awareness movies meticulously developed by IEPFA. Moreover, they are equipped with a public address system to ensure effective communication. Complementing these tools, a thoughtfully designed brochure compiles all the essential elements of financial awareness.
The initiative spanned five key locations, with each location across Delhi-NCR, hosting dedicated sessions conducted by the VLEs (Village Level Entrepreneurs) of IEPFA. These informative sessions collectively reached approximately 500 people, further emphasising the commitment to widespread financial literacy. The endeavour was fortified by the partnership of Common Service Centre as the knowledge partner.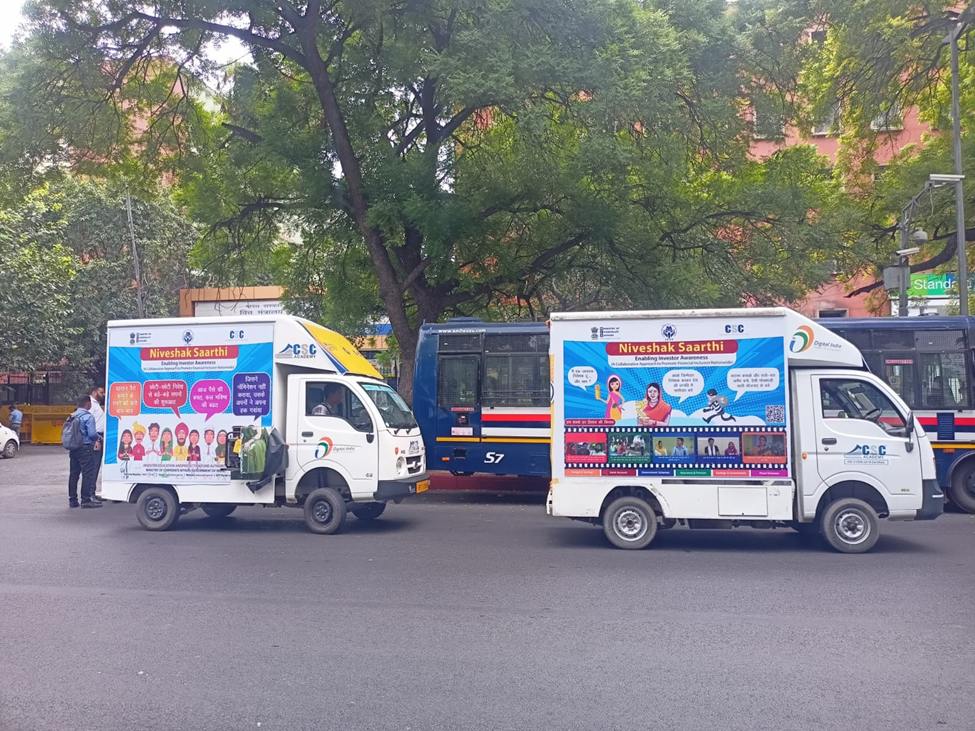 The journey of "Niveshak Sarathi" culminated at the CSC office on Lodhi Road, marking the end of a successful and impactful campaign to bolster financial awareness and education with an aim to conduct more sessions ahead.
About IEPFA
The Investor Education and Protection Fund Authority (IEPFA) was set up on September 7, 2016, under the aegis of the Ministry of Corporate Affairs, Government of India, for administering the Investor Education and Protection Fund for making refunds of shares, unclaimed dividends, and matured deposits/debentures, among other things, to investors.
About CSC
Based on the assessment of the erstwhile Common Services Centre (CSC) Scheme, the Government of India has initiated CSC 2.0 Project in August 2015, under the Digital India. The objective of the CSC 2.0 project is to set up at least one CSC in 2.50 lakh Gram Panchayats (GP) across the Country to deliver various citizen centric services The project is being implemented by CSC- Governance Services India Limited (CSC Special Purpose Vehicle, CSCSP). It is a self-sustainable entrepreneurship model which is run by Village Level Entrepreneurs (VLES).