"Collective and collaborative efforts within South East Asian Region countries would be key to ending TB." This was stated by the Union Health Minister, Dr. Mansukh Mandaviya delivered keynote address at the Ministerial meeting – Sustain, Accelerate and Innovate to end TB in the South-East Asia Region co-chaired by Dr. Tedros Adhanom Ghebreyesus, Director General, WHO at Gandhinagar today. They were joined by Dr Hans Henri Kluge, WHO Regional Director for Europe, Dr. Poonam Khetrapal Singh, Director, WHO SEARO today.
Health Ministers of Member States of the WHO South- East Asia Region H. E Mr Zahid Maleque Hon'ble Minister of Health and Family Welfare, Bangladesh, H.E. Ms Lyonpo Dechen Wangmo, Hon'ble Minister of Health, Bhutan, H.E Ms Safiyya Mohammed Saeed, Hon'ble Deputy Minister of Health, Maldives, H.E. Mr Mohan Bahadur Basnet, Hon'ble Minister of Health and Population, Nepal, H.E. Dr Keheliya Rambukwella, Hon'ble Minister of Health, Sri Lanka also participated in the event. Mr. Budi G. Sadikin, Minister of Health of the Republic of Indonesia shared a recorded message virtually. Ms. Dra Odete da Silva Viegas, Director General of Health Services, Timor-Leste, Ms. Francoise Vanni, Director of External Relations and Communications, Global Fund also participated in the event.         
The event witnessed a significant milestone in the signing of the Gandhinagar Declaration, the joint declaration by the Health Ministers and WHO SEARO. The Declaration is cognizant that despite progress, the SE Asia Region has missed the 2020 milestones of the End TB Strategy and the 2022 coverage targets as per the political commitment made during the UN High-Level Meeting on TB (UNHLM-TB) in New York on 26 September 2018. It expresses confidence that the WHO SEARO Region will be able to end TB by 2030 with unrelenting, concerted and synergistic actions in the right direction by all Member States with the support of partners, stakeholders and communities. The Gandhinagar Declaration commends the initiatives taken by Member States to enhance community approach against tuberculosis such as nutritional support to patients by individuals and groups, family-centric care, and financial support to patients for nutrition- and treatment-related transportation, which accelerates progress towards better outcomes and also reduces stigma.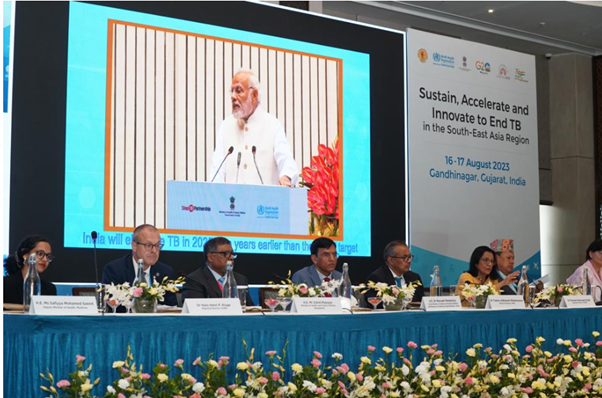 Lauding the visionary leadership of Prime Minister, Shri Narendra Modi, Dr. Mandaviya reiterated India's commitment of eliminating TB from India by 2025, five years ahead of the global Sustainable Development Goals. Dr. Mandaviya noted collaborative efforts, equitable access to diagnostic prevention, and treatment options are pivotal to ending TB as demonstrated by the pandemic. Elaborating further, he added "combating the prevalent stigma against TB in the society, India has been committed to providing, enabling and patient-centric support to all, individuals suffering from TB."
The Health Minister elaborated "India has leveraged the power of data-driven decisions by developing its own mathematical model to estimate TB burden using local evidence. Through its dedicated efforts, India has achieved a 13% reduction in TB incidence and a 15% decrease in mortality from 2015 to 2022, performing better than global averages." He further added "Through enhanced private sector engagement and sustainable models the notification of TB has improved by as high as 7 times in the past decade." Highlighting the 'RATION' trail which was recently published, Dr. Mandaviya stated "it validates the importance of nutrients in reducing, TB mortality as well as incidence."
In its mission to eliminate TB and combat stigma, the Health Minister enumerated measures of implementing a family-centric care model, a first of its kind community engagement mechanism known as 'Ni-kshay Mitras' under Pradhan Mantri TB Mukt Bharat Abhiyan to provide additional nutritional, diagnostic, and vocational support to TB patients. He further added Ni-kshay Poshan Yojana initiative for providing monthly nutritional support to those on TB treatment through Direct Benefit Transfer. It has successfully provided 7.5 million TB patients with over $244 million in their respective bank accounts.
Lauding the progress and efforts for combating TB, Dr. Tedros Adhanom Ghebreyesus stated "I applaud the leadership of Prime Minister Shri Narendra Modi and the Health Minister Dr. Mansukh Mandaviya for their remarkable steps towards ending TB." He further added "I commend India for its innovative approach, multi-sector partnership efforts, and funding for ending TB. This has given inspiration to other countries." He stressed that global health crisis such as the pandemic have reversed the progress gained in many countries, and though the goal of eliminating TB by 2030 seems ambitious, it is still achievable. He further added "We have new and powerful tools which reduce testing times, which are game- changers in treatment and healing of TB patients."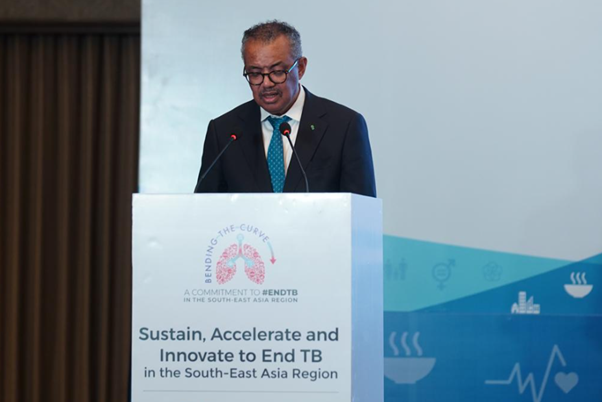 Shri Sudhansh Pant, Secretary, Ministry of Health and Family Welfare shared best practices implemented in India in combating TB thus far, and enumerated measures on way forward stating "there is an increasing focus on prevention more than cure". Leading the measures is expansion of prevention interventions, followed by galvanizing community support, decentralized TB services through health and wellness centres, He further recommended the use of technology using AI, adopting newer evidence-based drugs and diagnostics and driving innovation in programme operations.
Dr Poonam Khetrapal Singh emphasized on allocating adequate and sustainable domestic resources to meet TB service coverage targets, building on the substantial increases already achieved and stated "We must continue to engage and empower TB-affected communities, not just listening to but truly hearing them." She highlighted that it is imperative to "actively accelerate access to new TB tools, technologies and treatment regimens that are people-centered, and which are delivered at the primary health care level, within the community." She further added the vision of a South-East Asia Region where TB is no longer a public health problem, menacing millions of people with disease, death, poverty, and despair will require the highest the highest level of political and operational commitment. Elaborating further, Dr Poonam stated "I urge leaders from each country to establish a high-level multisectoral commission on TB, which could also help build health systems resilience and advance universal health coverage and health security." Addressing the gathering she said "Together we are bending the curve, and must now accelerate momentum, shaping history to our will. Let us seize the moment; together, let us end TB."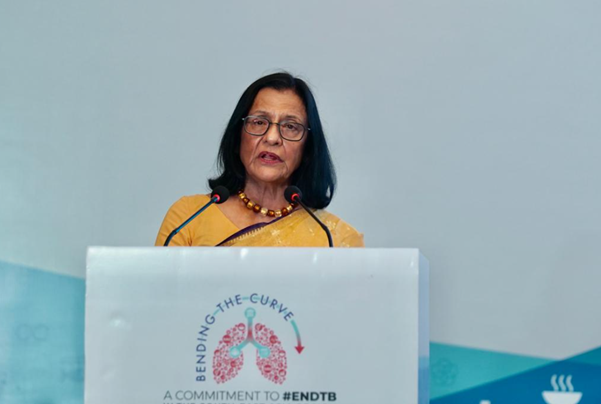 Hailing the transformative progress of treatment for TB, Dr Hans Henri Kluge stated "this is a revolution, that we now have a treatment regimen that reduces testing time from three days to two hours and treatment regimens that reduce treatment time from eighteen months to six months."
Dr. Atul Goel, Director General Health Services, Ms. Lamchonghoi Sweety Changsan, Additional Secretary and Mission Director (NHM), Ministry of Health and Family Welfare, Shri Vishal Chauhan, Joint Secretary, Ministry of Health and Family Welfare, Government Officials, WHO officials, senior leaders of health organizations and agencies (ADB, Gates Foundation, Global Fund to Fight AIDS TB Malaria, JATA, Stop TB partnership, The Union, UNAIDS, UNITAID, World Bank, and others), academics, civil society organizations, high level representatives from partner countries of Australia, Japan, South Korea, United Kingdom and the United States also attended the event.