The third and final day of the second Agricultural Deputies Meeting was organized in Chandigarh today. The day started with a discussion on the outcome document, addressed first by Smt. Shubha Thakur, Joint Secretary (Crops) and carried forward by Dr. Abhilaksh Likhi, Additional Secretary, DA&FW.
The day continued with two consecutive sessions focused on drafting the Communiqué by the member countries of G20 and was marked by elaborate discussions. Delegates from other invited countries and international organizations also put forth their viewpoints during the session and contributed towards an inclusive discussion on the Communiqué drafting exercise.
After the session, Secretary, DA&FW, Shri Manoj Ahuja addressed the press briefing and said that he hopes discussion on the Draft Communiqué and the deliberations will pave way for agreement on focus areas, which include food security and nutrition, climate smart agriculture, inclusive agriculture value chains and food systems and digitalization for agricultural transformation, keeping the spirit of 'One Earth, One Family and One Future'.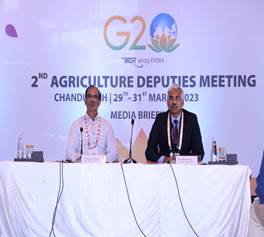 The day drew to a formal closure of the Agriculture Deputies Meeting with a wrap-up session, followed by a visit to the historic Yadavindra Gardens located in Pinjore, Haryana. Around 85 delegates joined the farewell dinner and concluded the event on a positive note.