Substance use disorder is an issue which is adversely affecting the social fabric of the country. Dependence to any substance not only affects the individual's health but also disrupts their families and the whole society.  Regular consumption of various psychoactive substances leads to dependence of the individual. Some substance compounds may lead to neuro-psychiatric disorders, cardiovascular diseases, as well as accidents, suicides and violence.  Therefore, substance use and dependence needs to be viewed as a psycho-social- medical problem.
To curb the menace of drug demand, the Ministry of Social     Justice     and     Empowerment (MoSJE), Government of India has been implementing National Action Plan for Drug Demand Reduction (NAPDDR) which is an umbrella scheme under which financial assistance is provided to State Governments. Union    Territory (UT) Administrations   for Preventive Education and Awareness Generation, Capacity Building, Skill development, vocational training and livelihood support of ex-drug addicts, Programmes for Drug Demand Reduction by States/UTs etc.  and NGOs/VOs for running and maintenance of Integrated Rehabilitation Centres for Addicts (lRCAs), Community based peer Led intervention (CPLI) for early Drug Use Prevention among Adolescents and Outreach and Drop In Centres (ODIC) Addiction treatment facilities (ATFs) in Government Hospitals' and District De-addiction Centres (DDACs) in the identified districts.
Nasha Mukt Bharat Abhiyaan (NMBA) is a flagship programme of Ministry of Social Justice & Empowerment which is currently operational in 372 districts of the country with an aim to create awareness about  ill  effects  of  substance  abuse  among the youth, with special focus on higher education institutes, university campuses, schools  and  reaching  out  into  the community  and  garnering  community  involvement   and ownership of the Abhiyaan.  So far 9.50+ crore people reached out so far including 3.10+ crore youth, 2.05 Crore through various activities. More than 3 lakh educational institutions have been reached to spread the message of drug de-addiction.
To make the Abhiyaan more effective, the Ministry felt that the spiritual organizations can play a very strategic role in the campaign. Taking a step in this   direction, Department   of Social     Justice    & Empowerment signed an MoU with the Prajapati Brahma Kumari Ishwariya Vishwa Vidyalaya, Mount Abu for spreading the message of NMBA among the youth, women, students etc. The ceremony was held in Dr. Ambedkar International Centre, 15 Janpath, New Delhi on 4th March 2023   in the presence of Dr.  Virendra Kumar, MSJE, Shri Ramdas Athawle, MoS (SJE), Senior      officers      of      the Department and senior members of the Brahma Kumaris management.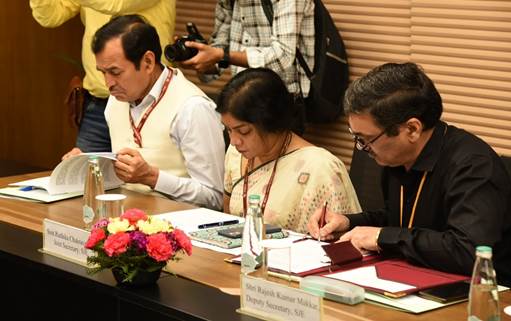 In the event, BK Asha Didi, Member, Brahma Kumaris Management Committee thanked the Ministry for giving opportunity to assist the people of this country to lead a drug free life. She stressed this would be possible only by self-introspection, self-awareness and spiritual awakening.
Afterwards, Hon'ble Minister of State Shri Ramdas Athawale emphasized on drug free society to make India topmost leader of the world and shared their views on how spiritual organizations can play important role in Nasha Mukt Bharat Abhiyaan.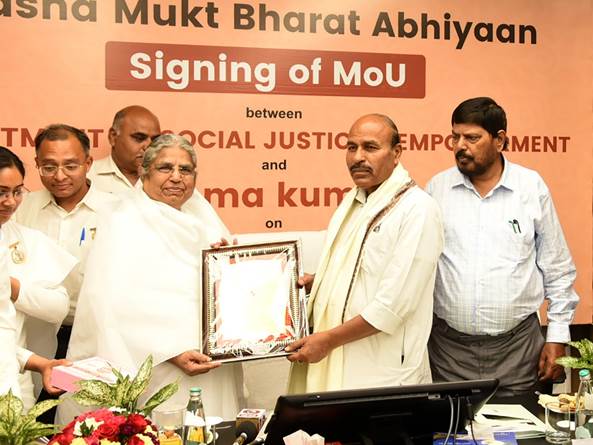 In the end, Minister of Social Justice & Empowerment Dr. Virendra Kumar thanked BK Asha Didi on behalf of Prajapita Brahma Kumari Ishwariya Vishwa Vidyalaya, for signing the MoU with the Ministry. Minister stated that NMBA has now become a mass movement and it is spreading day by day to every nook and corner of the country. He highlighted the need for collective and community-based approach in solving the problem of addiction. The participation of spiritual leaders will not only increase the outreach of this mission, but will also help people to keep distance from intoxication through spiritual enlightment.