New Delhi, 20th November: A mega-camp related to Viksit Bharat Sankalp Yatra (VBSY) has been organized at St. Mary's High School in Dahanu in Palghar district today. On this occasion, Maharashtra Governor Ramesh Bais distributed benefits of various government schemes to some eligible beneficiaries.
After Prime Minister Narendra Modi flagged off the Viksit Bharat Sankalp Yatra from Khunti in Jharkhand on the occasion of Janjatiya Gaurav Diwas last Wednesday (Nov 15, 2023), Ministry of I & B's IEC (Information, Education and Communication) vans are going around in various talukas in Maharashtra's five tribal districts, namely, Palghar, Gadchiroli, Nanded, Nashik and Nandurbar to spread awareness about various government schemes.
Speaking at the mega-camp at Palghar, Maharashtra Governor Ramesh Bais said, development should reach the rural areas for bringing about overall development of the country. The real success of any government scheme is when the person at the last mile can avail its benefits, he stated. The Governor further said that even after 75 years of independence, India is still a developing country. We have resolved to develop our country, he stated. While appreciating the central government's initiative of VBSY, he further said, development of tribal society and rural areas is necessary for bringing about equality in the country.
Union Minister of State for Panchayati Raj Kapil Moreswar Patil, Palghar's Guardian Minister from Maharashtra Government Ravindra Chavan, Zilla Parishad President Prakash Nikam, MP Rajendra Gavit, MLA Vinod Bhiva Nikole, Palghar's District Collector Govind Bodke, Special Inspector General of Konkan Zone Praveen Pawar and other dignitaries were also present.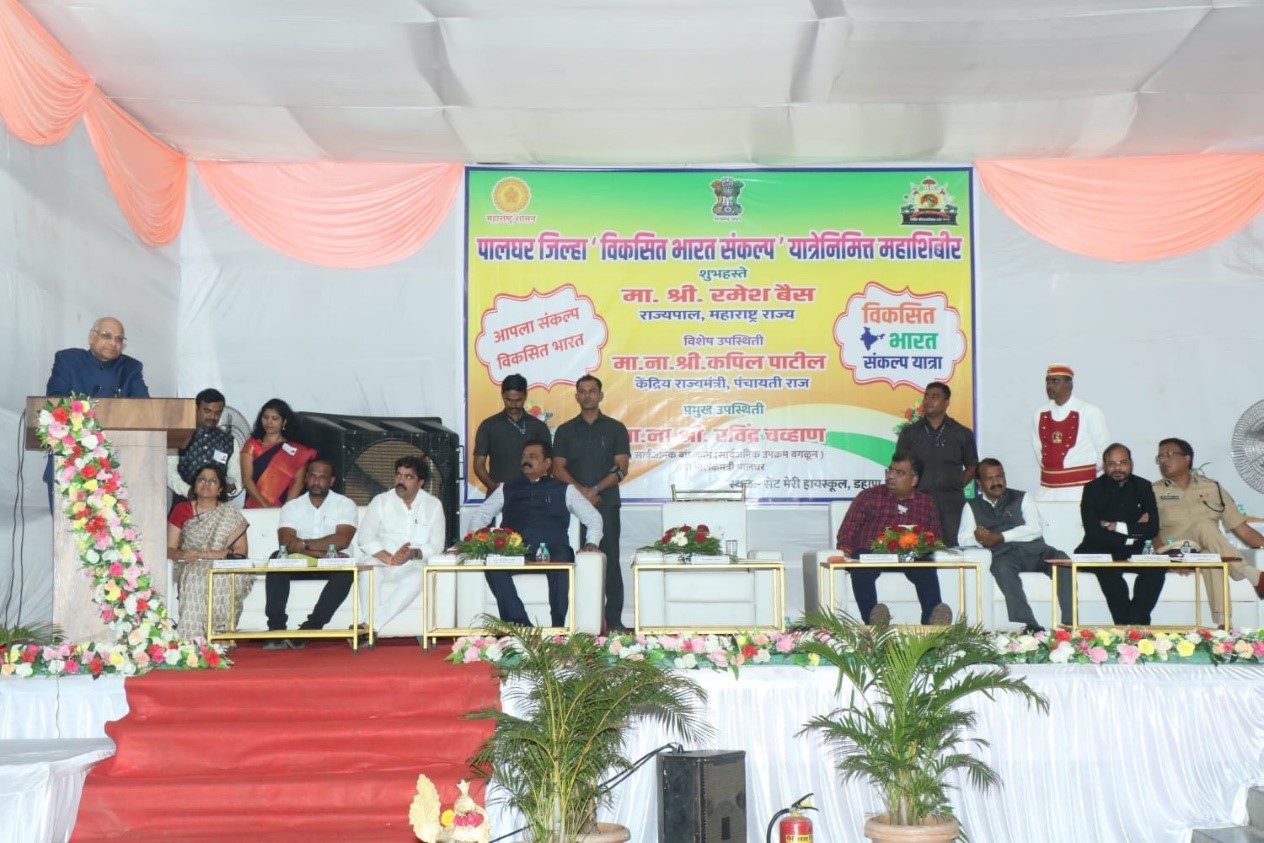 The Governor appealed to all to know about the various schemes brought by the Central Government for upliftment and benefit of tribal society. "Everyone should know whether they are eligible for it and every eligible person should take advantage of these schemes", he urged.
Union MoS Kapil Moreswar Patil said that the central government has made various efforts for the development of tribal society in the last nine years and brought them on the mainstream of development. For the overall development of the country, other stakeholders should also take initiative and try to reach the tribal community, he urged. He also said that the Prime Minister's resolve to make India a developed country will be fulfilled soon with the participation and development of all.
The VBSY IEC van entered Palsai village of Wada in Palghar district today. On this occasion, the representatives in the van informed the citizens, who had gathered in the mega-camp ground, about various welfare schemes meant for them. They were urged to apply for eligible schemes based on this information.
Another VBSY IEC van entered Thara in Kinwat taluka of Nanded district today. The villagers over there enthusiastically welcomed the VBSY van. On behalf of the district administration, free health check-up of local citizens was done. The citizens were specially informed about Ayushman Bharat and health related welfare schemes. A VBSY Van was also welcomed at Bodhi in Nanded district today.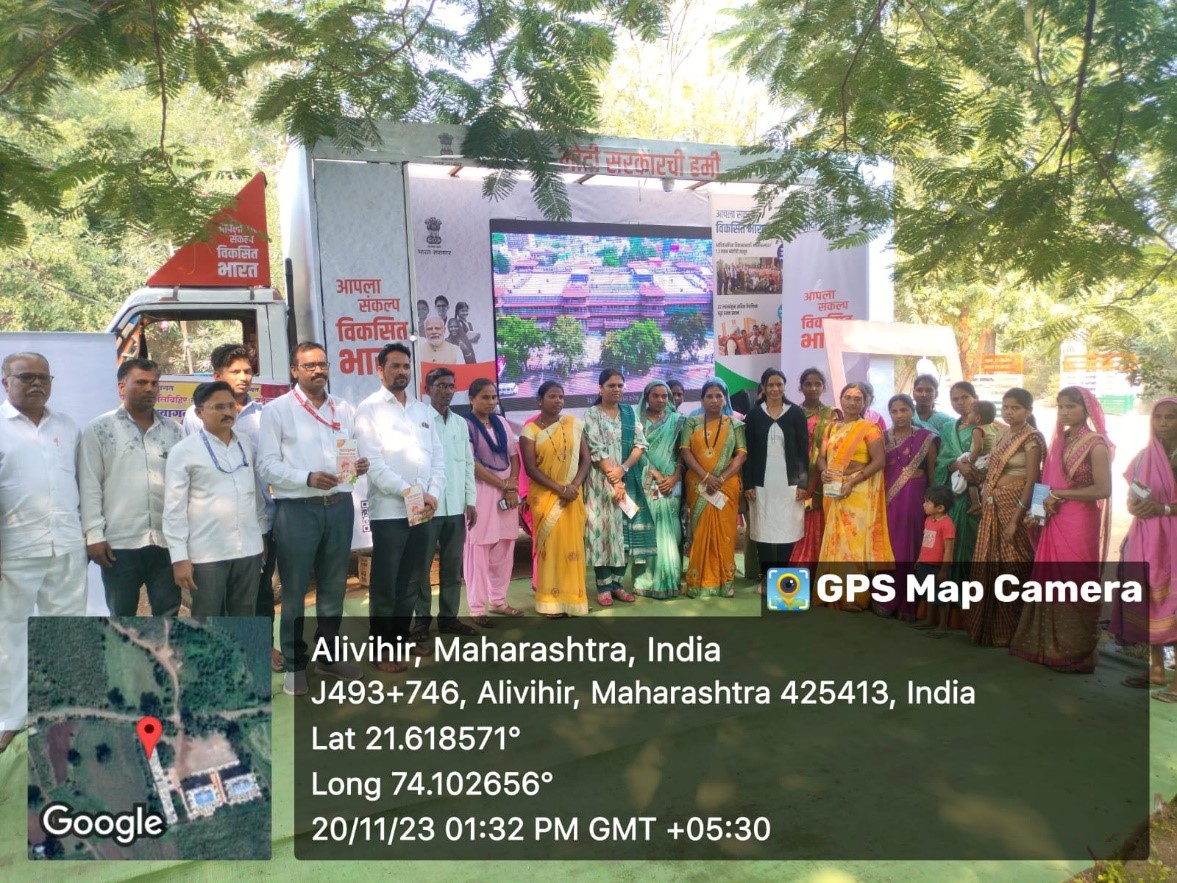 At Shahada of Nandurbar district, a PM Selfie Booth has been set up where a VBSY Van has been parked. Excitement around the selfie booth amomgst local citizens was observed.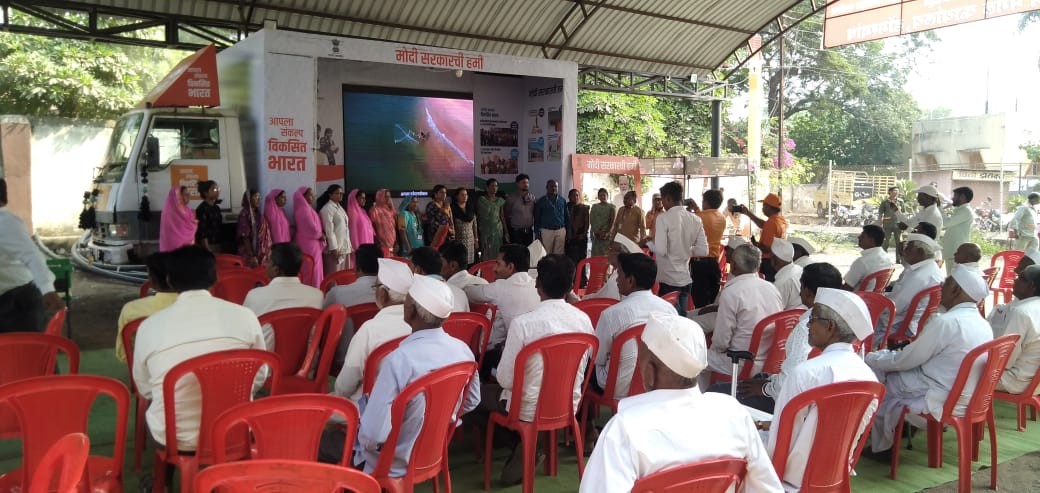 VBSY IEC vans also arrived at Aheri and Armori in Gadchiroli district of Vidarbha today. Local students welcomed the IEC van with the performance of a musical band and a cultural program. The IEC Van officials tried to create public awareness amongst local citizens about government schemes. District officials and public representatives also participated in the activities.
One IEC van was engaged at Baglan taluka in Nashik district today, for creating awareness amongst local citizens about government schemes.
These IEC vans, which are part of the big-scale countrywide communication campaign of the Central Government, are equipped to disseminate information through filmstrips, brochures, pamphlets, leaflets, and flagship stands in Hindi and regional languages, ​​highlighting major schemes and achievements at national, state and district levels.