The Union Minister of Ports, Shipping & Waterways (MoPSW) and Ayush, Shri Sarbananda Sonowal attended the road show organised by Syama Prasad Mookerjee Port (SMPK) for the ensuing Global Maritime India Summit, 2023 (GMIS) in Kolkata, today. The road show was attended by the captains of India Inc in the city as well as top officials, technocrats as well as social leaders with an intent to encourage their participation meaningfully to  "Connect, Collaborate and Create" with global investors at the forthcoming summit in New Delhi.
Speaking on the occasion, Shri Sarbananda Sonowal said, "Inspired by the vision of the Prime Minister of India,  Shri Narendra Modi ji, our Ministry is organising 3rd Global Maritime India Summit, 2023 (GMIS) from 17 October to 19 October, 2023 at Bharat Mandapam with an aim to 'Connect, Collaborate & Create.' Today, all of you have joined us on this novel exercise to enable and empower the maritime sector of India as a true multiplier force of India's economic growth. Kolkata, with its rich maritime heritage and strategic location, plays a pivotal role in maritime sector in enabling & empowering the eastern part of India. Maritime sector is the life line of Indian economy contributing more than 90% of EXIM cargo by volume and about 70% by value."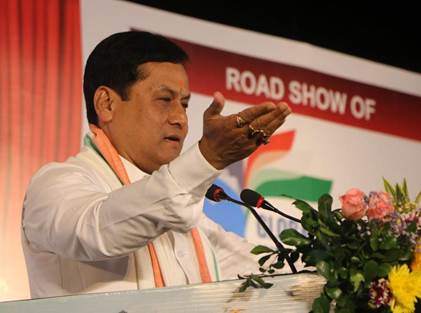 Highlighting the role of private sector, the Minister further added, "Private sector is an essential partner in propelling the growth of India's maritime sector and Public Private Partnership (PPP) has immensely contributed in development of new ports and augmentation of capacity in the existing ports. PPP terminals, which are currently handling about 50% cargo at major ports, are striving to raise its share to 100% in coming decades. West Bengal is poised to receive investment worth ₹1 trillion in maritime sector and that will make the state a maritime hub in near future.  In view of the above, active and whole hearted participation of trade and industries in the improvement and development of port infrastructure and other ancillary facilities in India is imperative. I take this opportunity to urge all of you for your earnest participation at the forthcoming GMIS to "Connect, Collaborate and Create" with global investors and become partners of an Atmanirbhar Bharat."
Along with the Union Minister, the road show was attended by Shri Bhushan Kumar, Joint Secretary (SM), MoPSW; Shri Rathendra Raman, Chairman, SMPK; Shri A.K. Mehera, Dy. Chairman, HDC; Shri Samrat Rahi, Deputy Chairman, SMP Kolkata; Government Officials, Industry Captains, Stakeholders, trade bodies, Chambers of Commerce, etc.  At the Road Show, Joint Secretary (Sagarmala); Chairman, SMPK; Dy. Chairmen, SMPK; Commodore P.R. Hari, CMD, GRSE;  Shri Ashutosh Jaiswal, Director, Century Ports Limited and Shri Subrat Tripathi, CEO Ports, APSEZ Limited also addressed the gathering.