Ministry of Commerce & Industry
Union Commerce and Industry Minister inaugurates ECGC Bhawan, new corporate office of ECGC at Andheri, Mumbai

We will certainly close this year with well in excess of 750 billion dollars of exports, another all-time historical record: Union Commerce and Industry Minister Piyush Goyal

Commerce and Industry Minister suggests that ECGC ups export credit limit for expanded 90% credit risk cover from Rs. 20 crore to Rs. 40 crore

Posted On: 05 MAR 2023 5:04PM by PIB Mumbai
Mumbai, March 5, 2023
The Union Minister for Commerce and Industry, Textiles and Consumer Affairs, Food and Public Distribution Piyush Goyal inaugurated the new corporate office building of Export Credit Guarantee Corporation, at Andheri, Mumbai today. Inaugurating the ECGC Bhawan, the Union Minister said that as we are in our 75th year of independence, it is most appropriate that we must cross 750 billion dollars of exports this year. "With great responsibility and confidence, I am happy to share that figures until February 2023 are already in excess of what we did in the whole of last year, and we will certainly close this year with well in excess of 750 billion dollars of exports, another all-time historical record."
The Minister made a pitch for ECGC to become more modern and digital in its operations, leading to greater efficiencies, greater trust among exporters and improved performance. "We have to leave our children an India which is completely corruption-free. We have to be unsparing against anyone who indulges in any irregular activities. If we want to make India a superpower, we have to make a decision that we want the New India to be with a high degree of integrity, a collective endeavour of government, industry, bodies like ECGC, EXIM Bank and other stakeholders. ECGC has to be very conscious of tracking what is happening, transparency in our working, ease in operations, being helpful, converting into online operations as much as possible. We should trust the exporter unless there is a reason not to trust someone and have completely digital online interactions with them, with transparent operations. I would urge ECGC to relook at all your processes. I would urge the industry to help us clean up the India story so that it is a story which the world will envy."
The Commerce and Industry Minister complimented ECGC for innovative measures like introduction of policy where exporters with export credit limit of Rs. 20 crores are covered up to 90% of their losses, which he said used to be 60% earlier. "All pending claims are now put out online transparently. As we inaugurate this truly world-class building, I would request the CMD ECGC to move the Rs. 20 crore export limit to Rs. 40 crore, so that sectors other than gem and jewellery and commodities sectors are covered under this expanded credit risk cover regime of 90% for any potential risk or loss. In return, we want the industry to assure full honesty and integrity in claims and in the way we work with ECGC. Gradually, we want all of you to enjoy the fruits of working with ECGC. We want more exports to enjoy these benefits, we cover around 22% – 25% of merchandise exports, we should aim to go up to around 50% so that almost MSMEs can benefit from these schemes and enjoy lower interest rates."
The Minister urged ECGC to see what more we can do to promote exports, come up with new ideas and become an important stakeholder in India's journey to take our exports to 2 trillion dollar exports by 2030 – a trillion dollar of exports in services and in goods each. "Then, we can set other goals in line with the goals of a developed India, an India which will truly become a Vishwa Guru. As India prospers, the world will also prosper along with it."
The Commerce and Industry Minister said that the newly inaugurated Vanijya Bhawan in New Delhi is the beginning of how the Government of India is going to look like across Ministries in Delhi. "Visitors from all across the world including senior Ministers and Prime Ministers are all amazed when they see Vanijya Bhawan, to see how modern, digitalized and efficient yet architecturally connected with India it is. This is the vision of our Prime Minister Narendra Modi, that our workplaces should define our work."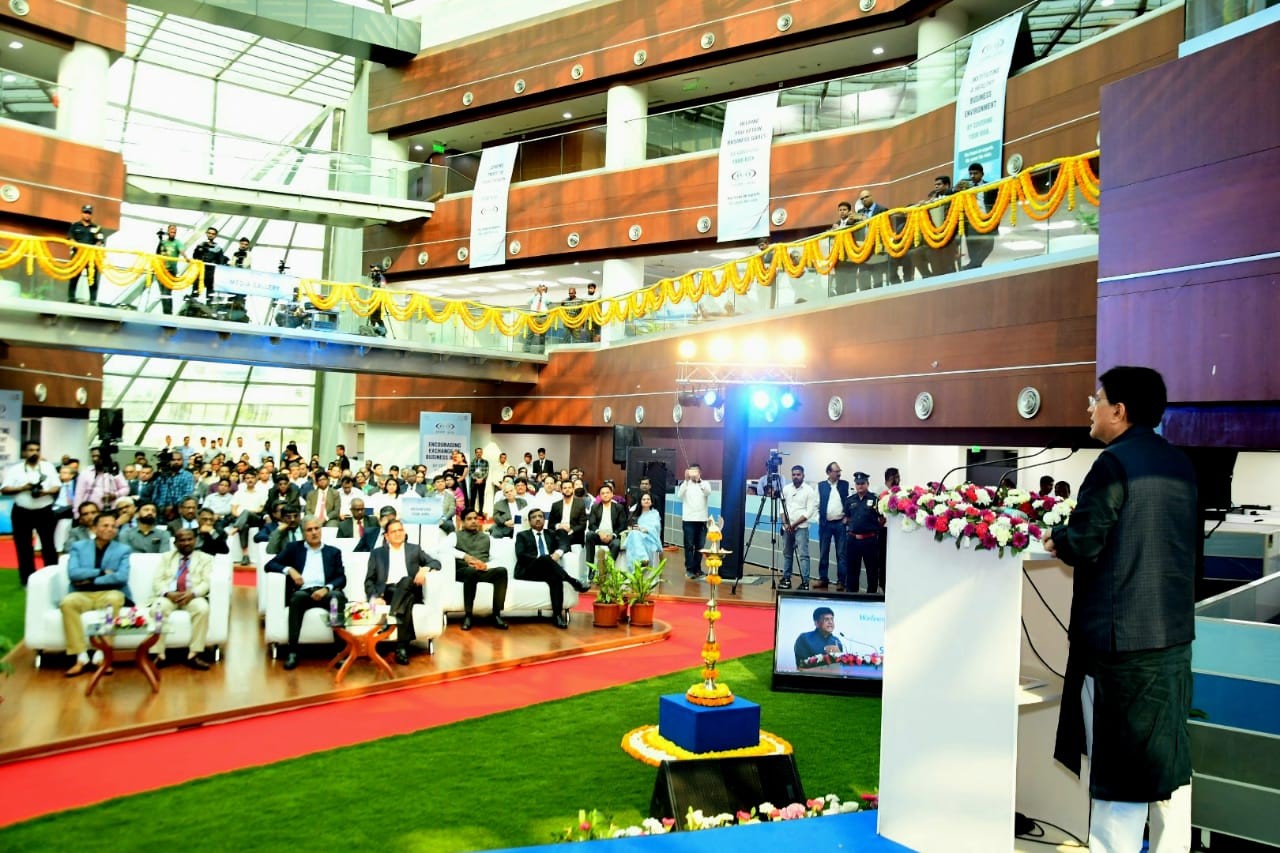 The Minister remarked that today, ECGC is showcasing to the world that they will work towards empowering enterprise expansion, encouraging business ideas, promoting business ideas beyond boundaries and instituting a healthy business environment. "All these goals are reflected in the new office building we have joined to celebrate the inauguration of. The office is a reflection also of the new India which today contributes hugely to global growth, which will continue to be the fastest growing large economy for several decades to come. The New India has capabilities beyond imagination, where every young child is aspiring for a better quality of life."
The Minister highlighted the importance of international engagement, in order to become a developed nation. "We have to look at greater international engagement, because no country in the world has become a developed nation without engaging in a big way in international trade. We have to build up that culture of an economy and ecosystem which can work with the best in the world from a position of strength, with full self-confidence."
The Minister asked the audience what kind of India we want to leave for our young generation. "Over the years, government somehow over the years did not think of modernizing itself, making it more contemporary. Tons of files used to be there at offices, reflective of a colonial system. The Prime Minister has given us this big vision for [email protected]; we will have to think afresh of what kind of a country we are going to evolve into, what are we going to leave behind to our children? Are they going to inherit what we inherited, or we going to give our youth a modern contemporary India which can give them the confidence and pride which they truly richly deserves?"
The Minister said that the five-fold resolve as announced by the Prime Minister will enable us to become a prosperous nation. "When the Prime Minister speaks of Panch Pran, he spoke of India becoming a developed nation by 2047 and four other commitments including unshackling us from our colonial past, going back to our roots. The respect which comes out of our culture and family values and tradition will keep us in good stead. The unity and integrity of India and our philosophy of the world as one family is another thing which he has spoken about. If we desire to make India a developed nation and pursue our ambitions with a sense of duty, there is absolutely no power which can stop India from becoming a prosperous nation."
Joint Secretary, Ministry of Commerce and Industry, Vipul Bansal expressed the hope that the new corporate office of ECGC turns out to be the greenest building we have here. "I am proud that the performance of ECGC has been very good over the last two years. The growth in premium has exceeded our total export credit, hence our market share is improving, our insurance coverage on our exports is improving." The Joint Secretary observed that the ECGC has a higher-than-required solvency ratio and hoped that the company expands to reach the smallest exporters of the country.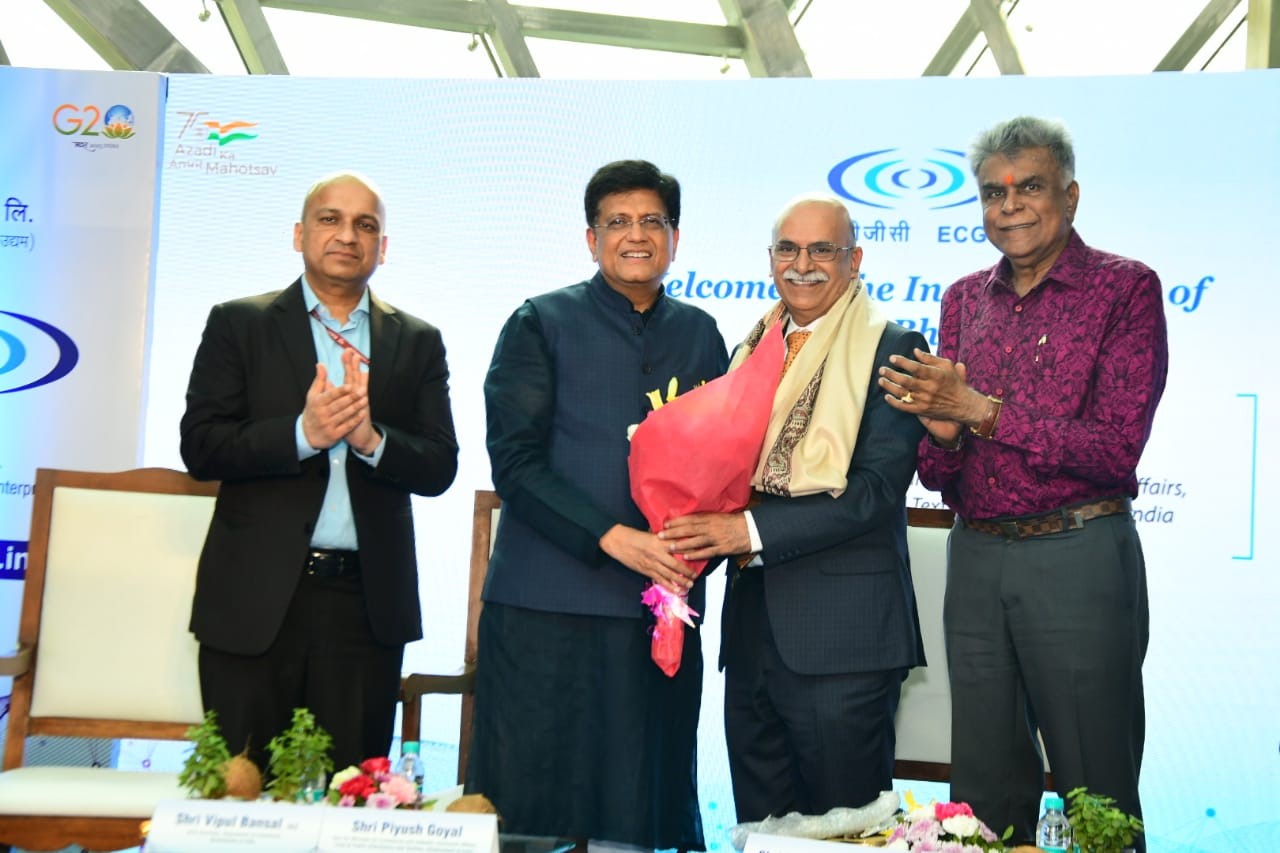 The JS said that ECGC is planning to move to the state-of-the-art IT system called SMILE. "The GIFT city branch has to be made operational. We hope that the claim disposal ratio reaches all-time high in the coming months."
President, Federation of Indian Export Organisations, Dr. A Sakthivel said that with the active participation of the Commerce Minister, India was able to cross 420 billion dollars in exports in the previous year. "I am very confident that we will cross 800 billion dollars exports for the current financial year. It is the first time that our missions abroad are actively working to promote our exports."
Welcoming the guests, CMD, ECGC, M. Senthilnathan said that the company which provides credit risk insurance services has set up a network of 46 branch offices and 4 regional offices in prominent export-oriented locations of the country. He said that ECGC supports exporters in protecting existing markets and exploring new markets. More than The CMD assured that the ECGC will leave no stone unturned in playing its role effectively in helping exporters tap into our export potential.
The programme can be watched here: https://www.youtube.com/live/Kx_gUeCzPQs?feature=share.
ECGC Ltd. (Formerly Export Credit Guarantee Corporation of India Ltd.), wholly owned by Government of India, was set up in 1957 with the objective of promoting exports from the country by providing Credit Risk Insurance and related services for exports. It functions under the administrative control of Ministry of Commerce & Industry, and is managed by a Board of Directors comprising representatives of the Government, Reserve Bank of India, banking, and insurance and exporting community. Over the years it has designed different export credit risk insurance products to suit the requirements of Indian exporters and commercial banks extending export credit.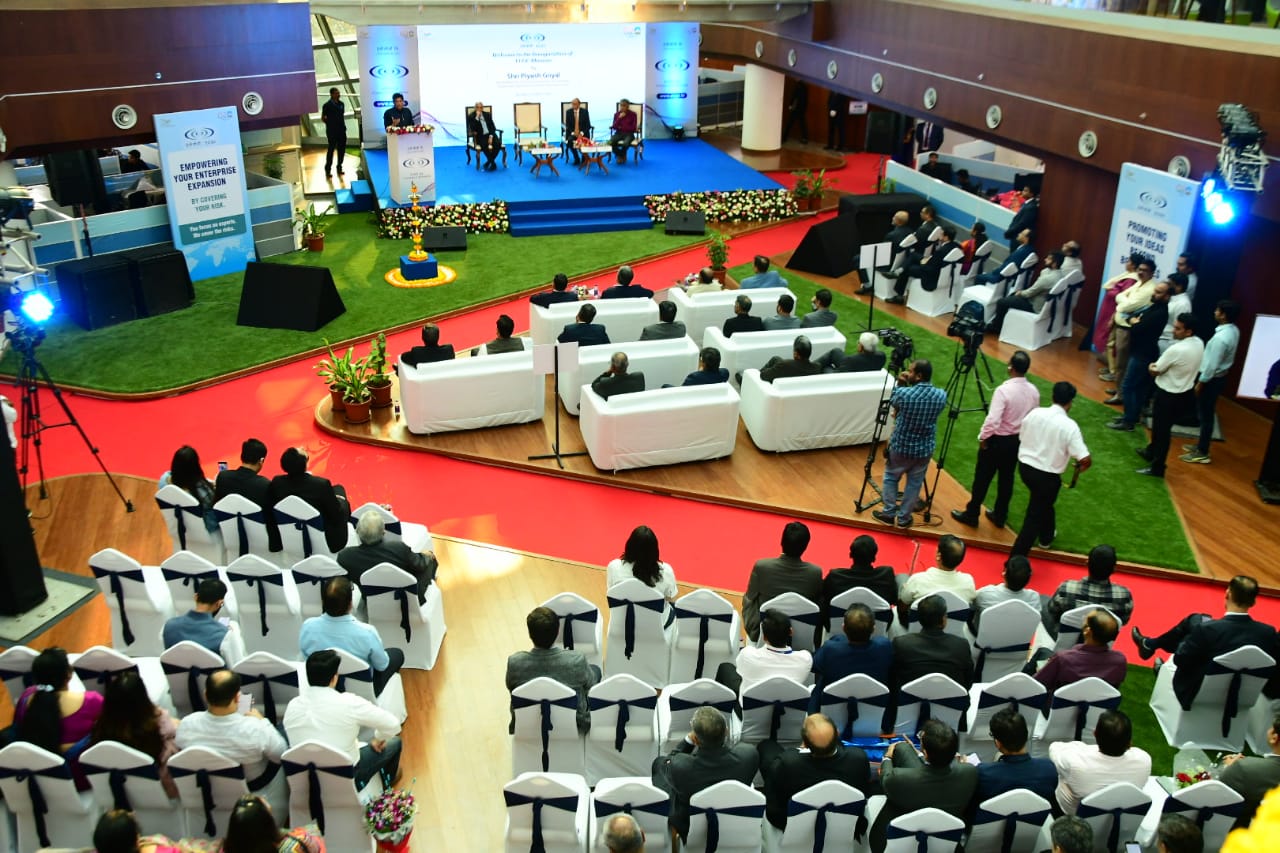 ECGC is essentially an export promotion organization, seeking to improve the competitiveness of the Indian exporters by providing them with credit insurance covers.