Union Home Minister and Minister of Cooperation, Shri Amit Shah attended the golden jubilee celebrations of CAMPCO (Central Arecanut and Cocoa Marketing and Processing Co-operative Limited) as the chief guest at Puttur, Karnataka today.
Shri Amit Shah inaugurated Sri Bharati Amarjyoti Temple built in Sri Kshetra Hanumagiri and also offered prayers at Panchmukhi Anjaneya Temple at Puttur. Several dignitaries including the Chief Minister of Karnataka Shri Basavaraj Bommai were present on the occasion.
In his address, the Union Cooperation Minister said that Under the leadership of Prime Minister Shri Narendra Modi our Government by following the principle of Antyodaya of Pandit Deendayal Udhadhyaya ji has started a mission for welfare of the poor, under this mission every poor has been provided house, electricity, water, gas, toilet, health insurance and free grains. Shri Shah said that our party's governments across the country are dedicated to national security, prosperity and welfare of the poor. He said that Pandit Deendayal Updadhyaya Ji incorporated all these three ideas in the philosophy of Integral Humanism and propagated it.  Union Home Minister also, paid tribute to Pandit Deendayal Upadhyaya Ji on his death anniversary.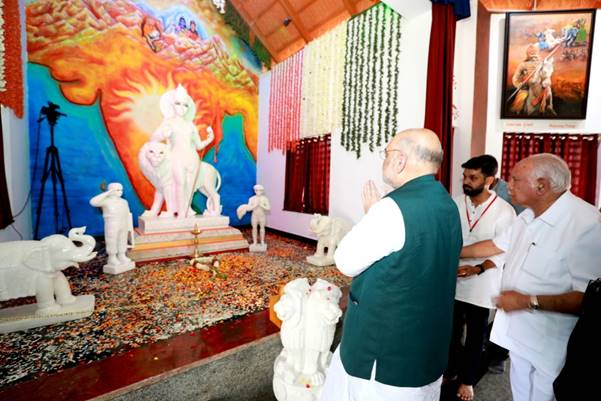 Shri Amit Shah said that today the foundation stone of CAMPCO's Agro Mall has been laid and in this 1,50,000 square feet, Agro Mall, all facilities like agricultural implements, machinery, pesticides, fertilizers, seeds and storage are available and this is the first Agro Mall in India which will run on  cooperative basis. He said that CAMPCO has completed 50 years and the completion of 50 years by an organization certifies that the organisation has served the farmers and its members with best of its capability. Shri Shah said that CAMPCO which was established in 1973 by visionary farmer leader Shri Varanasi Subraiya Bhat, has grown into a big organization. He added that at the time of inception, it had 3000 members and today, with an annual turnover of Rs.3,000 crore, CAMPCO has developed into a giant cooperative with 1,38,000 members.
First Minister of Cooperation of the Country said that Prime Minister Shri Narendra Modi established the Ministry of Cooperation and has found a new way to serve farmers and villages through cooperatives. He said that CAMPCO is a co-operative society which has built Windmill Unit and 500 MW Solar Panels. 107 branches, 2000 employees and turnover of Rs 2700 crores, shows the faith people repose in CAMPCO. He said that Prime Minister Shri Narendra Modi has decided to make Multidimensional PACS (PACS) in every Panchayat in the Budget and now 2 lakh new PACS will be formed in India in 3 years. Along with this, many facilities have been announced for Cooperation. He said that Prime Minister Shri Narendra Modi has done a lot for this sector.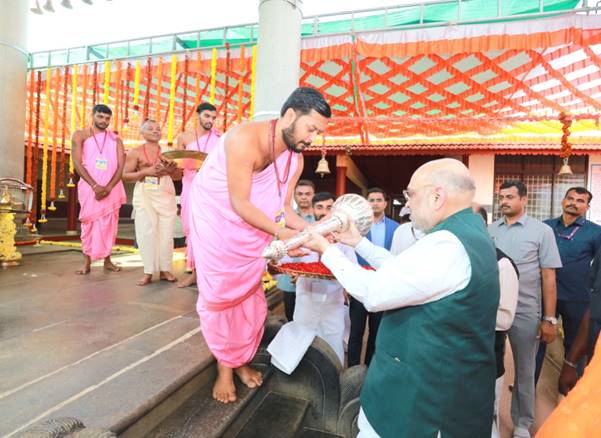 Union Home Minister and Minister of Cooperation said that the previous government had released 1700 people of PFI, but Prime Minister Shri Narendra Modi has banned PFI and closed it forever. He said that those who give strength to anti-national elements by appeasement can never keep Karnataka safe. Shri Shah said that the Government led by Prime Minister Shri Narendra Modi has secured the nation and eradicated terrorism and naxalism from the country. He said that there was no violence when Article 370 was abrogated from Jammu and Kashmir and Shri Narendra Modi made Kashmir the crown of Mother India forever by abolishing Article 370 on August 5, 2019.
Shri Amit Shah said that we are coming up with a project to set up a hydrogen power plant in southern Karnataka, a plastic park is being set up in 104 acres of industrial area. We are strengthening CAMPCO, created a separate Ministry for Cooperation in the State for the fisherman and through Pradhan Mantri Matsya Sampada Yojana we are helping fishermen in deep sea fishing in the coastal districts. He said that a hostel of 1000 capacity has also been built for minority students. Bengaluru and Mangaluru have been made startup hubs and along with this Sree Narayana Guru Residential School has been built and about 34850 hectares of land has been provided to the tribal brothers by the Government of Karnatka under the leadership of Shri Basavaraj Bommai.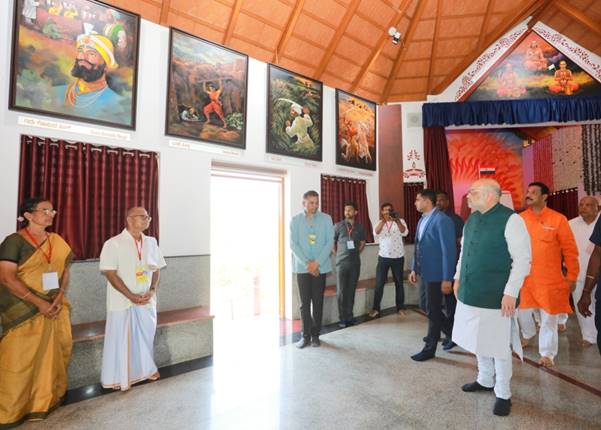 Union Home Minister and Minister of Cooperation said that the Government of India has constructed a tunnel road at Shirdi Ghat, which will greatly aid in transportation for the port. Under the MSP scheme, Karnataka Government is firmly standing with the farmers through buying boiled rice. He said that Prime Minister Shri Narendra Modi has just laid the foundation of various projects worth Rs 3800 crores during his tour to Mangaluru, 5 schemes worth Rs 1000 crores have also been brought for the upgradation of Mangaluru Port and our Government has also made an expansion program of worth Rs 2500 crores for Mangaluru Refinery.