Dr Mansukh Mandaviya, Union Minister for Health and Family Welfare and Chemicals and Fertilizers is on a two-day visit to Uttarakhand from Thursday. On first day of his visit, the Union Health Minister inspected the Jan Aushadhi Kendra located in Dehradun. During inspection, he interacted with the health workers at the Jan Aushadhi Kendra and the beneficiaries of the Jan Aushadhi Kendra.
During this, the Union Health Minister said that the Prime Minister is determined to provide cheap and accessible medicines to the common people. He said that no one should die due to lack of medicine, for this purpose the plan to open Jan Aushadhi Kendra has been brought. He said that common people are getting relief and convenience by getting cheap medicines in Jan Aushadhi Kendra and people's trust on Jan Aushadhi Kendra has also increased. The Union Minister said that along with the need of the people, the medicines available at the Jan Aushadhi Kendra are also helping them save money.
He told that more than nine and a half thousand Jan Aushadhi Kendras are being operated across the country from the capital to the district headquarters at various places. About 20 lakh people visit Jan Aushadhi Kendra daily. Dr Mansukh Mandaviya said that a cancer medicine Bicalutamide which is available in the market for Rs.800 is sold at Jan Aushadhi Kendra for only Rs.137. Another drug, Sitagliptin, is available in the market for Rs 400 while it's price at any Jan Aushadhi Kendra is only Rs 60.
Union Health Minister Dr. Mansukh Mandaviya said that pharmaceutical is an issue related to public health. He added that both Central and State Governments are vigilant with regard to the quality of medicines manufactured and any company compromising with the drug manufacturing standards will not be spared. The minister said that regular inspection is carried out both by DCGI and State Drug Controllers all over the country and suitable action is taken against defaulters.
Speaking about the upcoming Char Dham Yatra, the Union Health Minister said that the Union Health Ministry will provide all possible help to the state government in the Char Dham Yatra. He said that the Union Health Ministry will try its best to ensure that no devotee who comes for the Char Dham Yatra faces any kind of medical problem. During this, he said, there is also a plan to give incentive allowance to the doctors, paramedical staff and other personnel posted for the Char Dham Yatra.
Before departure to Malari, Chief Minister of Uttarakhand Shri Pushkar Singh Dhami met Union Health Minister at GTC helipad. On reaching Malari, the Union Health Minister was welcomed by the women of Malari, dressed in traditional attire. During this, Niti Valley village head organization welcomed him by garlanding him with Bhojpatra, along with fan coats made by self-help groups and District Magistrate Himanshu Khurana presented organic hill products. The local women gave a wonderful presentation of paun dance.
Expressing his elation on being present on the land of Badri Kedar and thanking everyone for welcoming him with traditional costumes and lifestyle. He inquired about the schemes being run by the government including Pradhan Mantri Awas, Ujjwala Yojana, Ayushman Bharat along with Covid vaccination and free ration, electricity, water and mobile connectivity.
Talking to the media, he said that at present good roads, network connectivity, electricity, water and health facilities have improved in the border areas. Health facilities are provided through Health and Wellness Centers, treatment is done directly by top doctors through tele-consultancy, everyone is getting the benefits of Ayushman Bharat, Pradhan Mantri housing is being provided, people's life is becoming easier, electricity is available in all houses and water is available. Due to all this, migration is gradually decreasing. Employment opportunities are increasing in the villages, all these efforts are being made under the Vibrant Village Program. Under the leadership of Prime Minister, Shri Narendra Modi, the border areas of the country are really becoming more vibrant. People are getting interested in adventure games in the Himalayan range.
He said that as an experiment, it was suggested to set up a wormwood market and agreed to name the Joshimath Health Center after Gaura Devi. He said that mobile connectivity will be improved here.
After that he held a review meeting of the Vibrant Village program with the district level officials. Giving detailed information about the Malari area, the Chief Development Officer informed about the crops grown here including herbs, apples, kidney beans as well as the possibilities of development here. The CDO also informed that woolen garments are being manufactured in Malari under One Village One Product scheme. He added that a fruit bar is being developed whereas a marketing center will soon be built along with the guesthouse.
The objective of the Vibrant Village program is to develop border villages, improve the quality of life of the residents of the villages, to harness the tourism potential by promoting local culture, traditional knowledge and heritage and to develop sustainable eco-agribusinesses on the concept of one village one product through community based organizations, cooperatives and NGOs. Vibrant Village Action Plans have been prepared by the District Administration with the help of Gram Panchayats.
During this, Dr Mandaviya met the villagers and discussed their problems. Dr Mandaviya also met ASHA workers in Malari. The workers informed the Union Health Minister about their work. After this, Dr Mandaviya interacted with officials of various departments in Malari under the Vibrant Village program and inquired about and reviewed the development works.
On Friday, the Union Minister for Health and Family Welfare and Chemicals and Fertilizers, Mr. Mansukh Mandaviya will lay the foundation stone of health-related schemes along with Chief Minister Mr. Dhami at the Chief Minister's residence, Main Sewa Sadan. During this, he will lay the foundation stone of a 500-bed capacity hospital in the new building of Doon Medical College along with 50 bedded critical care blocks each at Rudraprayag, Nainital and Srinagar in Uttarakhand .
Photo 1. Union Health minister interacting with the health workers in Jan Aushadhi Kendra, Jakhan, Dehradun.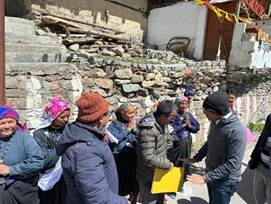 Photo 2. Union Health minister was welcomed in Malari village of district Chamoli.
Photo 3. Union Health minister interacting with the ASHA wokers and village peoples in Malari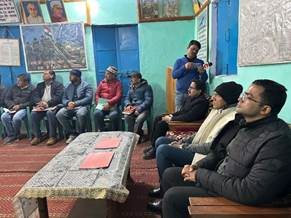 Photo 4.Union Health minister taking note of the developmental and infrastructure works under the vibrant village programme in Malari village.