"Under the visionary leadership of Prime Minister, Government of India has accorded special focus on holistic development of Kerala based on the mantra of Sabka Saath, Sabka Vikas, Sabka Vishvaas, Sabka Prayaas. The completion of this super specialty block set up under PHASE-III of Pradhan Mantri Swasthya Suraksha Yojana (PMSSY) at Government Medical College, Kozhikode is an excellent example of this vibrant cooperative federalism among Union Government and the state government." This was stated by Union Minister for Health and Family Welfare Shri Mansukh Mandaviya as he attended the inauguration of new surgical super speciality block at Government Medical College, Kozhikode, in the presence of Shri Pinarayi Vijayan, Chief Minister, Kerala.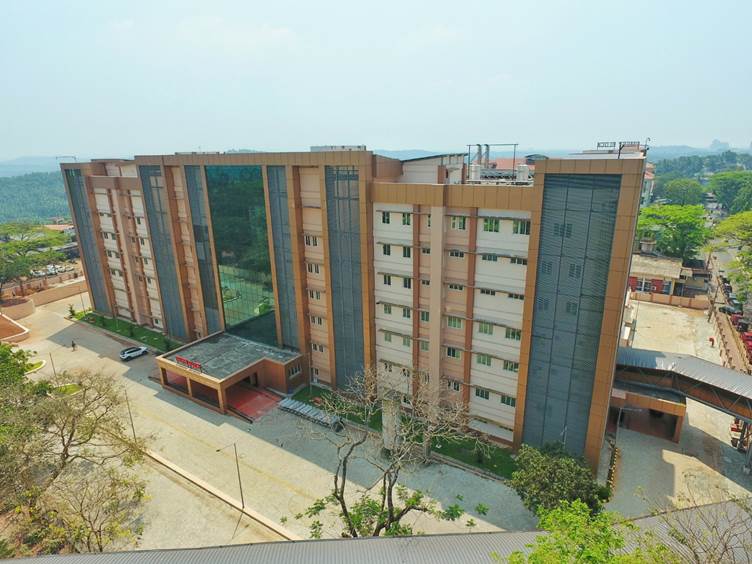 Congratulating everyone on the completion of the project, Dr. Mandaviya highlighted that "dynamic collaboration among centre and state along with medical infrastructure is crucial for strengthening medical infrastructure cross the country as these are crucial pillars of healthcare security. It forms the foundation of ensuring universal healthcare in the country". Talking about the new surgical super speciality block, Dr. Mandaviya said that "the facility will not only cater to the tertiary health care needs of Kozhikode but of neighbouring districts too." The Superspecialty building having an area of 2.57 lakhs square feet is set up within 273 acres of college campus with a project cost of Rs. 195.93 crores, which includes Rs. 120 crores as Central Govt. share and Rs. 75.93 crores as State Govt. share. The seven storeyed hospital has 500 beds which includes 190 ICU beds along with nineteen Modular operation theatres and equipment like C-Arm, MRI, CT scan, CSSD and multi organ transplant facilities. This will add facilities for five surgical Superspecialty Departments, Emergency Medicine and Anaesthesiology among others.
Pradhan Mantri Swasthya Suraksha Yojana (PMSSY) envisages creation of tertiary healthcare capacity in medical education, research and clinical care, in the underserved areas of the country. It aims at correcting regional imbalances in the availability of affordable/reliable tertiary healthcare services and also augmenting facilities for quality medical education in the country. The scheme has two broad components:
Setting up of All India Institute of Medical Sciences (AIIMS)
Up-gradation of existing Government Medical Colleges/Institutions (GMCIs).
So far setting up of 22 new AIIMS and 75 projects of upgradation of GMCIs have been approved under the Scheme in various phases.  Upgradation of GMCIs under PMSSY broadly involves construction of Super Speciality Block (SSB) and/or Trauma Centre /or other facilities and/or procurement of medical equipment. Union Health Minister noted that "so far in the State of Kerala, four upgradation projects of GMCIs have been approved under the Scheme viz. Trivandrum Medical College, Trivandrum (Phase-I); TD Medical College, Alappuzha (Phase-III); Kozhikode Medical College, Kozhikode (Phase-III) and SCTIMST, Trivandrum [Phase-V(A)]."
Focussing the widespread positive changes happening in health sector over the last nine years, Dr. Mandaviya said that "to ensure holistic healthcare among masses, Government launched various initiatives. One such being the world's largest health assurance scheme Ayushman Bharat with focus on secondary and tertiary healthcare. Government of India is also working in convergence with the state government of Kerala to benefit the citizens in primary healthcare through Ayushman Bharat Health and Wellness centres (AB-HWCs)". To leverage the technological prowess of the country, Union Health Minister said that "government launched Ayushman Bharat Digital Mission to ensure equitable and accessible healthcare by enabling national portability of healthcare services and records and other interventions among other steps." Dr. Mandaviya also stated that "consequentially, as of 2nd March 2023, 71.33 Lakh individuals have been verified in Kerala and a total of 48.4 Lakhs hospital admissions amounting to Rs. 4,580 Cr have been authorized under the scheme in Kerala." "This has made Kerala one of the best performing states last year under this scheme", he further added.
Reiterating the government's vision of ensuring continuum of care for citizens especially women and children, Dr. Mandaviya stated that "schemes like Janani Suraksha Yojana, Pradhan Mantri Surakshit Matritva abhiyan have been launched to ensure maternal health and has led to significant improvement in key health indicators." Focussing on the significance of the another such steps, he informed about the ongoing celebrations of Jan Aushadhi Jan Chetna Abhiyan. He said that government's vision has been to provide accessibility and affordability of quality medicines, "this is now being achieved through more than 9,100 Jan Aushadhi Kendras across the country". He appreciated the widespread participation by the Government of Kerala in the Jan Aushadhi Diwas and said that it will not only benefit the poor but also the middle class.
Reiterating, that the government is working with "whole of government and whole of society approach, Dr. Mandaviya requested the State government to make necessary appointments of medical staff in this facility so that the people of Kerala can get maximum benefits.
Smt. Veena George, Minister of Health, Women & Child Development, Govt of Kerala,  Shri MK Raghavan, Member of Parliament, Shri K Muralidharan, Member of Parliament, Shri Elamaram Kareem, Member of Parliament along with State Ministers including Shri PA Muhammed Riyas (Minister of Public Works, Tourism), Shri AK Saseendran (Minister of Forest & Wildlife), Shri Ahammad Devarkovil (Minister of Ports, Museums and Archaelogy) and MLA were also present at the event.
The Union Health Minister's speech can be accessed here: