New Delhi :Prime Minister Narendra Modi marked the 8th International Yoga Day celebration by participating in a Mass Yoga Demonstration involving thousands of participants at Mysuru Palace Ground in Mysuru, Karnataka.
Addressing the event at Mysuru, Hon'ble Prime Minister said, "Yoga brings peace to our society, nations, world and Yoga brings peace to our universe. I extend my greetings to all on this 8th International Yoga Day. Today, Yoga is being practiced in all parts of the world. The peace from Yoga is not only for individuals, it brings peace to our nations and the world."
Speaking on the occasion, the Prime Minister said that Yoga has now become a global festival and it is not only for an individual but for the entire humanity. This is one of the reasons why this year's theme for International Yoga Day is 'Yoga for Humanity'. The Prime Minister added that the yogic energy, which has been nurtured for centuries by the spiritual centers of India like Mysuru, is today giving direction to global health. He stressed that today yoga is becoming a basis for global cooperation and is providing a belief of a healthy life to mankind.
Meanwhile, the Union Minister of State for Chemicals and Fertilisers, Shri Bhagwanth Khuba led the Yoga day celebrations from GOL Gumbaz, Vijayapura, Karnataka. While addressing on the occasion of International Yoga day, the Union MoS said that Yoga is an exercise for mind and body.  It involves movement, meditation and breathing techniques to promote mental & physical health. He further stated  that Yoga has always been a part of our cultural-spiritual consciousness. He urged people to do yoga and to inspire others as well. He added that it is our fortune that GOL Gumaz, Vijayapura has been included in the nation's 75 iconic places.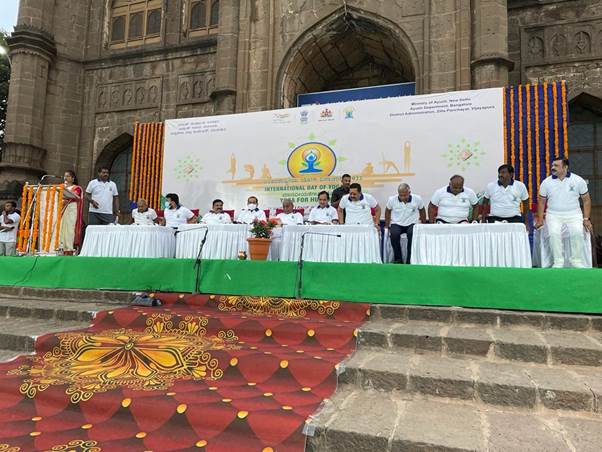 In the spirit of Azadi ka Amrit Mahotsav as the country celebrates 75th year of independence, International Yoga Day celebrations were held at 75 prominent Heritage spots across the country.
The first International Day of Yoga was celebrated on 21st June 2015. The key purpose behind the United Nations recognising the 21st of June as the IDY was to underline the potential of Yoga in public health globally. The IDY resolution of the United Nations General Assembly (UNGA) in December 2014 came at the initiative of Prime Minister Shri Narendra Modi and was passed by unanimous consent. Since 2015, the IDY has evolved into a mass movement for health, around the world.