National Education Society for Tribal Students (NESTS), an autonomous organisation under the Ministry of Tribal Affairs (MoTA), and the Public Health Foundation of India (PHFI) collaborated for building the capacity of the Principals and Teachers of Eklavya Model Residential Schools (EMRSs) through a face-to-face workshop.
The first batch of the training program was launched in Bhubaneshwar, Odisha and will continue up till 6th January 2023. The four days training covers the important topics of nutrition, mental health, and general well-being of tribal school children. This training will enable the principals and teachers to learn about the pertinent physical and mental health topics in the context of the tribal ecosystem and shall help them in replicating the outcomes in their respective tribal schools.
In the first batch, 54 participants were nominated from 27 different EMRSs across Odisha who are capacitated on nutrition and mental health.
The launch of the workshop was graced by Smt. Renuka Singh Saruta, Minister of State, MoTA, Government of India. Other dignitaries included Smt. Indira Mudgal, Deputy Commissioner, NESTS and Dr. Pushkar Kumar, Director- Training, PHFI.
Speaking on the occasion, Smt.Renuka Singh Saruta, MoS in the Ministry of Tribal Affairs, Govt. of Indiastressed that the principals and teachers in EMRS who interact with students on daily basis need to be motivated and trained in various aspects of health well-being, so that they can impart the best practices and can collectively make our tribal youth healthy and wise. Appreciating the efforts of NESTS and PHFI, she further stated that this kind of training is the need of the hour to strengthen our tribal youth mentally and physically so that they can contribute to building the nation.
NESTS believes that there is an imperative need to develop comprehensive programmes for the overall development of the tribal population with a special focus on adolescents. The school setting provides a suitable environment for imparting health education among children where teachers can prove to be an effective mediator to enhance the efficacy of interventions targeting the nutritional and mental well-being of school children.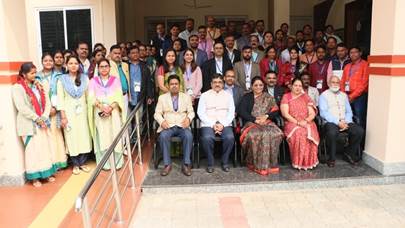 A training workshop like this will go a long way in addressing the needs of tribal students and reach out to all EMRSs in India, and impart this training to the respective principals and teachers for the betterment of the students. This exercise will build public health institutional capacity in India through interdisciplinary health systems connecting education and training.
NESTS, an autonomous organization has been set up under the MoTAto establish, endow, maintain, control, and manage the Eklavya Model Residential Schools and to undertake activities necessary for or conducive to the promotion of such schools. Eklavya Model Residential Schools provide free residential education to ST students from Class VI to XII with a total enrolment of 480 in each school. Whereas the partner organization, the Public Health Foundation of India (PHFI) is committed to working towards a healthier India.