Union Minister of State for Ministry of Fisheries, Animal Husbandry and Dairying and Minister of State for Ministry of Information and Broadcasting Dr. L. Murugan visited Ipex Bhawan, New Delhi today to commence the final day celebrations of Jan Aushadhi Diwas.
As on 28.02.2023, 9182 Pradhan Mantri Bhartiya Janaushadhi Kendras (PMBJKs) are functional across the country in 36 State/UTs covering all districts of the country. Price of Jan Aushadhi Medicines is cheaper at least by 50% and in some cases, by 80% to 90% of the market price of branded medicines. The product basket of PMBJP comprises 1759 medicines and 280 surgical & consumables for sale through PMBJKs. In the current financial year i.e. 2022-23 till 28.02.2023, 565 new PMBJKs have been opened, and PMBI has made sales of Rs. 1095 Crore which led to savings of approximately Rs. 6600 Cr. to the citizens.
Jan Aushadhi Rath to commence celebrations of Jan Aushadhi Jan Chetna Abhiyaan in New Delhi was flagged off by Union Minister for Chemicals and Fertilizers Dr Mansukh Mandaviya. This event kick started the launch of 5th Jan Aushadhi celebrations across the country.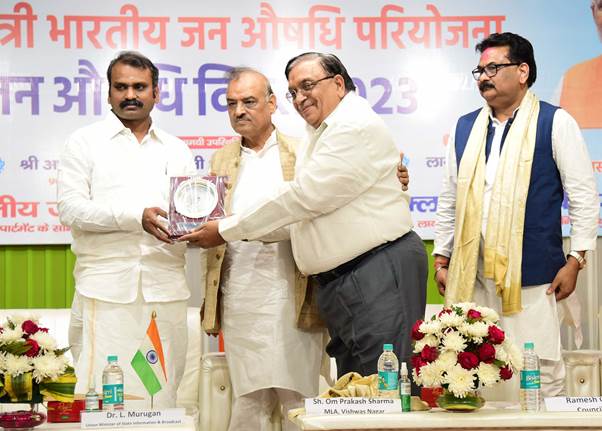 The third day of Jan Aushadhi Diwas, 2023 was observed as 'Jan Aushadhi – Ek Kadam Matri Shakti Ki Ore' across the country. women beneficiaries attended at large number at 34 locations in all States/UTs at Jan Aushadhi Kendras where interaction was conducted in the presence of women public representatives, women doctors, NGO's and information sharing about Health benefits of Jan Aushadhi medicines were done. Special discussions about menstrual health were also conducted. Kits containing women-centric products were distributed to more than 3500 women at designated locations.
The fourth day of ongoing Jan Aushadhi Diwas, 2023 was celebrated as 'Bal Mitra Diwas'. Pharmaceuticals & Medical Devices Bureau of India (PMBI) conducted weeklong celebrations across the nation on the occasion of 5th Jan Aushadhi Diwas. The fourth day's events of Pradhan Mantri Bhartiya Janaushadhi Pariyojana (PMBJP) were dedicated to children.
'Jan Aushadhi -Jan Arogya Melas' (Health Camps) and Heritage Walks (Health Walk Virasat ke Saath) were organised all over the country on the fifth day of ongoing Jan Aushadhi Diwas, 2023.
The sixth day of ongoing Jan Aushadhi Diwas, 2023 is celebrated as "Aao Jan Aushadhi Mitra Banein" today. On this occasion, large number of people took pledge 'Jan Aushadhi Shapath' digitally on the MyGov platform to promote the use of generic medicines.
The Scheme is operated by government agencies as well as by private entrepreneurs wherein specific branding-based retail medical outlets are opened for selling affordable allopathic medicines. The key objectives of the Pariyojana is to ensure access to quality medicines for all the section of the population especially for the poor and the deprived ones, create awareness about generic medicines through education and publicity to counter the perception that quality is synonymous with high price only, and generate employment by engaging individual entrepreneurs in opening of PMBJP Kendra.
"Pradhan Mantri Bhartiya Janaushadhi Pariyojana", a noble initiative by Department of Pharmaceuticals, Government of India has been successful in making a remarkable impact on common masses in its endeavor to provide quality medicines at an affordable price. Number of stores have grown to more than 9100 and 743 districts out of 763 districts are covered at present. Further, during the financial year 2020-21, PMBJP has achieved sales of Rs. 665.83 crores (at MRP). This has led to savings of approximately Rs. 4000 crores of the common citizens of the country.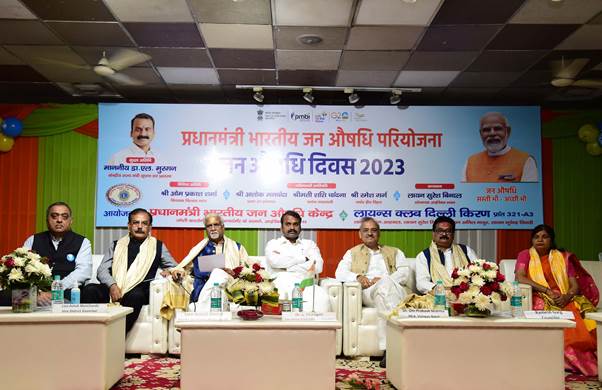 With an objective of making quality generic medicines available at affordable prices to all, Pradhan Mantri Bhartiya Janaushadhi Pariyojana (PMBJP) was launched by the Department of Pharmaceuticals, Ministry of Chemicals & Fertilizers, Government of India. Under this scheme, dedicated outlets known as Janaushadhi Kendras are opened to provide generic medicines. The Jan Aushadhi scheme was launched in November, 2008 with an objective of having at least one Jan Aushadhi Store in each district of the country.