As part of the Republic Day Celebrations 2023 and to mark the 126th birth anniversary of Netaji Subhas Chandra Bose (celebrated as Parakram Diwas), a Military Tattoo & Tribal Dance Festival 'Aadi Shaurya – Parv Parakram Ka' will be held at Jawaharlal Nehru stadium, New Delhi on January 23 & 24, 2023. The two-day festival will showcase the prowess of the Armed Forces and the ethnic beauty of India's tribal culture. Free tickets are available through www.bookmyshow.com.
The Union Minister for Tribal Affairs Shri Arjun Munda said " It is a unique initiative which has been taken to celebrate Parakram Diwas on the birth of anniversary of Subhas Chandra Bose."
Shri Arjun Munda also added that it is a combination of display of military tattoo and tribal dance forms representing Adi Shaurya .Union Minister said that tribals have been protectors of country's resources i.e Jal, Jangal and Jameen ( Water, forest, land) since times immemorial.He also added that the tribals fought valiantly against the colonial rule during freedom struggle and laid their lives for the country.
 Shri Arjun Munda also added that Adi Shaurya or 'Parv Parakram ka' combines culture with courage in an impactful manner. Union Minister also urged everyone to come to JLN Stadium on 23
rd
 and 24
th
 to see the wonderful display of Tribal Dance forms drawn from various parts of the country in the spirit of Ek Bharat Shreshtha Bharat.
Breifing Media , Additional Secretary,Tribal Affairs , Ms R. Jaya said "We are expecting a grand program where military jawans will perform and there will be a dance performance by 20 tribal groups. For the first time this type of program is being organized and  we all are very excited because this program is being organized in Amrit Kaal."
The programme comprises a Military Tattoo (Paramotor Gliding, Hot Air Balloon, Horse Show, Motor Cycle Display, Air Warrior Drill, Navy Band) and an hour of traditional dance performances (Khukhri Dance, Gatka, Mallakhamb, Kalaripaytu, Thangta) by tribal artists from across the country. The grand finale includes a performance by famous singer Shri Kailash Kher.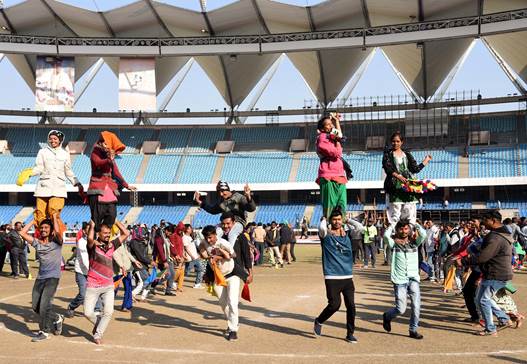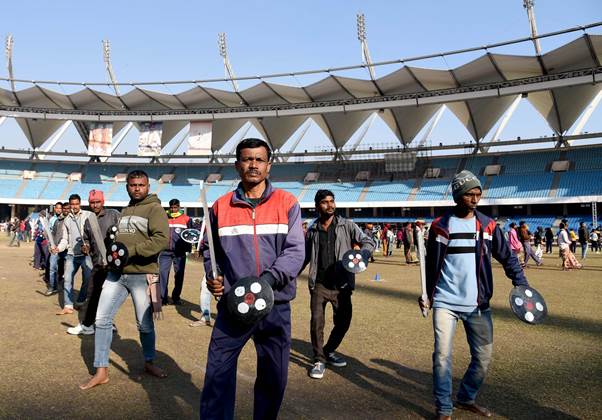 The aim of the festival is to remember the sacrifices of the country's bravehearts and celebrate the rich cultural heritage which makes India so unique and diverse. The objective is to celebrate together the bravery of Netaji Subhas Chandra Bose; embrace the true spirit of India and renew the commitment to building a strong and prosperous 'New India'. Ministry of Defence and Ministry of Tribal Affairs are jointly organising the event, with Indian Coast Guard being the coordinating agency.