Polling for General Elections to State Legislative Assembly of Tripura was held today across 60 ACs spread over 3,337 polling stations set up in the State. Tentative figures of voting of nearly 80% were reported. Voters who reach Polling stations till the end of poll hour are allowed to cast their vote. Many voters were seen to be in queue at 4pm also. Final figures will be known by 17.2.23 after scrutiny of form 17A. Chief Election Commissioner Shri Rajiv Kumar had announced during a press conference in Tripura and while announcing the Schedule that violence before, during and after elections is left only in a few states and there is no place for poll violence in democracy.
Meticulous planning, regular exhaustive reviews with Chief Secretaries/DGs of Police of neighbouring States and other enforcement agencies by the Election Commission of India led by CEC Shri Rajiv Kumar and Election Commissioners Shri Anup Chandra Pandey and Shri Arun Goel ensured smooth conduct of elections in a largely violence-free, fair, inclusive and accessible manner in Tripura today. There have been no reports of any major violence/attack on candidates or agents, intimidation to voters, throwing of bombs, repoll, damage to EVMs. As against 168 repolls as in the state in 2019 GE to Lok Sabha, today's Polls in 60 ACs in Tripura have been largely peaceful with no repoll reported so far. Minor instances of violence so reported were promptly looked into by local teams.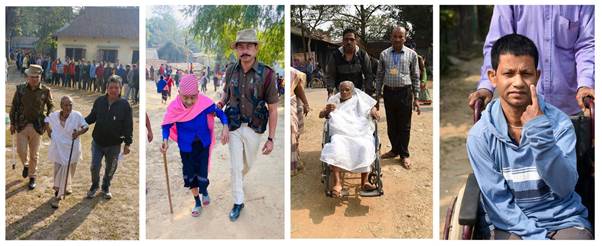 Based on periodic review meetings, feedback and past experience, the Commission laid out elaborate security arrangements, deployed three Special Observers with formidable domain expertise and impeccable track record to guide the field functionaries for stringent enforcement and undertook special efforts to ensure peaceful and inducement free elections in the state. Adequate companies of CAPF were deployed in the State in advance for Confidence Building Measures. Specific initiatives taken under guidance of the Commission included:
(i) CAPF deployed at each of the 3,337 Polling Stations. CAPF deployment was ensured at all Polling stations in the state which were supervised by the Special Observers in coordination with the State Police Nodal Officer.
(ii) In every sector, Civil Sector Officer and Police Sector Officer jointly prepared the Sector Security Plan considering its location, map, boundaries, polling station locations, major Political Party offices, approach roads to the Polling Stations, vulnerable areas, critical polling stations, etc.
(iii) Micro Observers deputed at all the 2,505 Polling Station locations.
(iv) Strict vigil at Interstate and international Borders by enforcement agencies of adjoining States also to curb movement of inducements and sealing of borders during the poll period. Coordinated efforts of various enforcement agencies like Assam Rifles, BSF, NCB, DRI yielded record twenty-five fold high seizures.
(v) 100% webcasting at all PSs with the help of BSNL for complete transparency.
(vi) Use of the e-Atlas application developed by North-East Space Application Centre to monitor the movement of Static Surveillance Teams, Flying Squad Teams, Civil Sector Officers and Police Sector Officers.
(vii) Use of Poll day Monitoring System developed by IT Department Govt. of Tripura to capture important poll day events
(viii) Wide use of cVigil app to register and resolve complaints within a response time of 100 minutes. Out of 3098 complaints received, 3073 have been disposed of as of today.
(ix) As part of the Commission's initiative to provide a comfortable experience to women voters, 97 All-Women Managed Polling Stations were set up which had all women polling staff including women security personnel.
(x) For the first time, Home voting facility was provided for octogenarian and PwD voters with benchmark disability. Form 12 D was filled by 6226 80yrs+ voters; 1277 PwDs and 488 essential service personnel. Of these a total of 7788 cast their votes from Home. Transgender voters too participated enthusiastically casting their vote.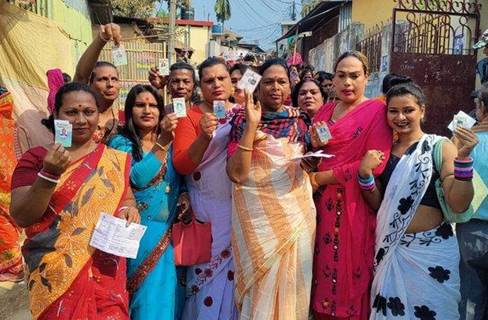 Photo from 13 Pratapgarh AC Aralia West Tripura District 
All polling stations had Assured Minimum Facilities like ramps, drinking water, toilets, volunteers and wheelchairs. 88 Model Polling stations were set up.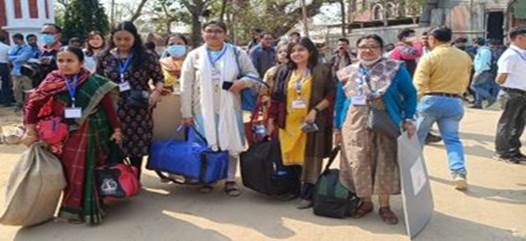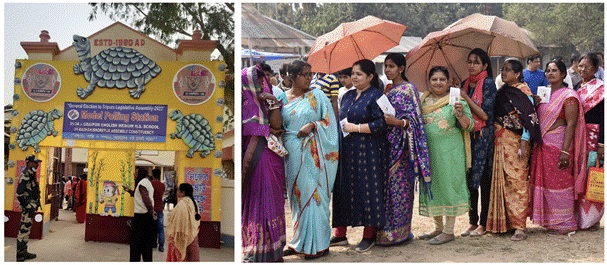 These concerted efforts greatly helped in ensuring smooth conduct of free, fair, accessible, inclusive, violence free and inducement free elections in Tripura today.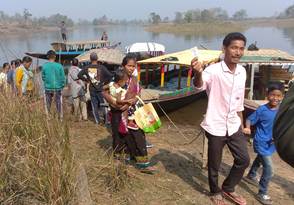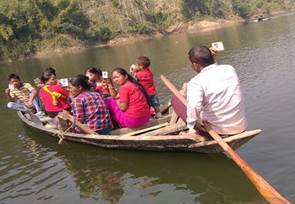 Voters of Raima Assembly Constituency travelling by boats in Dumbur Lake in Dhalai district of Tripura to cast their vote
For the first time Bru migrant voters were able to exercise their franchise after many years. Special efforts were undertaken to enrol voters from Bru Community. 14,055 adult members were enrolled in the State in 12 locations. The Bru voters cast their vote at these locations spread across 4 districts.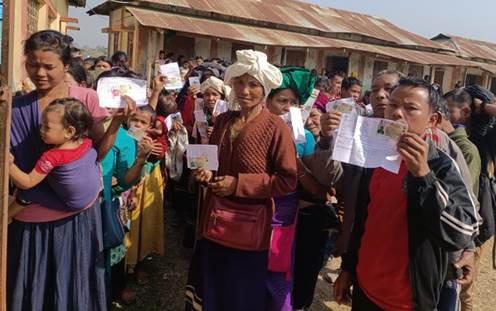 Bru migrants participating in Haduklaupara in 47 Ambassa Assembly Constituency in Dhalai district.
Sustained efforts of monitoring election expenditure in the State led to the goal of 'inducement-free' elections. Twenty five fold increase in seizures amounting to Rs 44.67 crore has been recorded this time as compared to previous Assembly elections in 2018 where it was Rs 1.79 crore. Increased seizures were witnessed under all heads- cash, liquor, drugs, precious metals and freebies.