With consistent reforms in the financial sector and innovative use of technology, financial markets in India have strengthened. The Union Budget 2023-24 proposes to further solidify the financial sector. The Union Minister for Finance and Corporate Affairs Smt Nirmala Sitharaman while tabling the Union Budget 2023-24 in Parliament today said, "Our vision for the Amrit Kaal includes technology-driven and knowledge-based economy with strong public finances, and a robust financial sector."
Improving Governance and Investor Protection in Banking Sector
The Finance Minister stated that to improve bank governance and enhance investors' protection, certain amendments to the Banking Regulation Act, the Banking Companies Act and the Reserve Bank of India Act are proposed.
Central Data Processing Centre
"A Central Processing Centre is proposed to be setup for faster response to companies through centralized handling of various forms filed with field offices under the Companies Act", the Finance Minister said.
Reclaiming of shares and dividends
The Finance Minister stated that for investors to reclaim unclaimed shares and unpaid dividends from the Investor Education and Protection Fund Authority with ease, an integrated IT portal is proposed to be established.
Digital Payments
Digital payments continue to find wide acceptance across sectors of the economy, as well as sections of society. Sharing data for the last year, the Finance Minister said, "In 2022, they showed an increase of 76 per cent in transactions and 91 per cent in value. Fiscal support for this digital public infrastructure will continue in 2023-24."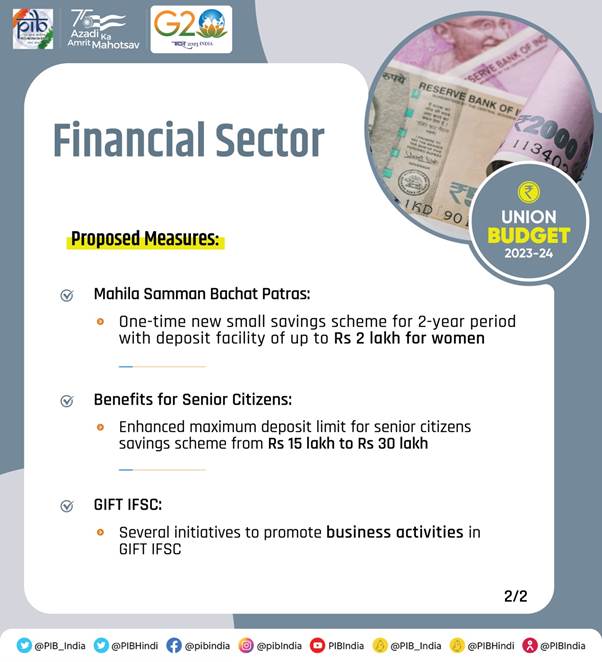 Azadi Ka Amrit Mahotsav Mahila Samman Bachat Patra
Economic empowerment of Women is an important theme across the Budget, and for commemorating Azadi Ka Amrit Mahotsav, the Finance Minister stated that a one-time new small savings scheme, Mahila Samman Savings Certificate, will be made available for a two-year period up to March 2025. This will offer deposit facility upto Rs.2 lakh in the name of women or girls for a tenor of 2 years at fixed interest rate of 7.5 per cent with a partial withdrawal option.
Senior Citizens
For empowerment of Senior Citizens, the Finance Minister said, "The maximum deposit limit for Senior Citizen Savings Scheme will be enhanced from Rs. 15 lakh to Rs. 30 lakh. Further, the maximum deposit limit for Monthly Income Account Scheme will be enhanced from Rs. 4.5 lakh to Rs. 9 lakh for single account and from Rs.
9 lakh to Rs.15 lakh for joint account.'
Data Embassy
For countries looking for digital continuity solutions, facilitation of setting up of their Data Embassies in GIFT IFSC will be done.
Capacity Building in Securities Market
To further build capacity of functionaries and professionals in the securities market, the Budget proposes that SEBI will be empowered to develop, regulate, maintain and enforce norms and standards for education in the National Institute of Securities Markets. It will be further empowered to recognize award of degrees, diplomas and certificates.