New Delhi : A five-member delegation led by Ms. Jenista Joakim Mhagama, Minister of State in the President's Office for Public Service Management and Good Governance of the United Republic of Tanzania called on Union Minister of State (Independent Charge) Science & Technology; Minister of State (Independent Charge) Earth Sciences; MoS PMO, Personnel, Public Grievances, Pensions, Atomic Energy and Space, Dr Jitendra Singh at North Block today.
Lauding India's governance practices, Joakim Mhagama said, she was accompanied by a high level Tanzanian delegation which looked forward to learning from India's vast and varied experience in governance.
While extending a warm welcome to the Tanzanian Delegation, Dr Jitendra Singh observed that many of India's best practices in governance are being emulated by other countries of the world. He said that under the leadership of Prime Minister Narendra Modi, a number of best practices like Mission Karmayogi and CP-GRAMS have evolved in the last 7-8 years.
Dr Jitendra Singh said that India and Tanzania share multifaceted relations which in the recent years have evolved into a modern and pragmatic relationship with sound political understanding, diversified economic engagement, and people to people contacts in the field of education and healthcare and development partnership in capacity building training, concessional credit lines and grant projects.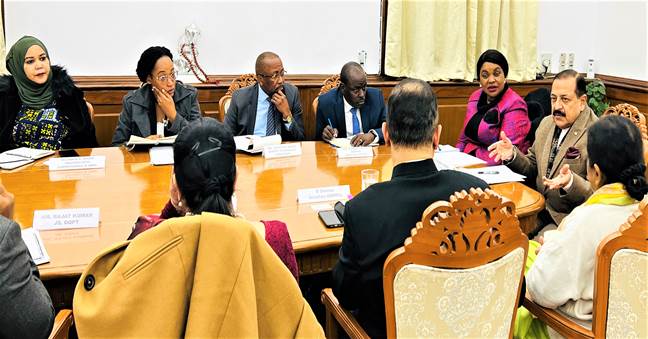 Dr. Jitendra Singh assured Tanzanian Minister that India would be happy to support Tanzania to design and develop "Performance Management Information System and Public Employee Performance Management Information System" in order to improve efficiency and effectiveness of public services in the East African country.
The Union Minister said that India and Tanzania enjoy traditionally close and friendly relations in all spheres. He noted that the Prime Minister Narendra Modi's visit to Tanzania in July 2016 was a great success. He also highlighted strong economic ties between the two countries and said that the bilateral trade has witnessed an impressive growth and it stands at USD 4.5 billion for 2021-22. He stated that with Indian exports at USD 2.3 billion and Tanzania's export at USD 2.2 billion, the two nations are having a balanced trade. Dr. Singh also highlighted the fact that India is one of top 5 investment sources in Tanzania with investment of USD 3.68 billion.
Dr Jitendra Singh noted that Tanzania is India's biggest development partner in Africa with USD 1.1 billion of Lines of Credit (LOC)s , 450 Indian Technical and Economic Cooperation (ITEC) annual scholarships and 70 annual long-term Indian Council for Cultural Relations (ICCR) scholarships. Contracts for USD 500 million for water sector projects under LOCs were signed on 6 June 2022 in the presence of H.E Samia Suluhu, the President of Tanzania. He further said that IIT Madras has been tasked to set up an IIT campus in Tanzania, which is a landmark development and once completed, IIT Tanzania can be the best engineering college in the whole continent.
Dr. Jitendra Singh said that the defence ties between the two countries are very strong and that India is ready to export state of art defence equipments to Tanzania along with help in enhancing capacity building and training programmes for TPDF.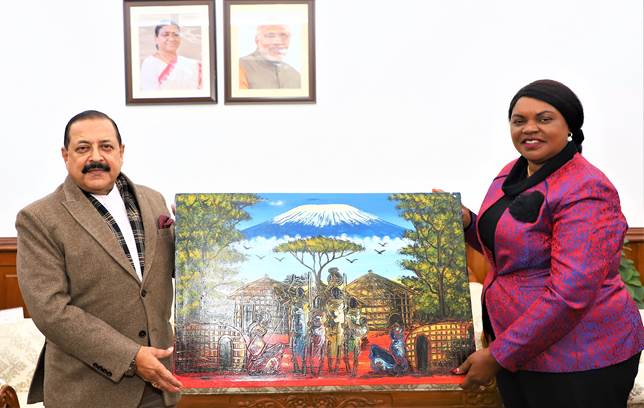 The Union Minister recalled that during the visit of the Prime Minister Narendra Modi to Tanzania in 2016, India donated radiation therapy machine, 'Bhabhatron II" to Bugando Medical Centre and grant of essential medicines worth USD 2 million were handed over to the Government of Tanzania in 2018 and 2020. Under India for Humanity programme, an artificial limbs fitment camp was organised in 2019 which benefitted 520 Tanzanians.It is worthy to note that Tanzania has about 50,000 people of Indian origin and about 10,000 NRI's working in Tanzania. The purpose of the visit of Ms. Jenista Joakim Mhagama is that Purpose of the visit: Tanzania wants to understand the management of Centralised Public Grievance Redress and Monitoring System (CPGRAMS), Implementation of biometric system of attendance in central government offices in India, Mechanism of implementation of Aadhaar, E-office system implemented in government offices in India. They are also keen to learn about the reforms being upgraded in the bureaucracy and the training of the bureaucracy aimed at good governance and bureaucratic accountability.