New Delhi : In a significant development, following a continuous downward trend, India's Active Caseload today (14,704) has declined to less than 15,000 mark after 707 days. Active cases now constitute 0.03% of the country's total Positive Cases. The caseload on 21st April 2020 was 14,759 Active Cases.
1,233 new cases were reported in the last 24 hours following a steady declining trend.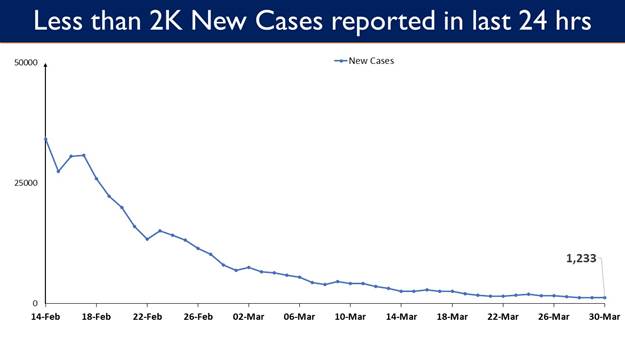 Consequently, India's recovery rate stands at 98.75%. 1,876 patients have recovered in the last 24 hours and the cumulative tally of recovered patients (since beginning of the pandemic) is now at 4,24,87,410.
6,24,022 COVID-19 tests were conducted in the last 24 hours. India has so far conducted over 78.85 Cr (78,85,56,935) cumulative tests.
There has been a sustained fall in the weekly and daily Positivity Rates too. Weekly Positivity Rate in the country currently stands at 0.25% and the Daily Positivity rate is reported to be 0.20%.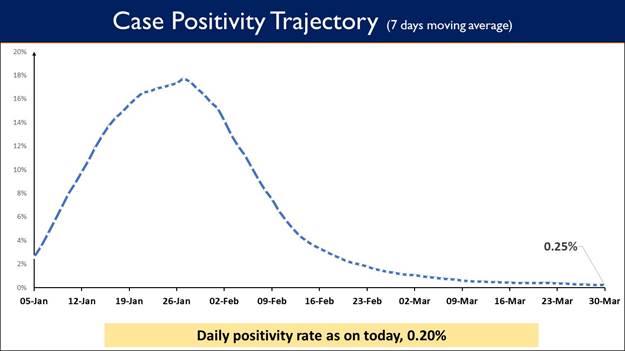 India's COVID-19 vaccination coverage has exceeded 183.82 Cr (1,83,82,41,743) as per provisional reports till 7 am today. This has been achieved through 2,19,19,610 sessions.
COVID-19 vaccination for the age group 12-14 years was started on 16 March, 2022. So far, more than 1.50 Cr (1,50,55,291) adolescents have been administered with the first dose of COVID-19 vaccine.
The break-up of the cumulative figure as per the provisional report till 7 am today is as follows:
Cumulative Vaccine Dose Coverage

HCWs

1st Dose

10403582

2nd Dose

9998306

Precaution Dose

4445103

FLWs

1st Dose

18413039

2nd Dose

17506270

Precaution Dose

6838374

Age Group 12-14 years

1st Dose

15055291

Age Group 15-18 years

1st Dose

57027194

2nd Dose

37729295

Age Group 18-44 years

1st Dose

554469705

2nd Dose

464931719

Age Group 45-59 years

1st Dose

202722920

2nd Dose

185097617

Over 60 years

1st Dose

126719220

2nd Dose

115296186

Precaution Dose

11587922

Precaution Dose

2,28,71,399

 Total

1,83,82,41,743