Ministerial Round Table of Millets was held post-inaugural session of the Global Millets (Shree Anna) Conference held today in New Delhi. Ministers from Guyana, Mauritius, Sri Lanka, Sudan, Suriname & Zambia; Permanent Secretary, Agriculture of Gambia & Maldives and Director General, Millets Initiative, Nigeria participated in the meeting. Union Minister of Agriculture and Farmers Welfare, Government of India welcomed the delegates attending the meet.
India is holding today the first Mega Global Event in the form Global Millets (Shree Anna) Conference in Delhi to celebrate 2023 as the International Year of Millets (IYM). The aim of United Nations to declare 2023 as International Year of Millets on India's initiative is to elevate awareness of Shree Anna (millets) for food security and nutrition, enhance investment in R&D and extension, and to inspire stakeholders towards improving production, productivity and quality of millets. Major millets producing countries have to play major role in promoting the millets for ensuring world food and nutritional security.
Earlier in the day, the Prime Minister Shri Narendra Modi inaugurated this global event in the presence of Union Minister of Agriculture & Farmers Welfare, Shri Narendra Singh Tomar, besides Union Ministers Shri Piyush Goyal and Shri Mansukh Mandaviya and MoS Shri Kailash Choudhary. Visiting Ministers of other countries graced the inaugural function and gave messages for their countries. During the Inaugural ceremony, Prime Minister unveiled a Commemorative Stamp and Coin on IYM 2023. He digitally launched a Book on Millets (Shree Anna) Standards. PM Modi also declared ICAR-Indian Institute of Millets Research as a Global Centre for Excellence.
In his Opening Remarks at the Ministerial Round Table, Shri Narendra Singh Tomar highlighted India's role in Shree Anna promotion, being the largest producer and second largest exporter of millets in the world. During last 5 years, India is producing millets in the range of 13.71 to 18.02 million tonnes.  In order to promote millets and meet the additional demand of millets, the Department of Agriculture and Farmers Welfare (DA&FW) is implementing a Sub-Mission on Nutri-Cereals (Millets) under National Food Security Mission (NFSM) in 212 Districts of 14 States since 2018-19. India exported 1,04,146 metric tonnes of millets during the export year 2022-23 (April to November) worth Rs. 365.85 crores. This export is bound to increase post-IYM celebration.
India has always been a pioneer in recognizing values of ancient practices, in the form of food, culture and traditions, said Union Agriculture Minister. In millets too, just like our culture, a lot of diversity is found like Jowar, Bajra, Ragi, Sawan, Kangni, Cheena, Kodo, Kutki & Kuttu. Shree Anna are a rich source of protein, fibre & minerals like iron, calcium and have a low glycemic index. Many people even call it a Superfood. Millets have many benefits, not just one. Along with reducing obesity, they also reduce the risk of diabetes, hypertension and heart related diseases. Malnutrition is still a menace for human health particularly in under developed and highly populated countries. Millets are also very beneficial in fighting malnutrition, since they are packed with energy as well as protein.
Today a lot is being done to promote millets in India. Along with focusing on research and innovation in production, farmers associations namely FPOs are being encouraged, so that, aggregation, production and processing can be increased. Shri Tomar expressed happiness at operation of many start-ups in millets with government support. Some of these are making Millet Cookies, while some are also making Millet Pancakes and Dosa. There are some that are making Millet Energy Bars and Millet Breakfasts. The 'Mighty Millets' are the solution to the future world to ensure the global food & nutritional security, prosperity of the farmers and revitalization of Mother Earth.
Shri Tomar urged world leaders to recognize this super grain which has become masked and forgotten. The Government of India aims to make IYM 2023 a people's movement for the overall benefit of the Cultivator, Consumer and Climate. Shri Tomar said he looks forward to very useful interactions with World Food Ministers. The experience shared will be very useful in bringing more closer linkages among major millets producing countries.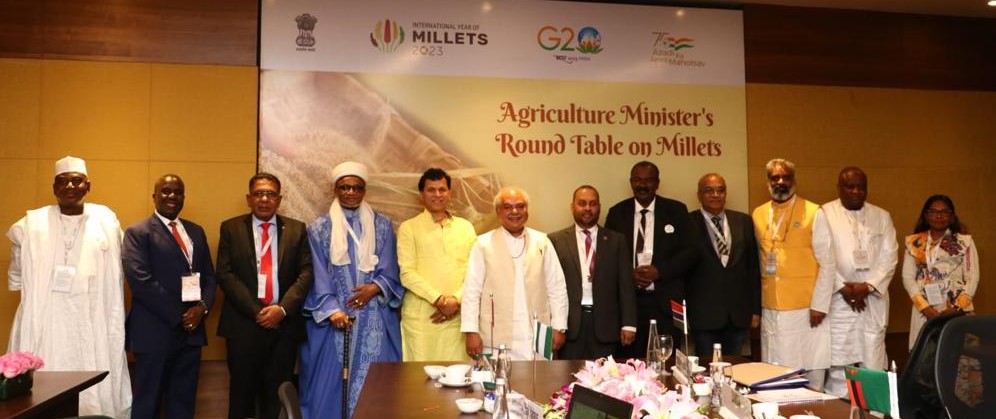 The visiting ministers from major millets producing countries shared the experience of their respective countries in promoting production, consumption and branding of millets. A lot needs to be done for enhancing production, consumption, value addition and processing of millets all over world. All leaders appreciated the lead role of India in bringing millets to world food table and looked forward to India for technological support. They all favoured closer linkage among major millets producing countries. All countries desired that India should provide good seed of improved varieties of millets, help in establishing small scale mechanization and capacity building.
All Ministers supported promotion of indigenous millet crops in their countries to free people from wheat addiction. They suggested that millets should be declared priority crops and set agenda in all the international meetings. Some countries like Guyana which are not traditional millets growing have shifted to millets cultivation due to awareness created by International Year of Millets. India assured these countries to provide all knowledge, technology and capacity building.
Senior officers from Department of Agriculture & Farmers Welfare and Indian Council of Agriculture Research attended the meet. Joint Secretary (IC) thanked the ministers and other dignitaries from various millet producing countries.