Union Education and Skill Development & Entrepreneurship Minister  Dharmendra Pradhan today addressed the plenary session on 'Enabling Global Mobility of Indian Workforce – Role of Indian Diaspora' in 17th Pravasi Bharatiya Diwas 2023.
While addressing the gathering, Shri Pradhan said that our diaspora is an integral part of India's civilization and has played an important role in its great journey. He spoke about the diaspora's role in enhancing the capacity and mobility of India's workforce and in creating a new Indian model for serving humanity.
Speaking about the NEP 2020 and a new skilling approach he said that we are envisioning a flexible model with multiple entry-exit and skilling pathways that focuses on building competencies.He said that Indian workforce is hardworking, honest and responsible. India can emerge as the global hub of skilled manpower.
He further added that technology is creating new opportunities. The Prime Minister Shri Narendra Modi has reposed a lot of faith in the vibrant Indian diaspora. He expressed his confidence that our 32 million strong Indian diaspora will use their expertise and experiences for cementing India's capacity to serve the global family.
Later in the day, Shri Pradhan interacted with the vibrant Indian diaspora of Mauritius & Kuwait. He appreciated their suggestions on educating youth about Indian culture, spirituality and heritage. The Minister spoke about how NEP 2020 focuses on education that is rooted in Indianness with a modern outlook.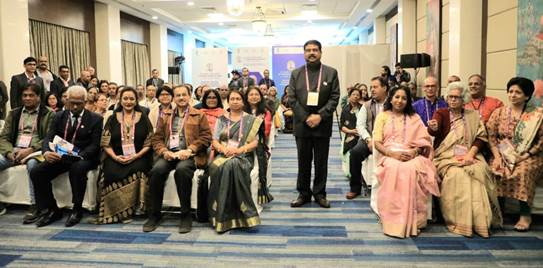 Pravasi Bharatiya Divas (PBD) Convention is the flagship event of the Government of India. It provides an important platform to engage and connect with the overseas Indians and to enable the diaspora to interact with each other. The 17th Pravasi Bharatiya Divas Convention is being organized in partnership with the Madhya Pradesh Government from 08-10 January 2023 in Indore. The theme of this PBD Convention is "Diaspora: Reliable partners for India's progress in Amrit Kaal". Over 3,500 diaspora members from nearly 70 different countries have registered for the PBD Convention.