Curtains xame down on 4 day India International Science Festival, IISF-2022 in Bhopal  with a call for making India one of the leading Scientific and Technological Powers of the World.
Delivering the Valedictory address at IISF in Bhopal this evening, Union Minister for Agriculture and Farmers Welfare Shri Narendra Singh Tomar said, the energy and innovative power of the Youth will make India the Number One country in thevWorld. He said, India is a Country full of Youth power ready to do big and added that 52 percent of India's population is Young Now and it's right time to bug leaps in what Prime Minister Shri Narendra Modi rightly calls Amrit Kaal.
Shri Tomar said, the role of Science,  Technology and Innovation can be seen in all spheres of life in India including in the Agriculture Sector. He saud, farmers are now using technology in agricultural production and also for post harvest operations. He said, drone applications are gaining currency in Agri Sector and newer experiments are waiting to happen.
Shri Tomar said, Modi Government is giving special ficus on STI ecosystem and taking personal interest in Scientific Pursuits. He said, in 2014, the budget of Ministry of Science and Technology was Rs 2, 000 Crore, which us now increased to Rs 6,000 Crore, a three fold jump.
Shri Tomar expressed confidence that wirh better R&D and newer innovations, India will emerge as a leading Agricultural Country in the World with increased production and better Productivity. He said, in times to come, India will not only become fully Atmanirbhar as far as food security is concerned, but will also be able to fulfill the needs and demands of many other countries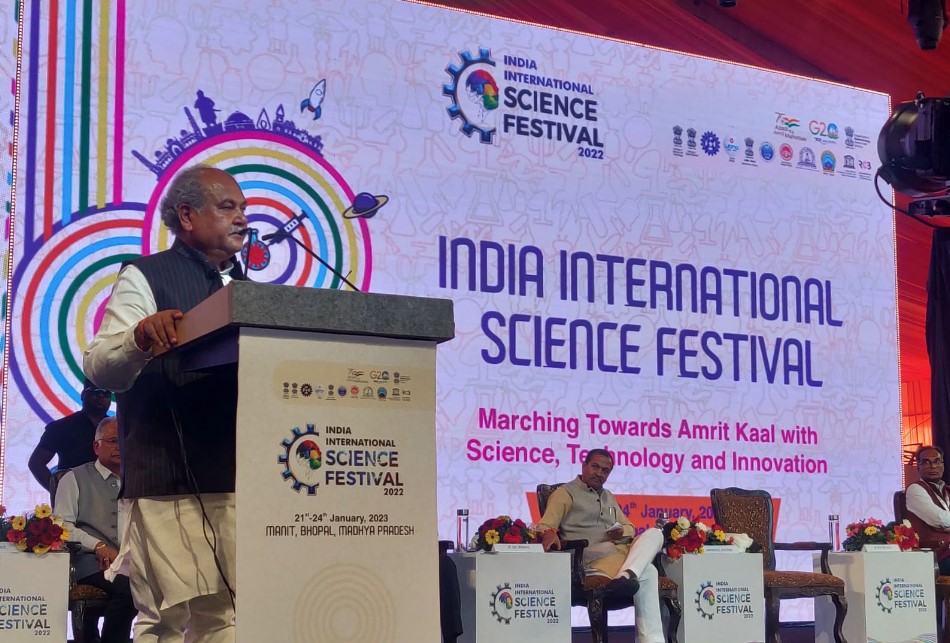 In his address, Science and Technology Minister of  Madhya Pradesh, Shri Om Prakash Sakhlecha said thar he is very hapoy to note that Deep Tech Startups are coming up very fast in India. He said,  Start-ups are demonstrating use of Robot for sowing and cutting of crops and this indicates what kind of revolution is going to come in Sgri Sector.
Shri Saklecha said, IISF was a complete success as Students and Youth from each District of Bhopal participated in it and now they will be filled with curiosity and new zeal to do something big .
He said apart from Mega Start-ups Expo, 1500 young scientist  brainstormed on emerging technology in all areas including Biotechnology.
Secretary, Ministry of Science and Technology, Shri S Chandrasekhar in his address said that we will come up with better agenda next time. He said, Science has no boundaries and the India International Science Festival is fast emerging as a platform to deliberate on glibal challenges.
Shri Chandrasekhar said that lIISF is happening at a time, when India has assumed the G-20 Presidency under Prime Minister Shri Narendra Modi, where we will be showcasing India"s power, not only in Science and Technology, but in every sector to the World.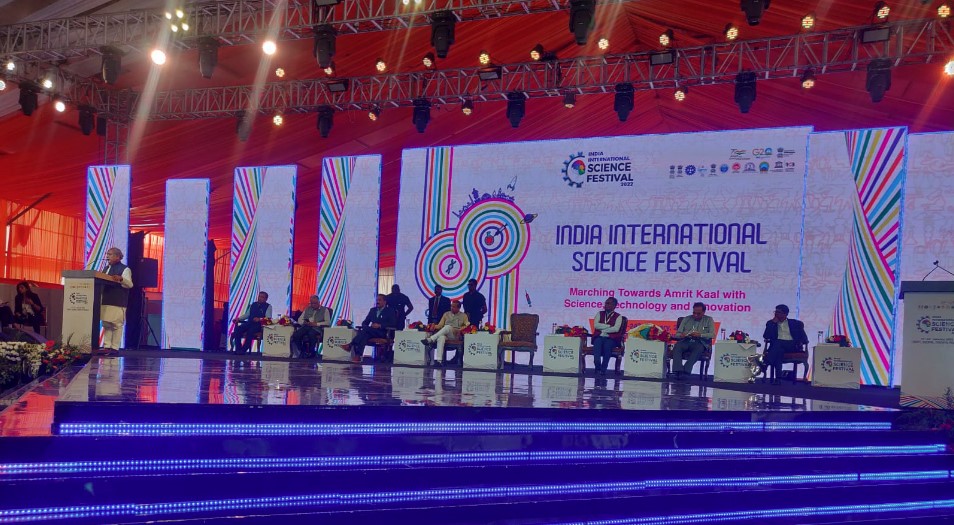 Chaurman, ISRO, Dr S Somanath told the gathering thar we are celebrating Science to give light and way to the future generation for making pioneering contributions in Amrit Kaal.
Shri Somanath said, we have to be creative, innovative and do many firsts in the world to become a Scientific Power. He expressed hope that India will become such a country by navigating the Great Scientific Ecosystem that everyone in the world will aspire to come and live here.
Dr. Sudhir Bhaduria, Secretary General, Vigyan Bharati said that the Vigyan Bharati is working with the Science Ministries and Science Department of universities and collages in India to promote the modern scientific outlook and thinking for the benefit of the country and the entire humanity.
IISF Bhopal deliberated on 15 important event in four-days science festival like the Student Science Village where 2500 students participatef and git expose to new technologies and innovations.