CSIR-National Institute of Science Communication and Policy Research (CSIR-NIScPR), New Delhi organised a national level brainstorming meeting on science communication efforts in all 22 Indian languages on 10th January 2023. This meeting was organised in hybrid mode.
The brainstorming meeting started with a welcome address by Shri Hasan Jawaid Khan, Chief Scientist, CSIR-NIScPR. He expressed the gratitude towards all experts for joining this important meeting. He explained many efforts of science communication being made by CSIR-NIScPR and other organisations. He also addressed the importance of science communication in untouched languages, far flunged regions, undiscussed topics and media of communication for dissemination of science, and said still we have miles to go.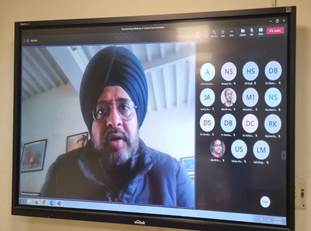 Experts of science communication in the Indian languages shared their thoughts in the brainstorming meeting
Further Dr. Manish Mohan Gore, Scientist, CSIR-NIScPR introduced the agenda and outline of the brainstorming meeting. Dr. Gore is the Principal Investigator of the project focused on science communication in the Indian languages for CSIR-NIScPR. He discussed the status, achievements, challenges and possible solutions for communicating science in respective languages. The framework for developing popular science literature in Indian languages, particularly those that have comparatively less literature was also discussed by him.
In this brainstorming meeting, experts of science communication in all the 22 Indian languages (Assamese, Bengali, Bodo, Dogri, Gujarati, Hindi, Kannada, Kashmiri, Konkani, Maithili, Malayalam, Manipuri, Marathi, Nepali, Odia, Punjabi, Sanskrit, Santali, Sindhi, Tamil, Telugu, and Urdu) were invited and they discussed and suggested plans for appreciation, promotion, and incentives for the development of science communication and popular science literature in these languages. These 22 official languages are listed in 8th schedule of the Indian constitution.
This meeting was a part of the project of CSIR-NIScPR which is focused on the analysis of science communication in Indian languages. Agenda of the meeting was to bring together the science communication experts of different languages to discuss the current status of efforts & contributions in science communication along with popular science literature and contemporary key challenges for communicating science in all official Indian languages. A number of valuable recommendations received as the outcome of the meeting.
Dr. Paramananda Barman, Scientist, CSIR-NIScPR moderated an Open session for discussion among the invited experts. Dr. Meher Wan, Scientist, CSIR-NIScPR proposed the vote of thanks to the experts and all concerned at the end of the meeting. Project staff Ms. Niyati Singh and Shri Mohabbat Singh were also present in the brainstorming meeting.