New Delhi : Chief Election Commissioner Rajiv Kumar announces schedule for General Elections to the Legislative Assemblies of Meghalaya, Nagaland & Tripura.
Besides, Voting for Assembly Elections 2023 in Tripura to be held on February 16 & in Nagaland & Meghalaya on February 27 . while, results to be declared on March 2.
Addressing the media CEC Rajiv Kumar said," Each Election has its own set of challenges. Despite difficult terrains, these 3 states have set an example for the rest of the country in terms of participation."
The Elector gender ratio in Nagaland & Meghalaya is > 1000 & in Tripura, it is 989 which is more than the national average of 969. States have also witnessed higher women voter turnout % than males in the 2018 Assembly Election, said CEC.
The commission visited three states during Jan 11-15, 2023 & held review meetings. Also met Political Parties & have responded to almost all state-specific issues raised by them & measures to be put in place as per contextual & felt requirements of each state.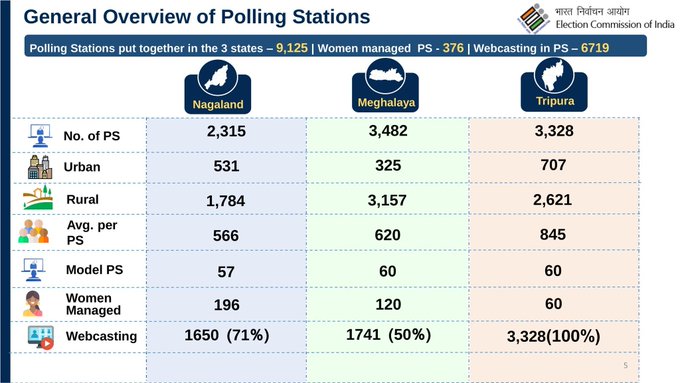 Further, for the upcoming assembly elections in 3 states, 9125 polling stations will be set up across 180 ACs. Over 80 % PS in rural areas. Webcasting facility available in 70% of polling stations. State-wise details are in the slide attached, added CEC Rajiv Kumar.