Arjun Munda, Union Minister of Tribal Affairs, and Shri Ajay Bhatt, Minister of State of Defence and Tourism graced the concluding day of the Adi Shaurya Parv today at the Jawahar Lal Nehru Stadium in New Delhi. The second day witnessed the presence of a massive crowd of more than 50,000 people.
The Ministry of Tribal Affairs, in partnership with the Ministry of Defence and the Indian Coast Guard, celebrated the second day of "Adi Shaurya – Parv Parakram Ka" with a colourful showcase of tribal dances and performances by the Armed forces to commemorate the 126th birth anniversary of Netaji Subhash Chandra Bose (Parakram Diwas).
Speaking about the Adi Shaurya festival, Shri Arjun Munda remarked, "The Hon'ble Prime Minister has declared that the liberation of India was the dream of our heroes for a new India, an India where everyone has equality of opportunity, including the poor, farmers, labourers, and tribal people."
He added, "The Central Government, led by Shri Narendra Modi, has been working actively to promote tribal welfare and development, and highly encouraging results have been recorded. As a result, tribal people are now prominent in all spheres of life. Adi Shaurya is a part of this episode, as through this ceremony, the people of the country have witnessed a glimpse of the tribal culture and heritage."
Tribal Communities will also be participating in the Bharat Parv tomorrow showcasing the unique tribal culture and heritage.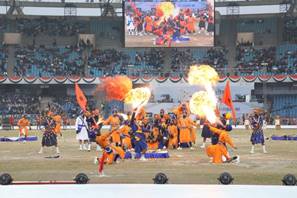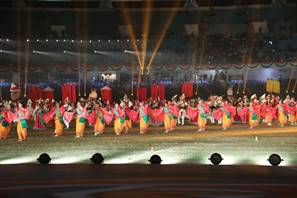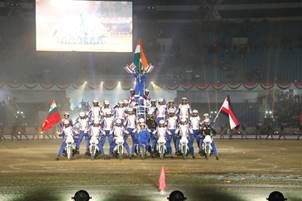 The Second Day of Adi Shaurya garnered an even bigger audience with a greater response from the spectators as Tribal dances and the Military Tattoo stole the show, displaying a host of performances. The festival featured numerous energetic live performances by the Military and tribal communities highlighting the beauty of India's diverse tribal cultures from across India and promoting the message of Ek Bharat Shreshth Bharat, showcasing the might of the Armed Forces in a Military Tattoo. Students from Eklavya Model Residential Schools (EMRS) also viewed the programme online in large numbers along with huge presence of students from other educational institutions. The event was trending at number two on Twitter on the first day.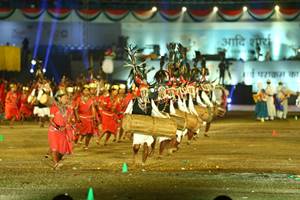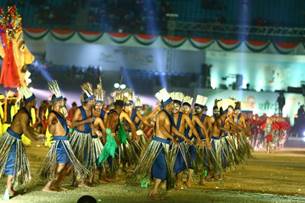 Tribal dance troupes from states like Madhya Pradesh, Kerala, Arunachal Pradesh, Jharkhand, Odisha, Chhattisgarh, Rajasthan, Jharkhand, Ladakh, and more, performed mesmerising vibrant dances. Spectators were witness to exquisite dances such as Gaddi Nati from Himachal Pradesh, Siddhi Dhamaal from Gujarat, Balti Dance from Ladakh, Mangho Dance from Jammu and Kashmir, Purulia Chhau from West Bengal, and many more.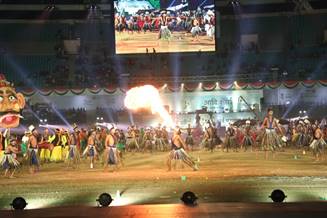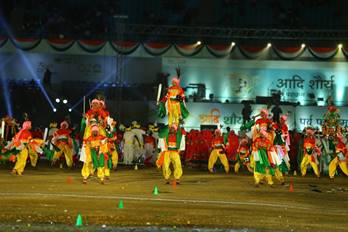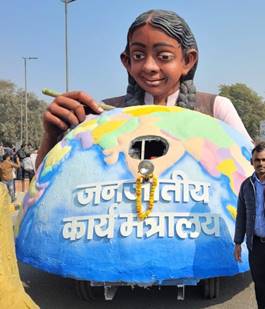 A tableau exhibiting the tribal culture and heritage is also set to feature at the Republic Day Parade on 26th January, 2023.
Padma Shree and famous playback singer, Shri Kailash Kher gave a stellar performance enchanted the crowd with his melodious voice.
Dignitaries from the Ministry of Defence, Indian Coast Guard and senior officials from the Ministry of Tribal Affairs also graced the special occasion.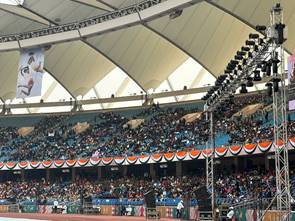 Links:
Click here for complete
 list of Tribal dances